Paul Rudd has quietly co-starred in a string of top-grossing comedies over the last 10 years, from "Anchorman: The Legend of Ron Burgundy" to "The 40-Year-Old Virgin" to "Knocked Up." He has played a womanizing TV reporter (Brian Fantana in "Anchorman"), a preachy ex-stepbrother (Josh in "Clueless") and a stoner-surfer (Koonoo in "Forgetting Sarah Marshall").
But in the new movie "I Love You, Man," Rudd finally takes the lead. The movie tackles the topic of male friendship with a strong dose of the humor that has made Rudd's films so successful, though he says that as his acting career took off, he's found it increasingly difficult to stay in touch with his own friends.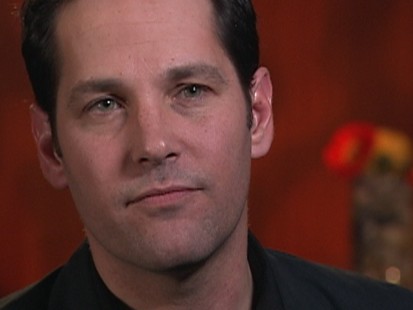 "Guys do that, we don't keep up. ... I do it less and less," he said. "It's bad. As a kid I know that most of my parents' friends were because my mom made friends with them and my Dad went along. I know a lot of dads who do that. I think it just starts to happen with guys. In the case of my father," Rudd jokes, "He was probably just too busy reading books about Titanic."
"I Love You, Man," which hits theaters this Friday, is being hailed as one of the first of a whole new subgenre: the "bromantic" comedy.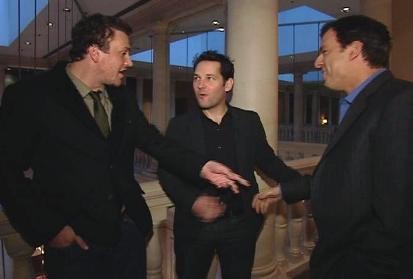 "Bromance," a recent entry into the modern lexicon, means a particularly tight friendship between two men. Think Matt and Ben, or George and Brad. MTV even has a reality TV show about it.
"I couldn't believe that this movie, this movie in particular hadn't been made," says Rudd of "I Love You, Man," in which he plays Peter Klaven, a groom-to-be who realizes he doesn't have a best man and embarks on a series of "man dates" to find one.
To the horror of his fiancee, Peter's plan works all too well: Soon after meeting Sydney Fife (Jason Segel), he strikes up an avid bromance involving bars, junk food and hours of making rock 'n' roll. Which relationship -- romance or bromance -- will survive?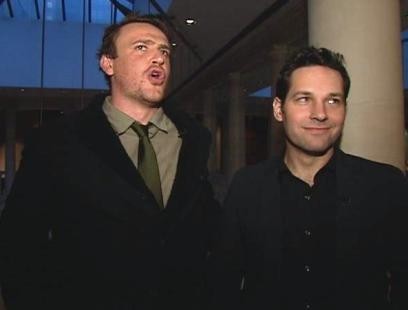 "Like, 'Oh, my god, of course,'" Rudd says of the concept. "You know, in a way this romantic comedy between two guys -- I just thought it was really fresh."
Rudd, who started his career in theater, reflected on the path that took him from early stage turns to his appearance on the cover of the current issue of Vanity Fair magazine.
"It's only a natural, I think, progression to go from the cover of In Theatre [magazine] to Vanity Fair," he joked.
Rudd's reference to In Theatre magazine is a nod toward his roots in classical acting, and though that is his foundation, it's not how he ended up making a big splash.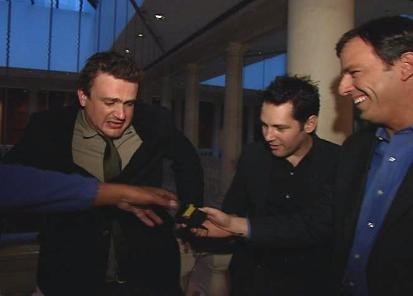 Rudd's Big Break
You may have first noticed him in 1995's "Clueless," as Alicia Silverstone's stepbrother. Serious roles followed in William Shakespeare's "Twelfth Night," "The Cider House Rules," "The Great Gatsby" and "The Shape of Things."
But to Rudd, there's no question as to why he is where he is today.
Rudd said he thought his big break came starring opposite Will Ferrell in "Anchorman" (2004), which was produced by Judd Apatow, who would later direct Rudd in a series of comedy hits.
"'Anchorman' was where I met Judd, and I got to meet a lot of the people that I've worked with lately," Rudd said. "And it was also a change of style in the way ['Anchorman' director] Adam McKay likes to shoot, similar to the way Judd likes to shoot."
Rudd said Apatow encourages improvisation on the set.
"We'll rehearse and do improv before we shoot, and sometimes that kind of stuff makes its way into the script," he said. "But they both [Apatow and McKay] tend to shoot a lot of film in hopes of capturing some moment. And it's fun, it's a really fun collaborative, exciting way of making a movie.
"It is fun, I always hear that if you're working on a comedy and you're having a good time and laughing, that that just means the comedy is not going to work. The experience had to be grueling for it to work. I don't buy that at all."
And so, the classically trained actor has become a fixture in what some call Frat Pack films -- huge moneymakers, such as "The 40-Year-Old Virgin," "Forgetting Sarah Marshall," and "Role Models," which he co-wrote.
Mainly male-themed comedies about men bonding, though nothing quite as overtly about male friendships as his new movie.
Rudd on Movies: 'You Want to be Moved'
According to the movie, the sacred fount of male bonding is music. Peter and Sydney spend the majority of their time jamming to the 1970s metal band Rush. Not a far stretch for Rudd, who said he used to DJ bar mitzvahs when he first came to Hollywood.
"On weekends, I got to go to school during the week and then do the horror on Saturday," Rudd said. "It's a tricky thing because you want to appeal to a 13-year-old and their musical taste, their party. ... This was in the early '90s, so, you know, at that time, it was M.C. Hammer or you don't want to play too much. ... The Commodores' 'Brick House' would still work on occasion, but 'Celebration,' that's always, that's a staple."
Rudd said he doesn't feel torn between acting in comedies and his past work in drama.
"I think most of these comedies could be dramas," Rudd said. "Honestly, the stories, the actual story, could be. They're character-driven. It's not about bad language or crude humor. That stuff is in it in a way to make the dramatic story a little bit more relatable. ...
"You want to be moved. That's no different than watching, going into a movie. You want to laugh, too, but it's nice if you actually care about the people you're watching."
Really?
"Nah, you know what, they're just comedies. Who am I kidding?"