The secret to "Sex and the City's" success is surely the relationship between its four girlfriends.
But what would the girls have to talk about if not for the men of "Sex and the City?"
When the sequel to the successful movie premieres in New York on Monday and in theaters nationwide on Thursday, there will be a few familiar male faces and a couple new ones. At least one ex-boyfriend also will make an appearance.
Fans have undoubtedly kept track of the BFF's boyfriends, husbands and exes. But just in case you need a primer before seeing "Sex and the City 2," we thought it would be fun to look at who's in, who's out and where are they now: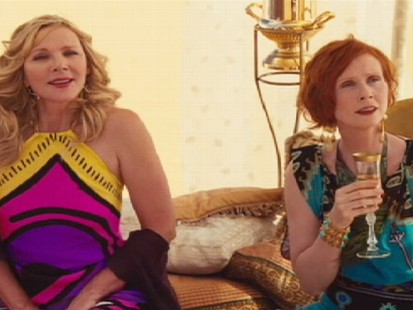 Carrie's Men
Chris Noth/Mr. Big:
Noth, a "Law and Order" veteran, inhabited the role of Mr. Big, Carrie's big love of the series. In and out of her life for years, Big finally pops the question to Sarah Jessica Parker's character in the first "Sex and the City" movie, only to leave her stranded at the altar.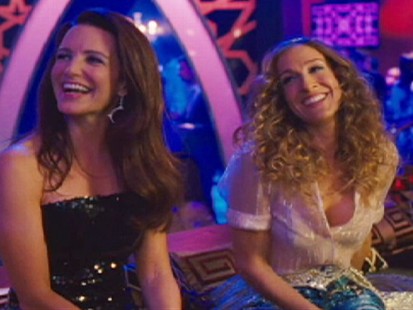 The chronic committment-phobe finally comes around, marrying Carrie in a small civil ceremony by the end of the first movie. And when we see Big again in "Sex and the City 2," the couple is somewhere between wedded bliss and a baby. Concerned about the lack of spark in their relationship, Carrie is forced to re-examine their marriage.
In real life, Noth became a dad in 2008 to baby boy Orion with longtime girlfriend Tara Wilson. He also returned to the stage between films, putting on weight to play the role of a political adviser.
The extra pounds didn't fly with "Sex and the City" director Michael Patrick King. Noth told George Lopez on his show last week that King "took one look at that stomach bouncing off the floor and he said, 'Dude, we're not calling you Mr. Big because of that stomach. Get somewhere and lose it fast. You've gotta be in shape.'"
Don't worry, Mr. Big will be his usual slim self. Noth worked off his gut with yoga, hiking and kayaking in Brazil.
John Corbett/Aidan
While Carrie is mulling over her marriage to Big during a trip to Abu Dhabi with her girlfriends in "Sex and the City 2," she runs into old boyfriend Aidan.
Aidan was the laid-back furniture designer and romantic opposite of Big. Aidan bared his heart to Carrie and got it broken twice -- first, when she admitted she cheated on him with Big and, second, when she turned down his marriage proposal.
In real life, Corbett, whose breakout role came in the television series "Northern Exposure," has been a relationship with Bo Derek since 2002. He currently stars opposite Toni Collette in "The United States of Tara."
Mikhail Baryshnikov/Aleksandr Petrovsky
Russian ballet dancer Baryshnikov portrayed Petrovsky, a famous artist who swept Carrie off her feet in the show's final season and almost made her forget about Big.
When Carrie accompanied him to Paris for an important solo exhibit, it became clear that she would always come second to Petrovsky's work and she broke off the relationship.
Unlike his character, Baryshnikov has maintained a couple long-term relationships. He has a daughter with actress Jessica Lange and three children with his current domestic partner, Lisa Rinehart, a former ballerina.
Now 62, Baryshnikov has continued to dance, choreograph and promote the arts.
Ron Livingston/Jack Berger
A writer, Berger was Carrie's intellectual counterpart. But while his career was cooling down, Carrie's was heating up. The disparity proved too much for him. In one of the show's more memorable breakups, Berger ended the relationship on a Post-It note: "I'm sorry, I can't, don't hate me."
Livingston since has starred in a number of television series, including HBO's "Band of Brothers" and Fox's "Standoff," where he met his wife, Rosemarie DeWitt.
Samantha's Men
Richard Wright/James Remar
Samantha's had many men and one notable woman but few long-term relationships. Richard was one of the exceptions. A successful hotel magnate, he also didn't believe in monogamy. But as their relationship heated up, the couple decided to try exclusivity. Ultimately, Richard cheated. Samantha gave him another chance but broke it off for good after she began seeing a much younger man, Smith Jerrod.
Remar has spent his career playing mostly villains in films such as "48 Hours" and "The Cotton Club." He currently stars in the hit Showtime series "Dexter" as Dexter's adoptive father Harry.
Smith Jerrod/Jason Lewis
Smith was the young hot waiter at "Raw" that Samantha seduced and ultimately fell for. Samantha jump-started his acting career and he supported her through breast cancer. In the first "Sex and the City" movie, Samantha moved to Los Angeles with Smith so he could pursue his burgeoning career. But after realizing how much she missed her single life in New York, the couple separated.
In the new movie, Samantha, who is going through menopause, admits she's over boy toys.
"Who cares about 25?" actress Kim Cattrall, who portrays Samantha, says in the movie. "I'm bored with 25. It's like a young wine. I hate Beaujolais. I don't want to drink it. I think it tastes terrible. I want a nice, full-body wine that's aged gracefully."
From the previews, it appears Samantha will get her wish in the form of a desert romance. And Smith will make a return appearance.
Meanwhile, Lewis has gone on to star in several television series, including "Charmed," "Brothers and Sisters" and "House M.D." He's been linked to actress Rosario Dawson.
Miranda's Men
Steve Brady/David Eigenberg
Bartender Steve Brady appeared to be hard-driving attorney Miranda's opposite when they met in the show's second season. They carried on an on-again, off-again relationship throughout the series, with Steve exposing Miranda's softer side and Miranda helping Steve through a bout of testicular cancer.
After Miranda, played by Cynthia Nixon, became pregnant with Steve's son Brady, the couple ultimately decided to get married and moved to Brooklyn. In the first film, Steve confessed to Miranda that he had a one-night stand during a rough patch in their marriage. The couple separated for six months but Miranda forgave him by the end and they reunited.
In the second film, it's clear that it's Miranda's job that's giving her trouble and Steve who helps her see there's an alternate way of life.
Dr. Robert Leeds/Blair Underwood
In one of the hotter storylines from the series, Miranda hooked up with Blair Underwood's character, Robert Leeds, a charming sports medicine doctor. He appeared to be her perfect man -- sexy, successful and devoted -- but Miranda couldn't commit to him because she was still in love with Steve.
Underwood, who came to fame in "LA Law," continued to play the perfect man in "The New Adventures of Old Christine," "Dirty Sexy Money" and "In Treatment."
He has also teamed up with husband-and-wife novelists Steven Barnes and Tananarive Due to write the Tennyson Hardwick series of detective novels.
This fall, he'll play the president in a new series, "The Event," for NBC.
Charlotte's Men
Trey MacDougal/Kyle MacLachlan
Of the four girlfriends, Charlotte, played by actress Kristin Davis, was the most set of marriage. When she met Park Avenue cardiologist Trey Mac, it seemed her blue-blood dreams had come true. Unfortunately, the dream turned into a nightmare. After marrying Trey, Charlotte discovered he was still enmeshed with his mother Bunny. Pile on problems conceiving and the marriage -- and dream -- unraveled.
MacLachlan, known for his roles in David Lynch's "Blue Velvet" and "Twin Peaks," would go on to play another cad husband. He stars as Bree's on-again-off-again husband Orson on "Desperate Housewives."
Harry Goldenblatt/Evan Handler
After Trey, Charlotte fell for an unlikely fellow, her bald and Jewish divorce lawyer Harry Goldenblatt. Nonetheless, Charlotte converted to Judaism in order to marry Harry. At the beginning of the first "Sex and the City" movie, the couple had adopted Lily from China. By the end, they have welcomed their own biological child, newborn Rose.
In the new movie, Charlotte contends with the demands of motherhood and a shapely new nanny she finds herself attracted to.
Handler, who has appeared in numerous sitcoms and dramas, currently stars opposite David Duchovny as Charlie's bumbling agent and friend in the Showtime series "Californication."
The actor is also a leukemia survivor and has written two books about his experience.