It may be the awards bash for teens and tweens, but two stars of an older demographic stole the show at this year's MTV Movie Awards: Sandra Bullock and Tom Cruise.
Bullock made her first live TV appearance since splitting with her philandering husband, Jesse James, at MTV's Movie Awards Sunday night. The 45-year-old actress accepted the MTV Generation Award for her career achievements. On stage, she rebutted the tabloid rumors about her life.
"No. 1: I'm not dead," she said. "No. 2, everybody has cellulite, not just me. Paparazzi need more flattering lenses."
Bullock then turned to the presenters of the Generation Award: Betty White, her co-star in "The Proposal," Bradley Cooper, her co-star in "All About Steve," and Scarlett Johansson, her co-star in ... nothing. When Bullock asked why Johansson was there, Johansson hinted that after watching Bullock kiss her husband, Ryan Reynolds, in "The Proposal," she was curious about the actress' talents.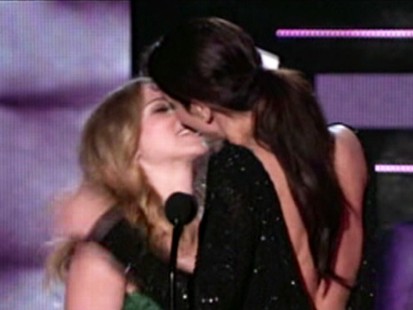 Bullock took the bait and gave Johansson an awkward kiss on the mouth.
"Now that we have done that," Bullock announced afterwards, "can we please go back to normal?"
Prior to the MTV Movie Awards, Bullock made her first public appearance since James' sex scandal at Spike TV's Guy's Choice Awards, which taped on Saturday and is slated to air later this month. She accepted the Troops Choice award for Entertainer of the Year.
"Did I win this for being 'Entertainer of the Year,' or did I win this because of the spectacular IED explosion that became my personal life?" she joked.
But back to MTV's show: Besides Bullock, the highlight of the two-hour-long shindig was Tom Cruise reprising his role as Les Grossman, the off-the-wall, hip-hop loving, middle-aged movie producer from "Tropic Thunder." He donned Grossman's unflattering too-tight dress pants and suspenders to shimmy to Ludacris' "Get Back" with, inexplicably, Jennifer Lopez.