The weather is quickly improving outside, allergies are sprouting up and New York hit 90 degrees in April. What does all this mean? Summer is right around the corner.
It also means that Hollywood is about to unload blockbuster after blockbuster on the movie-going public.
Movie critic for Rolling Stone, and anchor of "Popcorn" on ABC News Now, Peter Travers takes a look at some of the biggest movies coming out this summer, and has some words on what's worth seeing, what's not worth your time and what you might still be talking about come Oscar season.
'Star Trek' (Paramount) May 8
JJ Abrams ("Lost") offers an origin story to the characters that made Star Trek famous. Chris Pine ("Bottle Shock") and Zachary Quinto ("Heroes") play the young James T. Kirk and Mr. Spock respectively.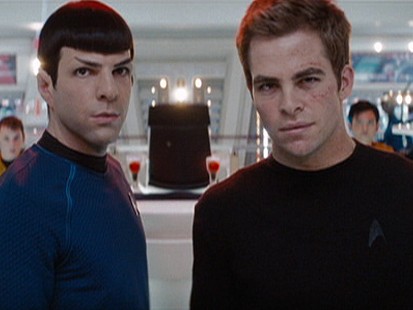 'Angels & Demons' (Columbia) May 15
Dan Brown's sequel/prequel to "The Da Vinci Code," brings Tom Hanks back in the role of Harvard symbologist Robert Langdon, this time facing off against the dreaded and mysterious Illuminati. Says Travers, "This is a sequel to 'The Da Vinci Code.' It was a terrible movie, no suspense, no sex appeal. It just sounds like more of the same."
'Terminator Salvation' (Warner Bros) May 22
Christian Bale is John Connor, the futuristic hero who may be able to save mankind from the scourge of the Terminator. Six years after the last Terminator movie was made, this one does not feature the Governator.
'Night at the Museum: Battle of the Smithsonian' (Fox) May 22
This is a sequel to the 2006 movie, which followed a night watchman at the Museum of American History as the exhibits came to life. The original had Ben Stiller, Robin Williams, Ricky Gervais and Owen Wilson among others. "If Ben Stiller went back to do 'Tropic Thunder 2,' I'd be happy and cheery. This is just draggy. ... I don't care," Travers said.
'Up' (Disney) May 29
The entry from Disney in the animated category this year (after last year's "Wall-E"), "Up" is about a 78-year-old retiree who decides to fly his house away by attaching a load of helium balloons. Along for the ride is a stowaway 8-year-old wilderness scout. Travers says, "One word: Pixar. This is the ninth Pxar movie and name the bad one. You can't."
'The Hangover' (Warner Bros) June 5
A comedy in which three friends (Bradley Cooper, Zach Galifinakis, Ed Helms) lose their groomsman buddy during the bachelor party. Sound formulaic? Yeah, but it's from the director of "Old School" and the trailer is hilarious. Also featuring Mike Tyson.
'Land of the Lost' (Universal) June 5
Will Ferrell stars in this remake of the 1970s TV show of the same name, about a scientist who slips into another dimension where dinosaurs, sleestaks and pakuni roam the land. "I love Will Ferrell. But this is an old series," Travers said.
'Bruno' (Universal) June 10
Sacha Baron Cohen made the whole country uncomfortable in "Borat." Now he's back as gay Austrian hairdresser Bruno. If the red-band trailer's any indication, this one will be just as provocative. "How do you resist Sacha Baron Cohen?" muses Travers.
'The Taking of Pelham 1 2 3' (Columbia) June 12
John Travolta and Denzel Washington recreate the classic action movie from the 70s, updated for today. Denzel plays the Walter Matthau character, and Travolta is the Robert Shaw character. Bad guys hijack a subway and a hostage negotiator deals with it. Says Peter Travers: "This movie is great. I've seen it and it's great."
'Imagine That' (Paramount) June 12
Eddie Murphy plays a banker type who starts following the stock tips given to him by his pre-teen daughter. Says Travers, "I liked Eddie Murphy in 'Dreamgirls' and I'd have to go all the way back to decades when I liked him again."
'Transformers: Revenge of the Fallen' (Paramount) June 26
Autobots and Decepticons return to continue their battle. Shia Labeouf returns as Sam Witwicky. The trailer doesn't offer much detail as to the story, but it does show the Egyptian pyramids. "It looks like an utterly commercial prospect with no sense of imagination," Travers says.
'Public Enemies' (Universal) July 1
Johnny Depp returns to the screen as iconic 1930s bank robber John Dillinger. Christian Bale plays FBI agent Melvin Purvis, who is fixated on capturing Dillinger and other major crime figures of the day. Says Travers: "There's no movie I want to see more this summer than this one."
'Harry Potter and the Half-Blood Prince' (Warner Bros) July 15
The kids are getting older and the series is getting darker. Will Voldemort take control? Will Harry find the key to defeating his enemy? Will teenage hormones get in the way of it all? Even though this is the penultimate book, there will be two more movies: Warner Bros is splitting the last book in the series, "Harry Potter and the Deathly Hallows," into two movies, scheduled for release in 2010 and 2011.
'500 Days of Summer' (Fox Searchlight) July 15
Director Marc Webb takes romantic comedy in unexpected new directions in this Sundance favorite, starring Zooey Deschanel and Joseph Gordon-Levitt. "I'm mad for this one," quoth Travers.
'Funny People' (Universal) July 31
Judd Apatow returns to directing with this comedy that's also got Oscar in its sights. Adam Sandler, Seth Rogen and Leslie Mann star. Sandler plays a famous comedian diagnosed with terminal cancer, who tries to change his curmudgeonly ways after learning of the condition.
'Julie & Julia' (Columbia) Aug. 7
Meryl Streep and Amy Adams return to the screen together (though they share no actual screentime in this one) as famed TV chef Julia Child and blogger/temp/amateur chef Julie Powell, respectively. Powell tried to recreate all 524 recipes in Child's book "Mastering the Art of French Cooking," in one year while blogging about it. "The even figured out a way for her to look six-foot-two like Julia Child was," Travers says.
'Taking Woodstock' (Focus Features) Aug. 14
Comedian Demetri Martin plays the young man who helped the Woodstock concert organizers put the historic show together by leading them to the space and giving them the concert permit his family owned. "This movie is to evoke all of that (the 1960s Woodstock vibe)," Travers said.