After eight weeks, scores of dates in exotic locales and a fair share of drama, Jillian Harris will finally get the chance to choose her man in Monday's finale at 8 pm EST/7 pm CST. on ABC.
Now, Harris is left with two men: soft-spoken Kiptyn Locke and ambitious Ed Swiderski. However, a preview for tonight's finale shows the ousted Reid Rosenthal returned with a shocking confession that makes the 29-year-old Canadian interior designer question her decision to dump him.
Jillian Harris will appear live on "GMA" Wednesday. Click here to send in your questions to Jillian Harris.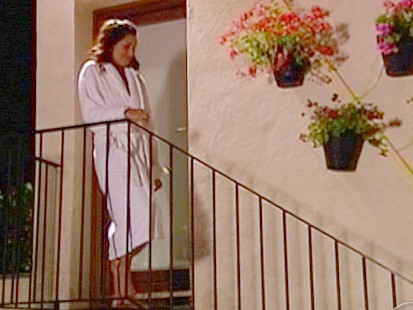 Could there be a repeat of last season's
Jason/Melissa/Molly love triangle
? Or will she pull a Brad Womack, who in the 2007 finale chose no one and went home alone?
Harris told ABCNews.com that the finale is "dramatic," but has a "brilliant and positive" ending. "Not only am I happy, but as everyday goes by, I wake up more and more excited," Harris said.
Harris, who made it to the final three in last season's "Bachelor" with Jason Mesnick, became a fan favorite after her bubbly personality and honest remarks about love and life captured America's heart.
Click here to find out more about "The Bachelorette."
Viewers can definitely expect twists and turns Monday night, although Harris could not confirm whether she was engaged or not.
"I'm a real girl and I will be making a decision that will affect my life positively," Harris said. "What fans should be happy about is I've made a decision that I am extremely happy with."
Her journey through love has been a dramatic one, staying true to franchise history. She is the only "Bachelorette" or "Bachelor" to have to choose among 30 contestants instead of the 25 in previous seasons. And she may be the only one to keep a contestant into the final four with an alleged girlfriend back home. Other memorable testosterone filled men vying for Jillian's heart included Tanner ("the one with the foot fetish"), Juan ("the one hated by all the men"), David ("the frontrunner turned aggressive one") and Wes ("the one with the alleged girlfriend.")
Here is a look at the two finalists who are vying for the rose:
Kiptyn Locke
Age: 31
Occupation: Business developer
Hometown: Encinitas, CA
Currently resides in: Encinitas, CA
Jillian's take: Said on the show that Kiptyn is the perfect package with the perfect cultured family, but she isn't sure if he is ready for an imminent proposal. On last week's date, however, Jillian learned to trust Kiptyn on a ropes course in Hawaii, and she learned he has had "one foot in and one out in relationships." He stays with her in the fantasy suite anyways, and all systems were a go.
Known as: The fan favorite. Gossip blogs have been buzzing for weeks with rumors that Kiptyn will be the next "Bachelor."
Possible disadvantage: To fans, Jillian has stronger chemistry with Ed, and up until now, Kiptyn has been quieter about his feelings for her.
Ed Swiderski
Age: 29
Occupation: Technology Consultant
Hometown: Monroe, MI
Currently resides in: Chicago, IL
Jillian's take: After Ed bailed on the show to rescue his job, he returned to pursue Jillian again. Jillian said she tends to go for the tall, dark and handsome type, which is Ed, and she is confident knows he's falling in love with her. Ed surprised her by flying his parents out to Hawaii for a meet-and-greet, sending Jillian into a giddy rush of emotion. Jillian loved Ed's parents, who reassured her he is very much ready to settle down.
Known as: The sweet one who has no problems showing his true feelings for Jillian.
Possible disadvantage: In the fantasy suite in last week's episode, Jillian and Ed couldn't create a "romantic connection" ending with Jillian teary-eyed and questioning whether any physical chemistry was really there.