They may have their kids' best interests at heart, but Kate Gosselin's not afraid to say what she really thinks of her soon-to-be ex-husband Jon Gosselin's behavior.
"It is hurtful. It's very hurtful," she told NBC about Jon dating 22-year-old Hailey Glassman, the daughter of the surgeon who performed Kate's 2006 tummy tuck. "To be very honest, the most hurtful part is when his decisions directly affect our children. That's the hardest part for me."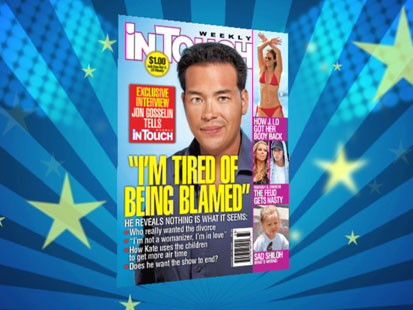 "Clearly, his goals are not my goals, so we just needed to work that out," Kate added. "I think it's very clear that we are two different people at this point, with two different sets of goals."
Still, Kate admitted that she keeps her wedding ring on for their eight children and will take it off "when the time is right." She also defended herself against critics who argue that she and Jon should ditch their reality TV show and focus on their family, saying, "I still feel like this is a good thing. It's healthy. And the kids would agree."
"I don't want to upset them," Kate said about the kids. "While I've been very real and as honest as I need to be, I don't want to shock them. I've walked slowly through this with them. As they've asked questions, I've answered them."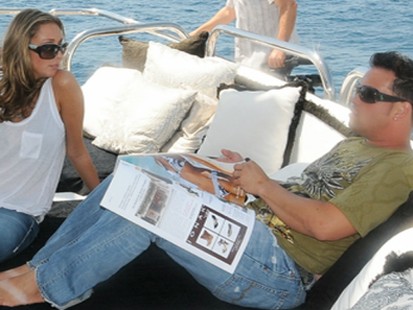 Yet so many questions remain. Gosselin was expected to react to Kate's comments and share his side of the story in an interview with E! News tonight, but earlier today, the network announced that the reality TV dad would not be appearing. Instead of him, E! will interview Kate Major, the Star magazine senior reporter who resigned after citing a "conflict of interest" between her job and relationship with Gosselin.
"Jon & Kate Plus 8" returned to TLC last Monday after weeks of Jon's flurry of romances while Kate stayed at home in Wernersville, Pa., with their eight children. But while the couple settles into their new, separate lives, the show that made them famous is apparently not fairing as well.
The show's Monday, August 3rd return drew in 4.2 million viewers, a 61 percent drop from the show's last episode, in which the Gosselins announced their decision to divorce after eight years of marriage.
On Monday night's back-to-back episodes, Kate vacationed with their twins and sextuplets while Jon supervised kitchen renovations during the first half hour, drawing only 3.9 million viewers.
In the last half hour, 4.1 million viewers watched Kate camping with the kids, without Jon. The second episode lacked the tension of the first because it was filmed after the Gosselins announced their divorce. Kate had some difficulties starting the camp fire, and 34-year-old told cameras the kids constantly wished Jon could be there.
"It's not their fault what has transpired has transpired," she said. "My main goal is to make this transition as painless for these kids as possible."
Jon Becomes a Swinging Single
The new season, featuring a single armchair for question and answer sessions rather than the couple's famous couch, is clearly focusing on the split-parenting duties in the middle of their pending divorce. But in the media, the news is mostly on Jon's newfound bachelor life, with headlines about the Gosselins splashed on weekly entertainment magazines.
Ian Drew, senior editor at Us Weekly magazine, said the show is "irrelevant" to what is actually going on in Jon and Kate's personal lives.
"He was caught cheating to begin with," Drew told ABCNews.com, adding that the Jon and Kate saga sells. "He plays into the idea in the media of this cheating husband that every woman hears. It's interesting to see what the real story is."
Mindy Roberts, a 40-year-old mother of three who serves as a panelist for Momversation.com and runs Themommyblog.net, knows what it's like to split parenting duties.
Roberts, from San Jose, Calif., split with her husband in 2005, but made an effort to do everything together like a family, just living in two separate households.
"People criticized us, because everyone believes it's better not to send a mixed message," Roberts said. "Kate is going to come out looking better because she's hanging with the kids. I don't think Jon has a full concept of what he's doing."
Jon Gosselin Linked to Multiple Girlfriends
Roberts, who watched "Jon & Kate Plus 8" occasionally and stayed updated with Internet recaps, said there's only so much longer the show can go on.
"People get sympathy fatigue," Roberts said. "Jon is a much juicier story to follow because he is having this second childhood, but he thinks he is getting away with more than he actually is."
The 32-year-old father, who recently purchased a one-bedroom apartment on Manhattan's Upper West Side, has been linked to a bevy of female companions in the last six weeks, including Glassman and Major.
Major, who first met Jon on July 17, 2009 while interviewing him for Star, told E! Entertainment News in an exclusive interview that she was "really, really impressed and I still am, with the person that he is." They went out to dinner in New York City the next night, and Major looked smitten when photographed leaving the restaurant. The next week, the couple was spotted vacationing in the Hamptons with actress Lindsay Lohan's father Michael Lohan and "Real Housewives of New York City" star Jill Zarin.
Major's three-part interview, which aired on E! News last week, took viewers through exactly why she resigned at "Star" after the attention on her relationship with Gosselin, the status of the relationship now and her thoughts on Jon and Hailey's relationship.
"I think it's authentic," Zarin told Us Weekly of Jon's relationship with Major. "I think it's fast. I think it happened very quickly."
Just a week before that, however, Gosselin confirmed to reporters he was dating Glassman, whom he reportedly started dating just 20 days after announcing his split from Kate.
"That's news to me," Glassman told People magazine when asked about the rumors that Major was dating Jon.
Glassman, who was charged with various drug possessions while a student at Indiana University in 2005, said in the same interview with tears in her eyes, "I still love Jon and Jon loves me."
Gosselin and Glassman even spent time aboard Ed Hardy designer Christian Audigier's yacht, holding hands and relaxing while reportedly talking about collaborating on a children's clothing line, though Jon's rep claims that was never true.
On August 6, 2009, Jon was spotted with Glassman who he is apparently still dating, according to Radaronline.com. Asked if they were still together, the couple, who held hands, replied "yes."
Both repeatedly denied a breakup with Hailey saying, "Don't believe everything you read."
Meanwhile, Major said in her August 6, 2009 interview with E! News that Jon is "a great, great guy. "I wish I could think of something wrong with the guy, but there really isn't."
Describing her relationship with Jon as a "complete whirlwind," she added she wakes up some days thinking, "What am I doing? Am I going to be the next Kate?"
Media Battle for Jon Gosselin
The media catfight between Major and Glassman as gotten progressively more dramatic, especially after Jon told People magazine last month that he was a "single regular guy who just wants to have friendship and good times."
Of 22-year-old Glassman, Jon said, "She's always a good friend of mine. Her family is so good. They took me in and I lived there for a while. I love them to death."
As for Major, Gosselin says, "We are just friends."
"I'm just trying to concentrate on my family first, second my career. That's what I have to do," Gosselin said. "I'm really looking forward to it -- to turning my phone off, playing with my kids in the pool and being the dad."
The Aug. 10 issue of Us Weekly, however, paints the picture of a father who is staying true to his parenting duties while still having his fun, allegedly bringing his children's nanny, 23-year-old Stephanie Santoro, back to his $1.1 million Pennsylvania home at 3 a.m. one night last week.
Photos suggest Santoro spent the night and went home the next morning. In an exclusive interview with In Touch magazine, Jon denies the rumors.
"There's no truth to this -- there's nothing going on between my nanny and me. She came over to my house after her shift at a restaurant at 3 a.m. because I had to leave the house very early the next morning."
However, the kids were away with Kate on a trip, so there were no children for Santoro to watch.
Us Weekly stands by the story that there is an affair going on between Jon and the nanny, but Drew said "he is of course going to deny it."
"It becomes this insane circus wherever he goes because it sells," Drew said.
Another episode on "Jon and Kate Plus 8" is set to air Monday night, 9 p.m. EST, and it's back to school time for the Gosselin kids, and Kate takes them shopping. Meanwhile, Jon tearfully promises to become a better father and help his children get past the divorce. In the same episode, Jon attends a club opening, and adds more fuel to the fire that his bachelorhood is more important to him than family.
TLC declined to comment on the show's anticipated future or what Kate might say on Monday's segment.