The television news producer accused of trying to blackmail David Letterman for $2 million by exposing the talk show host's extramarital affairs pleaded guilty today in a Manhattan court.
Robert "Joe" Halderman, an Emmy Award winning producer at CBS News, left the courtroom and apologized to Letterman.
Halderman entered a guilty plea in a deal that requires him to serve six months in prison, agree to four and a half years probation and perform 1,000 hours of community service, 500 of which will take place in a Connecticut homesless shelter.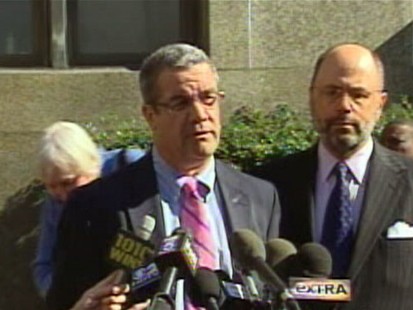 Had he not taken a deal, Halderman, who initially pleaded not guilty to charges of grand larceny, could have faced a 15-year prison sentence.
"In September of 2009, I attempted to extort two million dollars from David Letterman by threatening to disclose personal and private information about him, whether true or false," Halderman told the court.
Outside of court, Halderman told a brief news conferrence, "I apologize to Mr. Letterman and his family, Stephanie Birkitt and her family and certainly to my friends and family."
Birkitt is a former Letterman staffer who Halderman lived with until last year. Birkitt was rumored to have carried on an affair with the late-night comedian.
In court, Halderman said, "I feel great remorse for what I've done."
Halderman, 66, waived his right to appeal and is scheduled to be sentenced May 4.
"I would like to thank the District Attorney of Manhattan, Cyrus R. Vance, Jr., the former District Attorney, Robert M. Morgenthau, the Special Prosecutions Bureau in the D.A.'s Office, and the New York City Police Department. When they became involved with this case, I had complete faith that a just and appropriate result was inevitable. On behalf of my family, I am extremely grateful for their tireless efforts," Letterman said in a statement read by his lawyer Dan Horwitz.
Letterman addressed the plea on tonight's show, striking a solemn note before introducing his first guest. Instead of making light of the situation, the comedian thanked by name all key players involved in resolving his case.
"The matter was resolved today," Letterman told his audience. "It was handled professionally, skillfully and appropriately."
In October 2009, Letterman, 62, announced during a taping of his "Late Show" that he had sexual relations with female members of his staff and decided to go public after receiving a package left on the back seat of his car demanding money to keep the affairs secret.
The package contained a letter that said, "I know that you do some terrible terrible things and I can prove that you do these terrible things ... and sure enough what was contained in the package was proof that I do terrible, terrible things," Letterman told his audience.
The late night comic explained on air how his attorney contacted New York prosecutors to catch Halderman. Letterman later testified before a grand jury.
Halderman initially claimed that he was only trying to sell Letterman a screenplay, which included sordid details of the talk show host's life.
Halderman allegedly threatened to reveal "personal and private information" if Letterman did not accede to his demands to purchase the one-page screenplay, the Manhattan district attorney's office said at the time.
In October District Attorney Robert Morgenthau said the screenplay described a scenario in which Letterman's world would "collapse all around him" and would lead to a "ruined reputation."
Halderman Lived With Former Letterman Aide
Morgenthau said the screenplay "covers all the necessary facts" needed to indict Halderman with one count of attempted grand larceny in the first degree.
Halderman lived until recently with Stephanie Birkitt, a one-time personal assistant to Letterman who was alleged have carried on an affair with Letterman.
Public documents indicate that Birkitt and Halderman lived together in Norwalk, Conn., from August 2005 to August 2009. Birkitt now has an apartment on Manhattan's Upper West Side.
Halderman has been married and divorced twice, according to public records. He had two children with his second wife, and has three stepchildren. His former wife won custody of their children and now lives in Colorado.
Divorce records show that Halderman was ordered to pay $6,800 a month in alimony and child support, starting May 1, 2004.