When contestants take the Miss America stage in Las Vegas next week with wide smiles and beautiful hair, one of them will be wearing a wig.
Kayla Martell has dreamed of being crowned Miss America since she was 3 years old. When she began losing her hair at age 10 because of a condition called alopecia areata, Martell didn't let her hair loss stand in the way of her dream.
Years later, Martell -- Miss Delaware -- is now in Las Vegas to take her shot at the Miss America crown.
"It's surreal. I can't even begin to explain it," Martell told ABC's Linsey Davis in today's Conversation.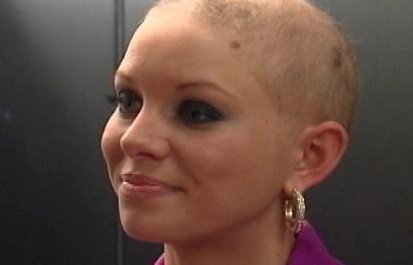 Because of her thinning hair, Martell wears a wig to compete in beauty pageants, but it's a decision she doesn't take lightly. She doesn't want her decision to make other young girls with her condition believe they have to wear a wig too.
"Miss America, she needs to be relatable to all people, but she also must be approachable," Martell said.
"Oftentimes when people see me, at first glance, they assume that I'm either very, very sick or that I'm going through chemotherapy," said said. The wig gives me an opportunity to meet them and have that initial moment where they're not worried about me. ... Then I get to bring up my alopecia areata on my own terms."
Her fellow Miss America contestants have already been extremely supportive, Martell said.
"Half of them here are wearing hair extensions. Some of them are wearing fake eyelashes. I mean, my hairpiece just happens to be a little bit thicker and a little bit heavier," she said.
But in her day-to-day life, Martell goes bald. Her message and success on the pageant stage have inspired others with alopecia areata around the world, who offer their thanks on her Facebook page and through e-mail.
"Every single one seems to make me cry," said Martell. "The thought that I'm touching people's lives outside the borders of Delaware, outside of the borders of even the United States."
We hope you'll watch more of today's Conversation to learn more about Miss Delaware, Kayla Martell. And you can watch her compete in the Miss America Pageant, Jan. 15, 9 p.m. ET, on ABC.
Click here to watch more Conversation videos.