Rick Fox, the latest celebrity to get the axe on "Dancing With the Stars," said he has only one regret about leaving the competition.
"My one disappointment is that we won't learn the Foxtrot," Fox joked on "Good Morning America."
Fox and professional partner Cheryl Burke said good-bye last night after the seventh week of the competition.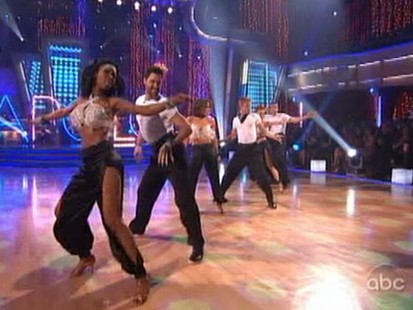 "This experience as a whole is something that you can't put into words," Fox said on "Good Morning America." "As I look over the last seven weeks, I look at the relationship I have with my daughter that's grown...she loves the show and got to come and see her dad dance."
To mark the show's 200th episode, contestants had to perform two dances -- a team cha-cha, coached by former DWTS winners Olympians Kristi Yamaguchi and Apolo Anton Ohno, and an individual dance. Couples were tasked to recreate an iconic dance from past seasons.
Fox and Burke took on Helio Castroneves' Quickstep with Julianne Hough from season five, dancing to "Hey Pachuco." Fox performed with gusto in a dashing green suit, and got in touch with his fun and playful side. He earned his highest score of the competition with judge Bruno Toniolo calling it his "best performance" yet. The couple said they were surprised to be sent home.
"We may have gotten lost in the pack," Burke said. "People may have thought we were going to be safe and didn't vote."
Fox praised his partner for coaching him and for compensating for their huge height difference – no small feat. The former Los Angeles Laker towered over his partner during the competition, forcing Burke to wear special 4-inch heels.
"My feet were killing me!" she admitted on "GMA," but "I had to do whatever to get close to Rick's height."
Fox also lauded his competitors, urged fans to keep voting and said the contest "will go down to the wire."
Remaining 'Dancing With the Stars' Celebrity Contenders:
Brandy

Brandy is a platinum-selling R&B and pop singer, actress, songwriter, and record/television producer. In 1994, at the age of 15, Brandy released her eponymous debut album, which sold more than 6 million copies. Following a major success with "The Boy Is Mine," a duet with singer Monica that spent 13 weeks at No. 1 on the Billboard Hot 100 Singles Chart, she won a Grammy Award for Best R&B performance by a duo or group. The accompanying album, "Never Say Never," in 1998 sold more than 16 million copies worldwide. A series of hit CDs followed, including "Full Moon," "Afrodisiac" and "Human," bringing the star's sales to more than 30 million records to date.
While maintaining a recording career, Brandy also gained fame as an actress, starring in several film and TV projects, including the popular UPN sitcom "Moesha" (1996-2001), the 1997 version of Rodgers and Hammerstein's "Cinderella," "Double Platinum," a miniseries co-starring Diana Ross, and the movie "I Still Know What You Did Last Summer." Brandy has also been spokesmodel for Cover Girl, Candies Shoes, DKNY, Sketchers Shoes and Ultima/Kaneka brand by Brandy. Her civic and charity interests include the Make-A-Wish Foundation and the Norwood Kids Foundation, which supports music and the performing arts in public schools. She is currently filming season two of the hit VH1 reality show "Brandy and Ray J: a Family Business" in which she stars and is executive producer. She is also in the studio recording a new CD for release in 2011.
Jennifer Grey

A beloved actress of both film and television, Jennifer Grey is best known for her starring roles in the iconic movies "Dirty Dancing" and "Ferris Bueller's Day Off." Grey starred as Frances "Baby" Houseman in the award-winning, box office hit "Dirty Dancing," which is widely considered one of the best dance movies of all time. Some of Grey's other films include Ben Affleck's "Bounce," "Red Dawn" and "The Cotton Club." Grey starred in the television sitcom "It's Like, You Know …" and has made memorable television appearances on such shows as "Friends," "John From Cincinnati," "The New Adventures of Old Christine" and an upcoming episode of the medical drama "House." She has also starred in various television movies, including "A Case for Murder," CBS's "The West Side Waltz" and a Lifetime original movie "Road to Christmas." Jennifer is the daughter of Tony and Academy Award winner Joel Grey, and resides in Los Angeles with her husband, actor-director Clark Gregg, and daughter.
Kyle Massey

Kyle Orlando Massey stars as Cory Baxter in Disney Channel's No. 1 hit sitcom, "Cory in the House," Disney Channel's first spinoff. He originated the role of Cory in Disney's "That's So Raven," the first show in Disney's history to produce more than 100 episodes. For his work on the Disney shows, he received an NAACP Image Award nomination. In addition to appearing in numerous commercials, he starred in the Disney Channel Original Movie, "Life is Ruff." He has a recurring role on the animated series "American Dragon: Jake Long" and sings the main title theme songs on "Cory in the House," "Yin! Yang! Yo!" and performed the title track for Walt Disney Pictures' "Underdog." Currently, Kyle is starring as the voice of Milo on the Disney Channel's upcoming animated series "Fish Hooks." Kyle's prowess in golf won him first place in the National Minority Junior Golf Tournament in 2003. He also placed third in a recent White House Golf Tournament. Together with his brother, Christopher, Kyle has worked on projects to benefit the charity organization Feed the Children and traveled to Africa for the network prime-time television special "Eyes on Kenya." They have also performed their rap music in "Heroes Among Us: the 2009 Hero Awards" and in MyNetworkTV's "The Spirit of Christmas." Currently, they are co-hosting and starring in the comedy series "World's Funniest Moments."
Bristol Palin

Bristol Palin, former first daughter of Alaska, entered the national spotlight when her mother, former Alaska Gov. Sarah Palin was selected to be John McCain's running mate in the 2008 presidential election. Bristol Palin traveled the country, alongside her mother, father and siblings, on the campaign trail. After giving birth to her son Tripp, and becoming a single teen mother in 2008, Palin became a spokeswoman for the prevention of teen pregnancy and other teen issues. As an advocate, Palin wanted to share her story with other teens who may one day face a similar situation. Palin also acts as teen ambassador for the Candie's Foundation to prevent teen and unplanned pregnancy. As part of her campaign, Palin recently guest-starred as herself on an episode of ABC Family's teenage drama "The Secret Life of the American Teenager." Palin resides in Alaska with her son and family.
Kurt Warner

Kurt Warner is the first quarterback to participate in "Dancing With the Stars." In 1999, he emerged from obscurity to lead the St. Louis Rams to a victory in Super Bowl XXXIV. That same year, Warner was named the NFL and Super Bowl Most Valuable Player. As the ringleader of the Greatest Show on Turf, he led the Rams to two additional playoff appearances, including another Super Bowl, and received Pro Bowl honors for three consecutive years (1999-2001). He also earned his second NFL MVP in 2001. Injuries led Warner to move from the Rams to the Giants, and finally the Arizona Cardinals in 2005. In 2007, he led the Cardinals to their first Super Bowl berth, was voted to his fourth Pro Bowl and surpassed several Cardinals' franchise records, including touchdowns, attempts, completions, completion percentage and passer rating. Warner's gridiron accomplishments pale in comparison to the dedication he devotes to the community. In 2001, Kurt and his wife Brenda established the First Things First Foundation, a nonprofit public charity dedicated to affecting lives by promoting Christian values, sharing experiences and providing opportunities to encourage everyone that all things are possible when people seek to put first things first. Warner was born and raised in Iowa and played college football at the University of Northern Iowa. He lives in Arizona with his wife Brenda and seven children.