Guess who's heading to the "Dancing With The Stars" ballroom? Robin Roberts!

The "Good Morning America" anchor will be a guest judge on the hit ABC show, joining Len Goodman, Bruno Tonioli and Carrie Ann Inaba at the judges table on March 31.

"I am nervous...but you got to step outside of your comfort zone," Roberts said today on "GMA." "I think I am going to take the perspective of those who normally watch at home."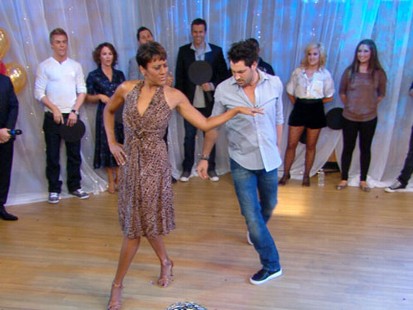 Roberts also asked viewers for their judging advice on Twitter:
The celebrities will each be asked to dance a routine that encompasses the "most memorable year of their lives," promising for a night of emotional backstories and performances.

Sean Avery, Diana Nyad Exit in 1st Season 18 Elimination

Click here for more on this season's "Dancing" cast!

While she's not putting on her dancing shoes this time around, Roberts marked her 50th birthday on "GMA" in 2010 by dancing the cha-cha with pro Maksim Chmerkovskiy.

Roberts will be one of many guest judges on "Dancing" this season, including former pro Julianne Hough and singer Ricky Martin.

'Dancing With the Stars' Season 18: Olympian Charlie White Tops in Week 1

In another twist for the upcoming episode, viewers will be able to vote to change the celebrity and pro pairs for the first time. The "switch-up" is based on Twitter; tweet using #DWTS plus the first name of the celebrity and the first name of the professional dancer to vote.

READ MORE: Julianne Hough and Derek Hough Announce National Tour