Ed Sheeran spoke out against what he called "dangerous" copyright claims after defeating a lawsuit that alleged he copied the Marvin Gaye classic "Let's Get It On" when he wrote his Grammy-winning song "Thinking Out Loud."
Addressing reporters outside Manhattan federal court Thursday, the musician said he was "obviously happy" the jury ruled in his favor.
"But at the same time, I'm unbelievably frustrated that baseless claims like this are allowed to go to court at all," he said.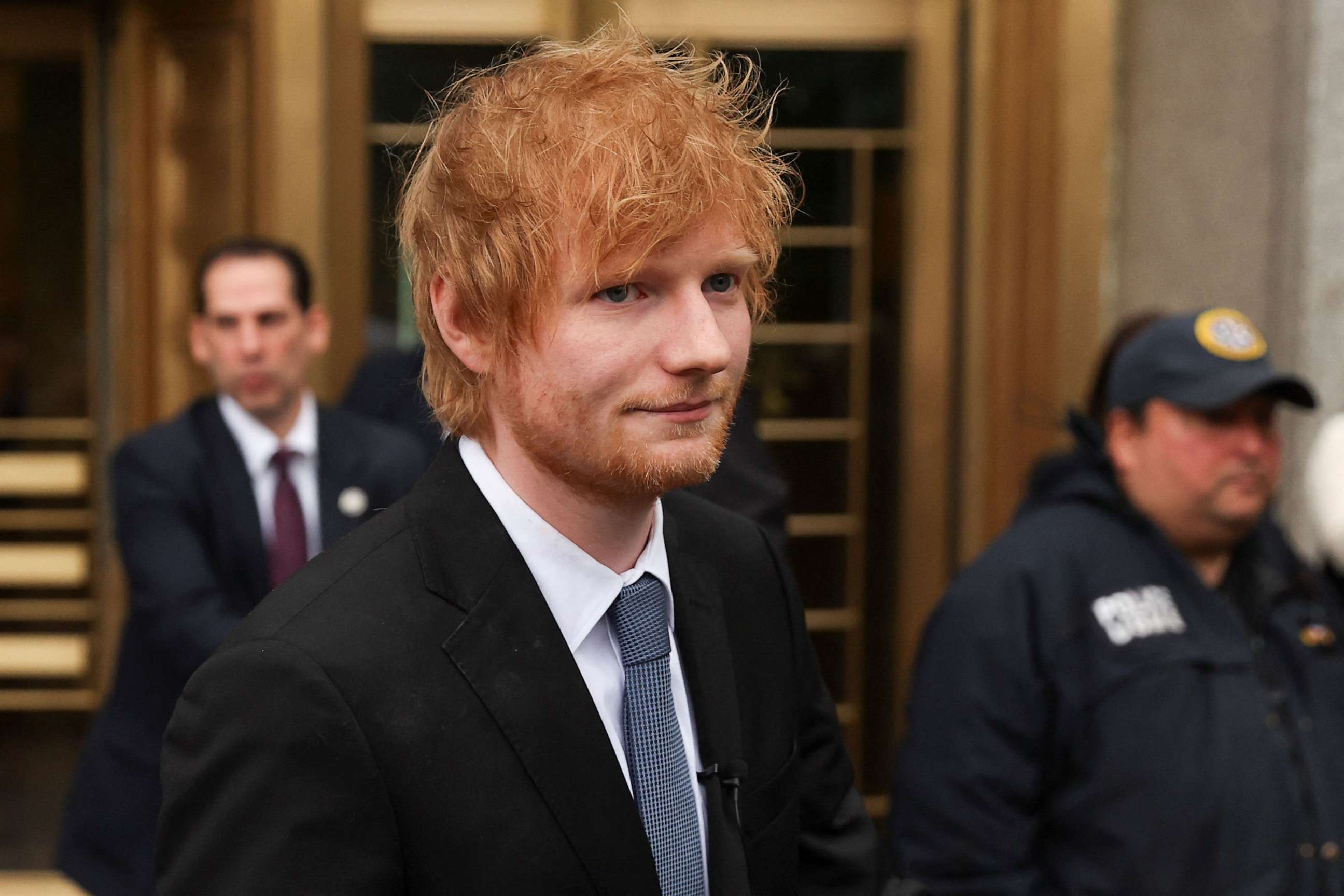 Sheeran had been accused of copying the sheet music for "Let's Get It On" by the family of the song's late co-writer, Ed Townsend.
The lawsuit claimed that Sheeran took the rhythm, chord progression and other elements for his 2014 song "Thinking Out Loud" without permission from the 1973 soul classic "Let's Get It On."
Sheeran said Thursday the songs have "dramatically different lyrics, melodies and four chords which are also different and used by songwriters every day, all over the world."
"These chords are common building blocks which were used to create music long before 'Let's Get It On' was written and will be used to make music long after we are all gone," he said. "They are in a songwriter's 'alphabet,' our toolkit, and should be there for all of us to use. No one owns them or the way they are played, in the same way that nobody owns the color blue."
Sheeran criticized what he called attempts by the plaintiff's musicologist to manipulate the jury during the trial to make "misleading comparisons" between the two songs.
"I'm very grateful that the jury saw through those attempts," he said. "This seems so dangerous to me, both for potential claimants who may be convinced to bring a bogus claim, as well as those songwriters facing them."
If the jury had found he was liable, "we might as well say goodbye to the creative freedom of songwriters," Sheeran said.
"We need to be able to write our original music and engage in independent creation without worrying at every step of the way that such creativity will be wrongly called into question," he said.
Sheeran was frustrated about the lawsuit for another reason -- he said he missed his grandmother's funeral in Ireland because he was in New York for the trial.
"I'm just a guy with a guitar who loves writing music for people to enjoy. I am not and will never allow myself to be a piggy bank for anyone to shake," he said.
Sheeran thanked the co-writer of "Thinking Out Loud," Amy Wadge, as well as the jury for "making the decision that will help protect the creative process of songwriters here in the United States and around the world."
The plaintiffs declined to make a statement outside the courthouse following the verdict.
During opening arguments, the plaintiffs' attorney, renowned civil rights attorney Ben Crump, said the case is about "giving credit where credit is due."
Crump said Sheeran "recognized the magic of 'Let's Get It On'" and infringed on its copyright for the tune that won him his first Grammy.
This wasn't the first time either man's music has been the center of a copyright trial. Sheeran won a copyright infringement case last year involving "Shape of You," while Gaye's heirs, who were not involved in the current lawsuit, won a case in 2015 against Robin Thicke and Pharrell Williams involving "Got to Give it Up."
ABC News' Aaron Katersky contributed to this report.