Jennifer Aniston's canoodling across Europe with hunky co-star Gerard Butler generated plenty of headlines but little heat for the U.K. premiere of their movie "The Bounty Hunter."
According to the Daily Mail, the action-romance took in just $5.8 million last weekend when it opened in the U.K. Across the Atlantic, the film earned a decent $21 million during its opening weekend in the U.S., but critics roundly panned it.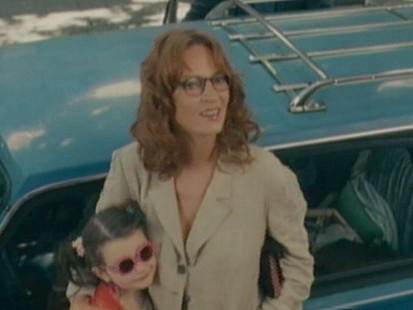 For Aniston, it's another in a recent string of flops at the box office. Before "Bounty Hunter," there was "Love Happens," last year's romantic comedy with Aaron Eckhart, which only pulled in $22.9 million domestically. That was still far and above "Management," a dark comedy with Steve Zahn, also released in 2009, which earned a paltry $935,000 at the box office.
Perhaps it's time for Aniston to take a break from the "Rachel" friend-next-door-type roles she's played in her last several movies and try something different. Fellow actresses Katherine Heigl and Uma Thurman could also use a new direction.
All three have only to look at Sandra Bullock. After one too many romantic comedies, Bullock took a year-and-a-half break from acting. She came back with the Oscar drama "Crash." She also made a return to comedy that was more screwball than romantic in the 2009 hit "The Proposal." But it was her role as a tough Southern mom in the drama "The Blind Side" that appealed most to critics and her commercial audience -- and won her the ultimate prize, an Oscar.
ABCNews.com talked to Adam Markovitz, a film writer at Entertainment Weekly, to find out what movie makeover he would prescribe for Aniston, Heigl and Thurman.
Jennifer Aniston:
"It seems like she's content to just play the Jennifer Aniston role, the girlfriend role, the sassy but strong woman along for the ride," Markovitz said. "With 'Bounty Hunter' coming so soon after 'Love Happens,' it seems she's happy to repeat B-level romantic comedies that don't have a particularly great concept."
Markovitz suggests that Aniston look back to her groundbreaking role in 2002's "The Good Girl" with then-unknown Jake Gyllenhaal. "I would love to see her go back and take on a meaty role," he said.