In 1983, Men at Work's hit "Down Under" put the Australian band on top of the charts, winning it international acclaim and a best new artist Grammy.
Today, an Australian judge found the band guilty of plagiarizing part of the tune from a popular children's folk song.
Australian Federal Court Judge Peter Jacobson concluded that Men at Work copied the flute riff in "Down Under" from teacher Marion Sinclair's song, "Kookaburra Sits in the Old Gum Tree."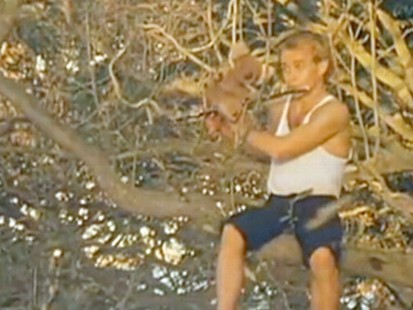 "In my opinion, there is a sufficient degree of objective similarity between the bars of 'Kookaburra,' which are seen and heard in 'Down Under' to amount to a reproduction of a part of Miss Sinclair's round,"
Jacobson said in his decision
.
However, he stopped short of saying that "Down Under's" flute riff was a complete replica of "Kookaburra."
"I would emphasize that the findings I have made do not amount to a finding that the flute riff is a substantial part of 'Down Under' or that it is the 'hook' of that song," he said.
Marion Sinclair wrote and composed the tune in the early 1930's and entered it in a Girl Guides competition. The round caught on and was passed down to generations of Australian schoolchildren.
In 2007, Larrikin Music Publishing, the company that bought the rights to "Kookaburra" after Sinclair's death in 1988, discovered the similarities between the two songs and filed suit.
According to court documents, Men at Work's Colin Hay wrote and composed the first version of "Down Under" in 1978. However, the flute riff in question was added a year later by Greg Ham when he joined the group.
In a statement published in Australia's Herald Sun newspaper, Hay admitted that the group inadvertently incorporated parts of the "Kookaburra" melody into its song, but that as a whole it was unrecognizable from Sinclair's song.
"It is indeed true, that Greg Ham, (not a writer of the song) unconsciously referenced two bars of 'Kookaburra' on the flute, during live shows after he joined the band in 1979, and it did end up in the Men at Work recording," Hay said. "It may well be noted, that Marion Sinclair herself never made any claim that we had appropriated any part of her song 'Kookaburra,' and she wrote it, and was most definitely alive, when Men at Work's version of 'Down Under' was a big hit. Apparently she didn't notice either."
Now Larrikin Publishing is preparing to recover millions lost in unpaid royalties.
Men at Work Singer: 'What Has Won Today Is Opportunistic Greed'
As for "Down Under," Hay said the song remains dear to him despite Jacobson's ruling.
"I believe what has won today is opportunistic greed, and what has suffered, is creative musical endeavour," he wrote. "This outcome will have no real impact upon the relationship that I have with our song 'Down Under,' for we are connected forever. ... 'Down Under' lives in my heart, and may perhaps live in yours. I claim it, and will continue to play it, for as long as you want to hear it.
Jacobson ordered the parties to meet again in court on Feb. 25 to determine how to proceed with respect to compensation, The Associated Press reported.