She groveled. She bawled. She tweeted. She even -- gasp -- decided not to show up to her 24th birthday party.
Prison beckons, rehab after that. (That is, unless Lohan's reported new lawyer, Tiffany Feder-Cohen, manages to get her out of the whole mess, but that's an unlikely scenario, according to legal experts.) Before Lindsay Lohan ships off to solitude, she might want to get in the right frame of mind. Her sentence need not kill her career; in fact, considering her last major big screen feature, "I Know Who Killed Me," earned her two Razzie nominations for worst actress and opened at a pitiful $3.5 million, a little time off to reflect and reexamine could do a world of good.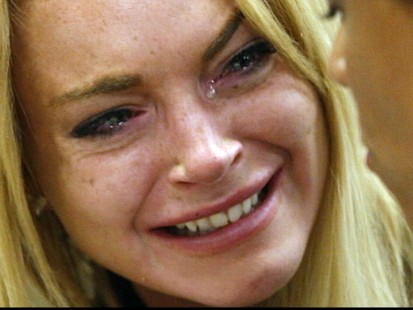 Of course, Lohan's not just an actress. Her
Twitter
biography describes her as an "Actress Designer Musician Director/Writer/Producer Artist of many things.. :)."
Herewith, how the woman of many hats can work her prison and rehab sentence to benefit her many endeavors.
Clothing
While Lohan's about to go under lockdown, her 6126 apparel line is opening up. On Wednesday, it launched its e-commerce site, 6126bylindsaylohan.com. The two-year-old line, best known for pushing $100-plus knee-padded leggings, boasts annual sales of approximately $5 million, according to Women's Wear Daily. 6126 is due to debut a handbag collection this month -- possibly right around when Lohan will walk free from Lynwood, California's Century Regional Detention Center. Consumer marketing expert Marshal Cohen, chief industry analyst with the NPD Group, said the timing couldn't be better.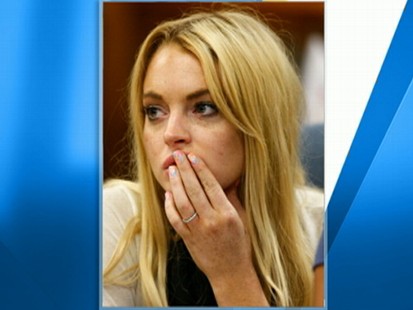 "Just look at Martha Stewart," he said. "One of the sweaters that Martha sold when she first came out of jail was a sweater that an inmate supposedly hand-knit for her that Martha then passed on to her pattern company. As soon as she got out, everything ramped up. Now she's got paint in Home Depot and furniture at Raymour and Flannigan."
Perhaps Lohan could corral her prison buddies into helping her craft a collection of expertly slashed leggings and oversized T-shirts?
How Lindsay Lohan Could Turn Jail into a Good Thing
What's key, according to Cohen, is keeping 6126's team of designers busy while Lohan's locked up. Once she's out, voila! There's a new line ready to promote. Paris Hilton worked that strategy to success when she launched her clothing label three weeks after her 2007 jail stint.
"Miraculously, when Lindsay comes out, there'll be a clothing line ready to be launched near you. I expect it to happen," said Cohen. "While she's making license plates, people will be making shirts with her name on it. Maybe they'll make a stripe collection."
Movies
Prison may be Lohan's ticket out of the (mostly) mundane movie morass she found herself in after "Mean Girls."
"It gives her definite credibility for the movie 'Machete,'" mused Paul Dergarabedian, who analyzes box office numbers for Hollywood.com. Lohan plays a gun-loving socialite/kidnap victim in the upcoming Robert Rodriguez action film. "That's the perfect movie to follow up this sentence -- it's edgy, over the top, it's a seemingly-out-of-character move for her."
Lohan's still got a lock on playing the lead in "Inferno: A Linda Lovelace Story" -- the biography of the porn star that Lohan was purportedly promoting at the Cannes Film Festival in May when she should have been in court. This week, the movie's writer and director told the Los Angeles Times he's backing Lohan "100 percent."
"Not moving on, not recasting, not under any circumstances," Matthew Wilder wrote in an e-mail to the Times, adding that the movie is "fully financed" and under no threat of falling apart.
Considering the nature of Lohan's upcoming performances, she could stand to gain from a little real life grit.
"If she's going to be in a movie playing a porn star, this isn't the type of thing that's going to hurt her," Dergarabedian said. "If she were pursuing more Disney-esque roles, it would be a problem."
Music
Lohan's past singles, like 2004's "Rumors" and 2005's "Confessions of a Broken Heart (Daughter to Father)" touched on her crazy life in the limelight with amateurish, poppy beats. In 2007, after signing with Universal Motown, she tried her hand at rap, rhyming about how she likes "it how I like it when I like it" in "Bossy."
Her third album fell by the wayside the following year. If really she wants to grow up and go gangsta, now's the time.
"Come out with a rap single," suggested Ed Steinberg, producer of music videos for artists including Madonna and U2 and founder of the RockAmerica production company. "The most logical one, and the most commercial one, would be a Lindsay rap song about being in the joint, or whatever term she can come up with. The other focus could be not on jail but how she got there -- the absurdity of what led to her incarceration. This is classic music video fodder; the trial, the media circus."
TuPac, Biggie, Lil Kim, T.I.... LiLo? She could -- maybe, just maybe -- count herself among the rap and R&B stars to turn a prison sentence into a paycheck if she partners with the right producer.
"Hooking up with Dr. Dre would be the number one choice," Steinberg said. "He would match her up with the right type of people to translate her misery. She should definitely write a song, or at least lyrics that someone else can take and make into a good song."
But if rap's not the path Lohan's pursuing anymore, as her just-leaked ballad "Too Young to Die" suggests, Steinberg offered another route to the top of the Billboard 100:
"Get Justin Bieber. Do a duet."