Pharrell Williams' infectious hit, "Happy," has become an international pop anthem, with millions around the world clapping along, moving and grooving, and doing their own happy dances.
The Oscar-nominated song, featured on the "Despicable Me 2" soundtrack and now the lead single on his new album, "G I R L," is beyond catchy with its cheerful rhythm and chorus. The YouTube video, the world's first 24-hour music video, has been viewed more than 160 million times, spurring countless parodies.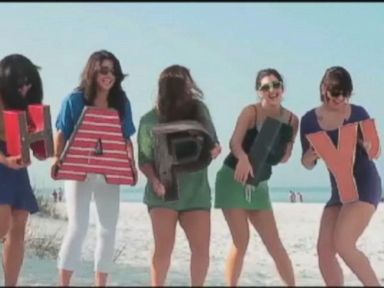 As the 41-year-old Grammy-winning singer took over Times Square on "
Good Morning America
" today for a live concert, rocking out on the roof, we look back at some of the best "Happy" moments, sure to brighten your day.
There's the version with Legos.

There's the school kid version, featuring adorable students from Florida's all-boys public charter school, Visible Men Academy, breaking it down on the playground and on desks in their kindergarten classroom.
Because everything is better with puppies, there's the dog version, produced by the Pet Collective.

You celebrated Pharrell's International Happy Day on March 20. There's the "Supercut" version featuring all the best fan videos from the 24-hour event around the globe in 12 minutes.

There's the instrumental version played only on wine glasses and on a cooking pan cover.

There's the version starring none other but "GMA" viewers, of course.