— -- Prince Harry made the day of some seriously ill children Monday in London when he attended the WellChild Awards.
Taking a page from his mother, the late Princess Diana, Prince Harry brought a smile to the courageous children at the awards, many of whom are battling life-threatening illnesses.
WellChild, a U.K. charity of which Prince Harry is Patron, seeks to provide care for any seriously ill child, no matter how challenging their condition may be.
One child who had mistaken the fifth-in-line to the British throne for a clown made a special request, asking the prince, "Can you make me a balloon animal please?"
Although Prince Harry attends each year to deliver the "Most Inspirational Child" award to children in different age groups, he was overwhelmed by the kids again this year.
"This is my eighth WellChild Awards now and every year, without fail, I am humbled by the people and children I meet," Prince Harry, 31, said.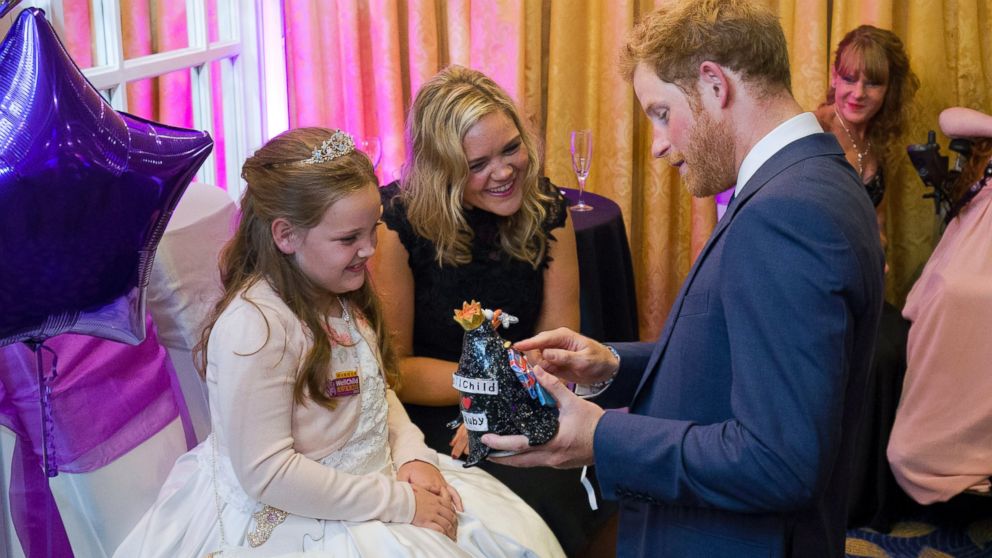 Harry described the event as another "emotional roller coaster" as he was touched by the children's heroism.
"You guys are awesome" he told the children. "The stories we have heard tonight are moving beyond words. They remind us of the utter insignificance of everyday worries."
Ruby Smallman was presented with the "Most Caring Young Person" award for caring for her older sister, who is a quadriplegic.
Ruby, wearing a tiara, presented Harry with a ceramic penguin she made, complete with a crown, the British flag, military medals and a sign pointing to the South Pole.
She knew Harry had been to the South Pole nearly two years ago during the Walking With the Wounded 200-mile charity trek.
Prince Harry, who retired from the British army in June, has previously told ABC News' Royal Contributor Victoria Murphy that the memory of his mother had inspired him in his charitable endeavors.
"It's something our mother did a lot of and that's the time that you really get to learn, you get the experience and you actually get the honest truth out of people," Harry said.
Prince Harry has often been compared to his late mother because of his incredible ability to connect with children and adults from all walks of life - battling injury and sickness - and bringing a smile and laugh to their face.
The WellChild Awards were no exception.
"It is heartening to hear so many stories of happiness and hope even though dark times," Prince Harry said Monday. "We literally have the bravest children in the U.K. in this room."