— -- Princess Kate spoke out about having more children when given a gift by a well-wisher during the royal family's first day in Poland.
Kate, 35, was given a stuffed animal designed for newborns at a tech start up event in Warsaw. The stuffed bear mimics the sound a baby hears in the womb. Upon receiving the gift, the mother-of-two turned to Prince William and said while laughing: "We will just have to have more babies."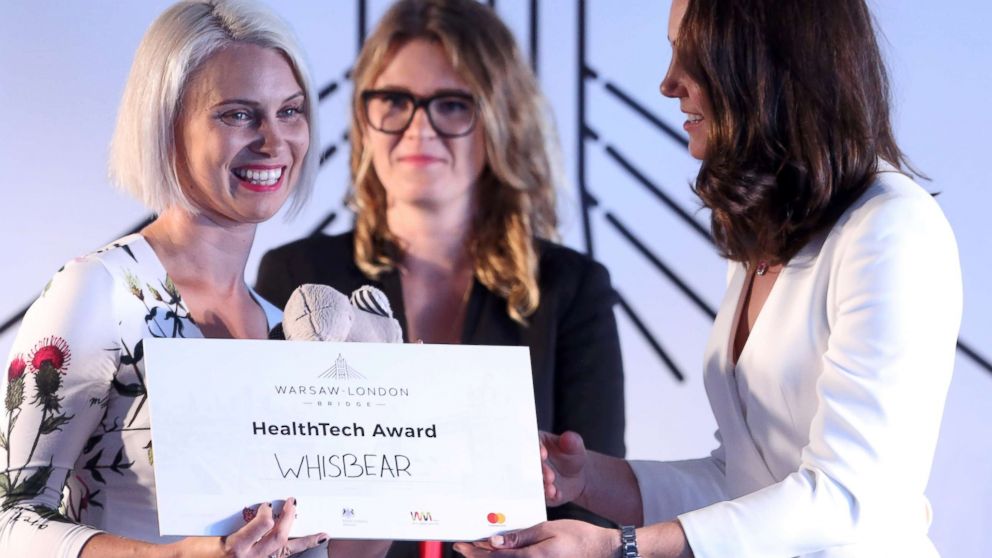 Speculation has been rampant about if and when William and Kate will add to their family. Their two children, Princess Charlotte, 2, and Prince George, who turns 4 this month, are joining them on their five-day tour of Poland and Germany.
Kate is the oldest of three children and remains extraordinarily close to her sister, Pippa Middleton, and brother, James Middleton, leaving royal watchers anxiously guessing whether she and William will also want a third child.
William is also close to his only brother, Prince Harry, 32, who lives near the family at Kensington Palace.
At the event with tech entrepreneurs, William and Kate also donned virtual reality goggles, leaving Kate giggling at her husband.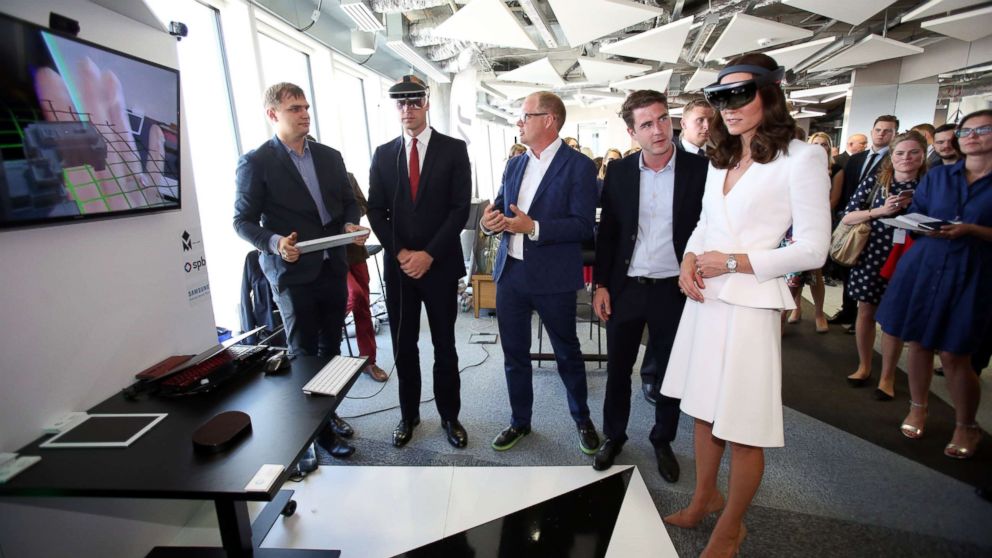 When fans at the event asked the Duke of Cambridge for a selfie, he replied, "I'm allergic to selfies but let's take a photograph." The future King also teased his wife, saying, "you don't look as clever as the other three."
William, Kate and their children arrived today in Warsaw dressed in red and white, the colors of Poland's national flag. After greeting dignitaries at the airport with George and Charlotte, William and Kate later received a formal welcome to Poland by President Andrzej Duda and First Lady Agata Kornhauser-Duda at the presidential palace.
The Duke and Duchess of Cambridge also visited the Warsaw Rising Museum and met with members of the Polish Army and Resistance during World War II.
This evening, Kate paid homage to her hosts by wearing a stunning cream silk dress by Polish designer Gosia Baczynska at a reception held to celebrate the Queen's birthday at Orangery, Lazienki Park, Warsaw.
William paid tribute to the resilience of the Polish nation at the event, saying, "We in the United Kingdom value our links with Poland enormously. We admire Poland as a remarkable example of courage, fortitude and resilience. You have survived centuries of assaults on your land, including partitions that were designed to wipe you off the map of Europe."
William and Kate are also scheduled to visit Poland's historical sites during their visit, including the Stutthof Concentration Camp, where more than 65,000 people perished during World War II, and the shipyards in Gdansk, the birthplace of Poland's Solidarity movement.
"In the 20th century, Poland displayed incredible bravery in resisting brutal Nazi occupation, not least the heroic uprising in Warsaw's Jewish ghetto in 1943, and the Warsaw Rising of 1944," Prince William said ahead of Tuesday's visit to Stutthof, which was one of the first concentration camps installed outside of Germany, and one of the last to be liberated by the Allies in 1945.
In Germany, William and Kate are planning to meet with German Chancellor Angela Merkel, visit Berlin's Brandenburg Gate, enjoy a traditional beer garden in Heidelberg, compete in a rowing race and pay a somber visit to Berlin's Holocaust Memorial.