— -- Princess Kate, pregnant with her third child, made her first public appearance in six weeks to join Prince William and Prince Harry at Buckingham Palace to mark World Mental Health Day.
Kate, 35, showed a slight baby bump beneath the tea-length Temperley dress she wore to the event, thanking supporters for helping to change public perceptions about mental health.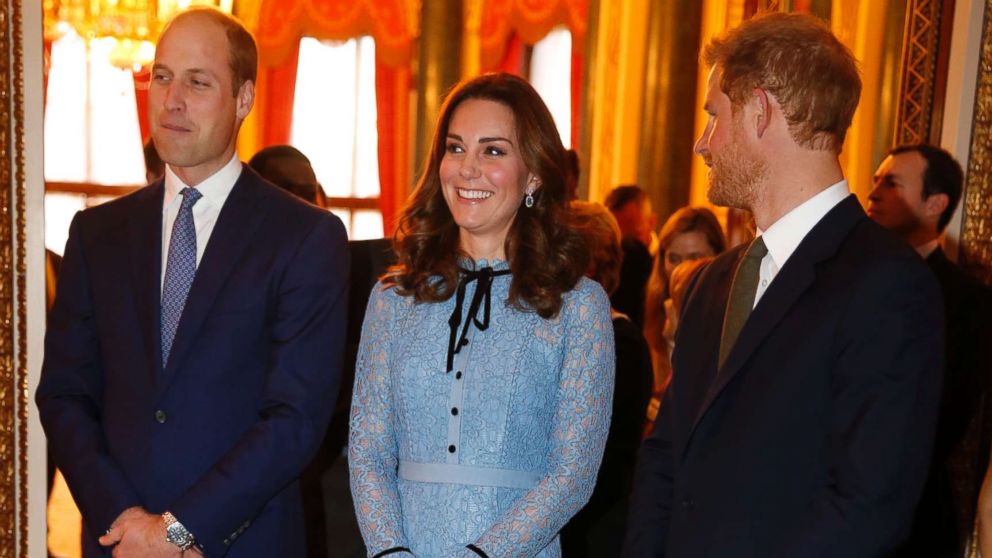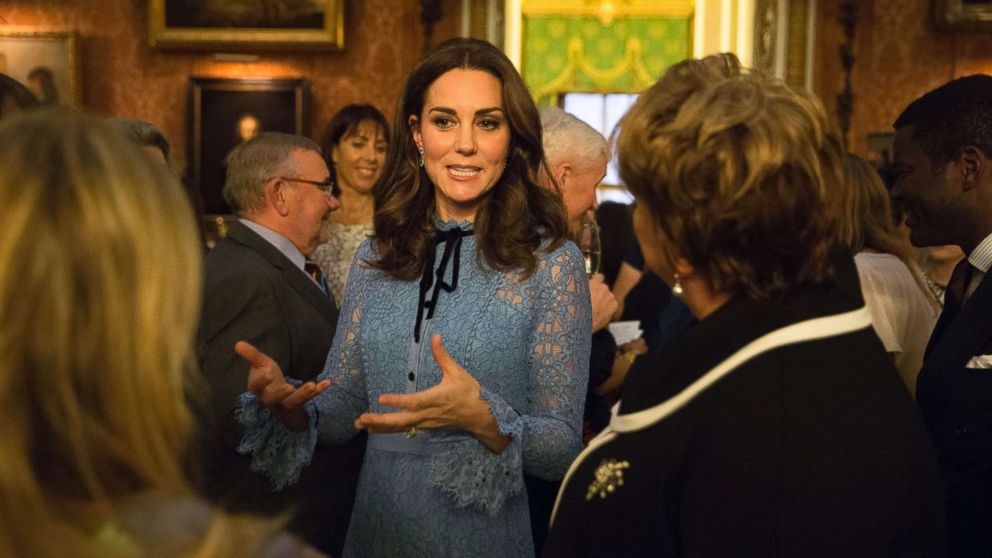 Kensington Palace announced Kate's pregnancy on Sept. 4 when she was forced to cancel a planned engagement as a result of hyperemesis gravidarum. Kate also missed the first day of school for her son, Prince George, a few days later.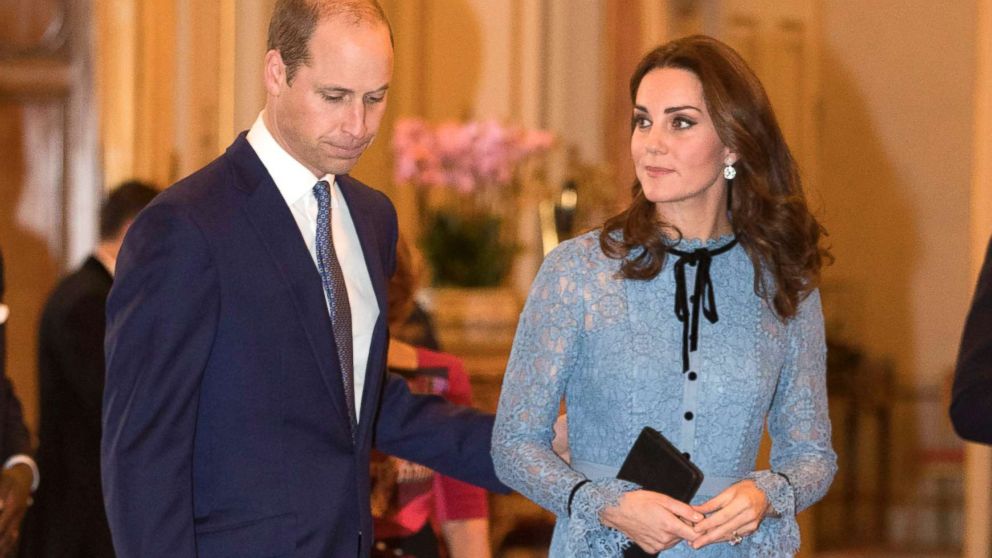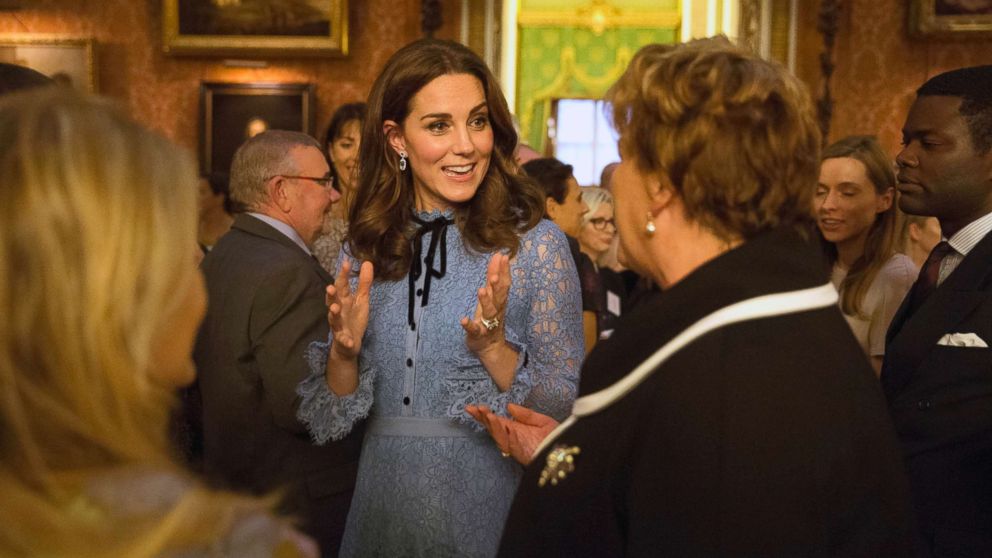 Kate has suffered from hyperemesis gravidarum, or acute morning sickness, with each of her pregnancies. The palace announced that with this pregnancy, Kate is being cared for at Kensington Palace.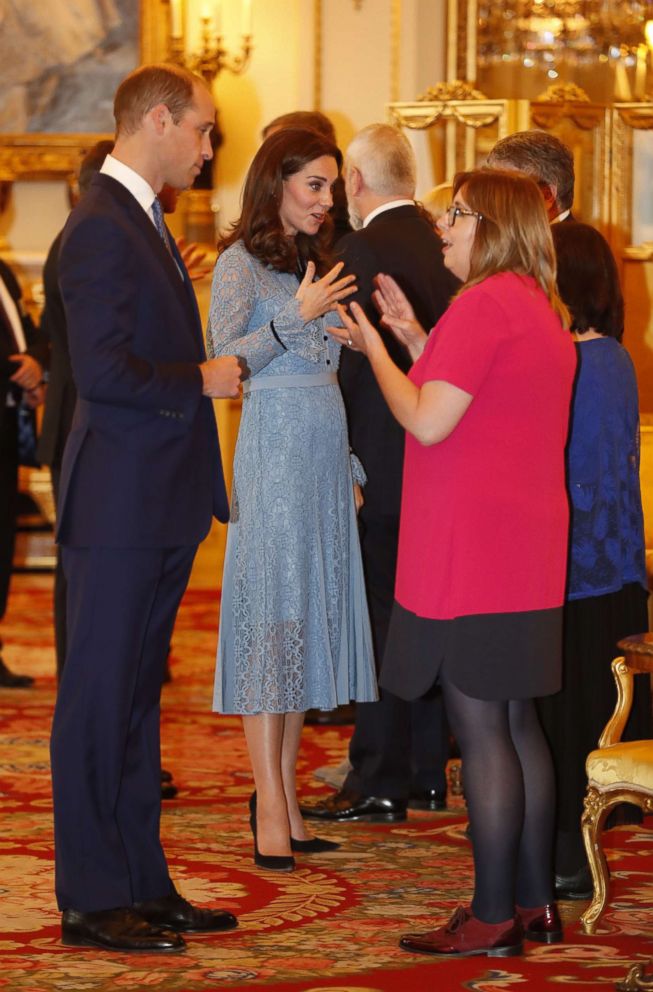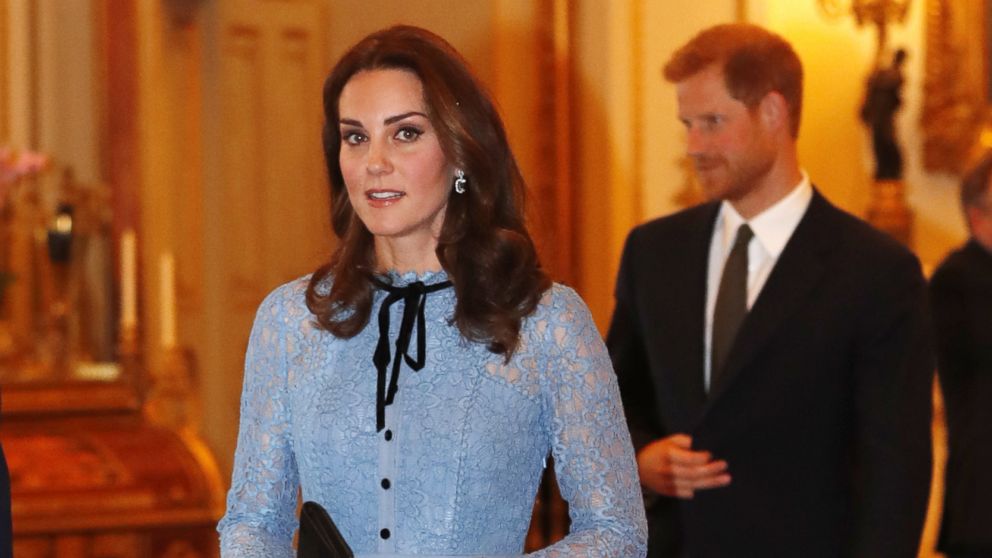 The last time Kate was seen in public prior to today was in late August when she joined William and Harry in viewing the Diana Memorial Garden at Kensington Palace on the eve of the 20th anniversary of Princess Diana's death.
"The Duchess' condition is improving but she is still suffering from hyperemesis gravidarum," an aide to Princess Kate said today. "The Duchess is delighted to be here tonight."
Kensington Palace has not yet announced her expected due date or how far along she is in her pregnancy, but speculation is that she is past the 12-week mark.
In a speech at Buckingham Palace today, Prince William said: "While there is more work to do, the walls of judgment and stigma around mental illness are finally falling. Catherine, Harry and I are proud to stand up in support of this community. All three of us have seen that mental health is at the heart of so many of the issues we are passionate about."
The new baby will join siblings Prince George, 4, and Princess Charlotte, 2.
William, Kate and Harry founded Heads Together in 2016 to change the conversation on mental health.
Earlier in the day William, 35, and Harry, 33, celebrated World Mental Health Day by hosting a reception at St. James Palace to thank those involved in the success of their Heads Together campaign.
William told guests that it was Kate who first pointed out the royal trio's shared interest in mental health advocacy. They have each been engaged with their individual charitable work on the issue: Harry with the armed forces; William with young men, suicide and homelessness; and Kate on addiction and childhood mental health issues.
"It was Catherine who first realized that all three of us were working on mental health in our individual areas of focus," William said. "She had seen that at the core of adult issues like addiction and family breakdown, unresolved childhood mental health issues were often part of the problem."
Harry thanked the public for their support and reminded people at the reception that "there is much more still to be done."
"All of you contributed to the first truly national conversation on mental health," he said. "All of you helped change the language around this issue, shifting away from fear and shame to a more open and optimistic sense about what we can achieve when we simply start talking. All of you showed what is possible when we get our heads together."
William, Kate, and Harry announced Sunday they have invested 2 million pounds of their Royal Foundation funds in the second phase of their Heads Together campaign, which is designed to create online tools to help people with mental health issues.
The grant represents the single largest donation their foundation has made since it was established in 2011. In the coming months, Heads Together will tackle mental health issues in the military, the workplace and for young men.
Harry, 33, a veteran, also announced in a speech on Monday a new partnership with the U.K.'s Ministry of Defense to help improve the mental health services for members of the Armed Forces.