— -- Princess Kate took over the controls as she tested a flight simulator today with Royal Air Force cadets at RAF Whittering in Cambridgeshire, England.
Kate, 35, was introduced to the new recruits at a training session after taking over as honorary air commandant of the Royal Air Force from Prince Philip.
Kate, who wore red for Valentine's Day, also participated in a team building exercise which included jumping.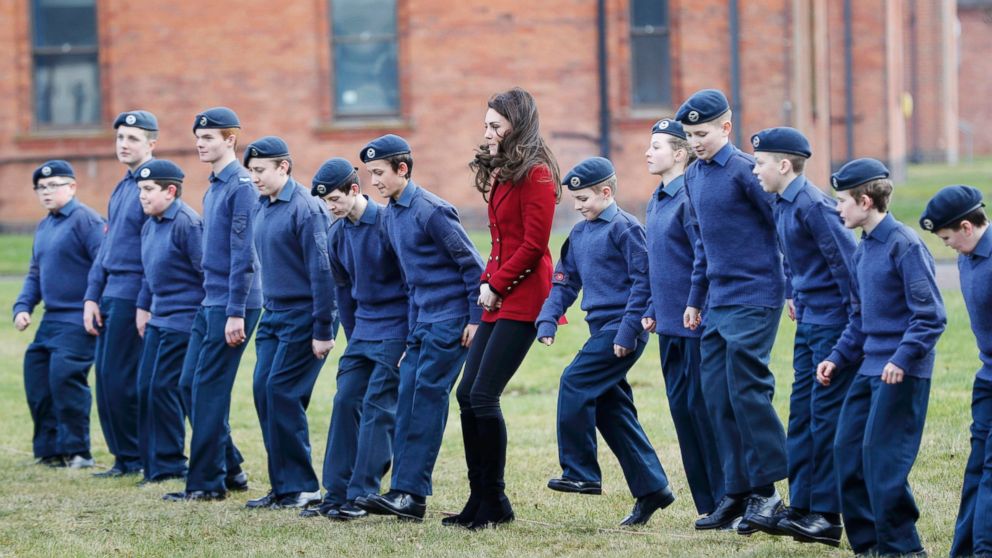 Taking the controls and gripping the joystick, Kate got a taste of what it's like in the cockpit. She followed in the footsteps of her husband, Prince William, and brother-in-law, Prince Harry, who both are helicopter pilots.
"She was extremely good. She was a natural," flight instructor Lt. Michael Salter remarked of Kate. "She was very gentle on the controls. Very often people are too rough. If you feel it, it's extremely sensitive."
Salter continued, "She said she hasn't flown before and wanted to understand what the feeling was like in the air."
Kate brought her son, Prince George, 3, to the Royal International Air Tattoo in RAF Fairford, Gloucestershire, last July when she last visited the cadets. The show bills itself online as "the world's greatest air show."
Kate, also the mother of 21-month-old Princess Charlotte, will travel to Paris next month with William, Kensington Palace announced Monday.
"The Duke and Duchess of Cambridge will undertake an official two-day visit to Paris on 17th and 18th March," Kensington Palace said in a statement. "Their Royal Highness' visit is at the request of the Foreign and Commonwealth Office. Full details of the visit will be announced in due course."
The timing of William and Kate's visit is significant given the U.K.'s recent Brexit vote to separate the U.K. from the European Union. The trip will also be a poignant reminder of William's mother, Princess Diana, who tragically died nearly 20 years ago in the Pont de l'alma tunnel in Paris.
Both William, 34, and Harry, 32, are making arrangements to commemorate the 20th anniversary of Princess Diana's death. Earlier this month, Kensington Palace announced a statue has been commissioned of Diana. Several exhibitions to honor the "People's Princess," including a white sunken blooming garden at Kensington Palace and a fashion exhibition chronicling Diana's iconic style, are also being planned.
William's and Kate's Paris visit will also include a reception with young French leaders, a dinner with the British ambassador to France and a less formal outing to a Wales vs. France rugby match.
William stood in solidarity with the French in November 2015 by attending a soccer match between England and France at Wembley Stadium in London shortly after the Paris terror attacks.