Sunday was a "Seinfeld" fan's dream come true, when the cast of the hit comedy series reunited on Larry David's HBO show "Curb Your Enthusiasm," bringing with them a heavy dose of self-deprecation, New York City neuroses and no-holds-barred belligerence.
The premise of "Curb" was typically twisted: David attempts to rope Jerry Seinfeld and his former cast mates into a reunion special, but doesn't disclose his ulterior motive of giving his ex-wife a part and worming his way back into her heart. While he initially has the network's backing, convincing the show's major players to step up proves challenging.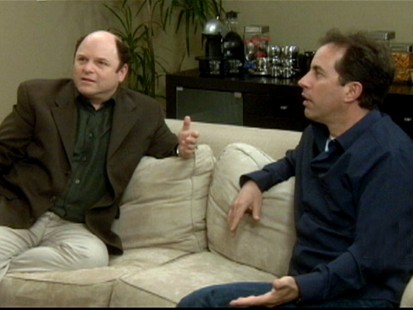 "Why are we doing this?," Seinfeld asks in the episode, baffled by David's proposition. "It's weird to me that you suddenly like an idea you always hated," adding that if David wants to get the cast together, "We can have a dinner, why don't we just have a nice dinner?"
When David promises the show won't be lame, Seinfeld joins his team, and David convinces Jason Alexander (who played George Costanza) over a lunch that ends in a tipping war, Julia Louise-Dreyfus (Elaine Benes) over a house visit that ends in an argument with her daughter, and Michael Richards (Cosmo Kramer) over another lunch that ends in Richards ogling nude photographs adorning the restaurant, not processing a word David says, but agreeing nevertheless.
Of course, in David's world, things can't be that easy. Everything goes to hell when David blows up at the NBC honcho spearheading the reunion for giving him and his manager nosebleed-level seats to a Lakers game. This, after he tells his ex-wife she has a part in the special, eliciting high-pitched squeals and a kiss of joy. After much cajoling from the "Seinfeld" alums, David apologizes to the network executives and gets the project back on track. But David gets shafted again when Seinfeld signs on Meg Ryan to play the role he promised his ex. Dramatic irony as only David can do.
More in Store for 'Seinfeld Fans'
There's more fun for "Seinfeld" fans in weeks to come. The "Curb" crew snagged "Seinfeld's" two most used sets out of storage from the Warner Brother's archives -- Jerry's apartment (which was featured in two scenes from Sunday's show) and Monk's Diner. While most of Jerry's apartment is exactly how audiences remember it -- right down to the Superman figurine on his bookshelf -- there have been a few upgrades: Jerry's kitchen counter now has a modern granite top and his living room boasts a flat-screen TV.
It's all part of a greater goal, to create a new conclusion for "Seinfeld," whose 1998 finale drew criticism for not doing the series justice and leaving the characters to rot in jail (although it reeled in 76 million viewers.)
"We are adding another chapter onto the series which I would never have ever have imagined would be possible," Seinfeld says in a behind-the-scenes clip from "Curb."
"I mean we are done with that. We are so done with it. And it's going to change now. It's going to actually have a new ending."
And, if Seinfeld's outburst at the end of Sunday's episode is any indication, "Show's back on, Meg Ryan's in, we're gold!" -- it's going to be good.