A nice family dinner party turned into an all-out catfight on the "The Real Housewives of New Jersey" finale Tuesday night on Bravo.
Big-haired stage mom Teresa Giudice came to blows with resident villain Danielle Staub, in a dramatic, heavily bleeped restaurant scene.
"[Teresa's] a hot little Italian-tempered girl," said fellow New Jersey housewife Dina Manzo after the incident. "All of us Italians maybe have it somewhere."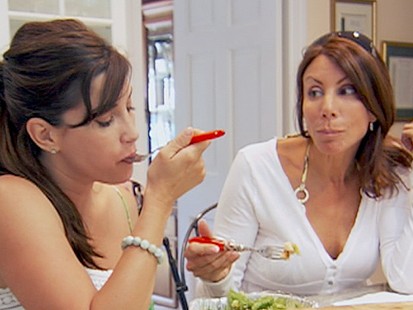 Giudice was grilling Staub about "Cop Without a Badge," an out-of-print, tell-all book about Staub's arrest on extortion, kidnapping and drug possession charges almost 25 years ago. (She copped a plea and was sentenced to five years' probation.)
In a scene Manzo later called a "hot mess," Giudice flipped a table covered in raw oysters and red wine and unleashed a Christian Bale-style string of expletives after Staub implied Giudice wasn't listening to her.
"I actually put my hand over my mouth," said TVGuide.com staff editor Gina DiNunno. "It was unreal to see these grown women dressed in evening wear flipping tables and having to be restrained by husbands."
The drama escalated as Staub's friend and fellow housewife Jacqueline Laurita came to her defense, angering Laurita's sisters-in-law, Dina and Caroline Manzo.
During the explosive dinner scene, Staub told her castmates the only truths in the book were that she was, in fact, arrested ("at the wrong place at the wrong time") and that she changed her name for her safety. She happened to omit a detail she had earlier divulged to her tween daughters -- as the book states, she worked as a stripper around the time of her arrest.
Bravo's "Housewives" is known for the glitzy lives and bombastic personalities of its title characters, but "Real Housewives of New York" star Bethenny Frankel, author of the best-selling diet book "Naturally Thin," calls Staub "the most infamous" housewife ever.
"I know in my heart of hearts that she's an absolute pathological, damaged lunatic," Frankel told ABC News.
Over the course of the season, Staub, 46, hosted an awkward plastic surgery party at her home and romanced a 26-year-old man, propositioning him mid-meal on a date in one episode, and often overshared intimate details with her daughters.
For Frankel's "The Real Housewives of New York" co-star, the outspoken Jill Zarin, Staub isn't just saucy -- she's a danger to the Jersey housewives, all of whom live in sprawling McMansions in ritzy Franklin Lakes, N.J.
"If I were them, I would get a restraining order," Zarin told ABC News. "I wouldn't come back for another season if she was on. I wouldn't take a chance."
Danielle Staub Threatens Other Jersey 'Housewives'
During the final moments of Tuesday's finale, Staub could be heard leveling a thinly veiled threat to the Manzo sisters, claiming if they continue to spread rumors about her, "I'll be knocking on your door. And I won't come alone."
According to Zarin, Staub's salacious backstory came as a surprise to Bravo, which had no idea about her murky past.
"They don't do background checks," Zarin said. "I know they didn't know. I asked."
Whatever the cable channel's casting methods, Bravo continues to churn out much buzzed-about installments of the "Housewives" franchise, including predecessors in Orange County, Calif., New York and Atlanta, and a forthcoming "Real Housewives of D.C." The channel has yet to green-light a second season of "New Jersey," but Staub has already verbalized a desire to sign on.
Having a polarizing villain can't hurt the show's chances for renewal, and another season could vault Staub into the hallowed company of Omarosa Manigault Stalloworth ("The Apprentice") and Heidi Montag Pratt ("The Hills").
Maria Diaz, a blogger for BravoFan.com, a site dedicated to Bravo's juicy reality shows, said her readers love to hate the housewives, particularly Staub.
"They'll comment and they'll say, 'This person's evil' and 'this person's the devil,'" she told ABC News, "but they continue to watch."
It's unclear what happened after the "Last Supper" finale, but the feud may have fizzled for "The Real Housewives of New Jersey," four of whom crossed the bridge to New York this week to step out at the premiere of the new Jack Black comedy, "Year One." Staub was even pictured standing next to her nemesis, Dina Manzo.
Should Zarin bump into Staub, she admits she probably wouldn't call the police right away.
"Face to face, I'm sure I'd be phony like the rest of them and say hello," she said.