Britney Spears new romance with her manager has added to the circus that is her life (and her current world tour), but the relationship is apparently not playing along the lines of her previous ones, people close to the couple have told ABC News.com.
Sources say Jason Trawick, 37, has taught Spears that she can't get away with her usual boy-toy domination.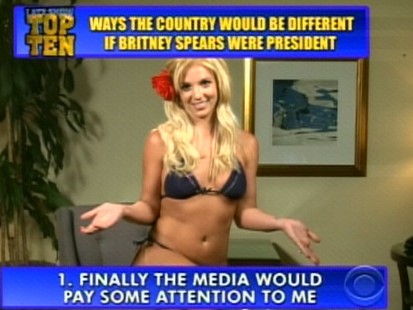 He is, after all, her manager -- her last serious relationship was with ex-husband and father of her two children,
Kevin Federline
, who sashayed into her life as her backup dancer in 2004. After their divorce, she was frequently seen with Adnan Ghalib, a paparazzo who went from snapping Spears to accompanying her on shopping sprees.
"Jason's a successful businessman who's used to giving advice to Britney, not listening to personal demands," a source close to Spears, 27, told ABCNews.com. "He doesn't worry about her every request."
Trawick and Spears: Always in Flux
Trawick's relationship with Spears evolved from strictly business to something more months ago. On March 1, paparazzi spotted Trawick in Louisiana riding a golf cart with Spears and her sons, Sean Preston and Jayden James.
In May 2008, Trawick flew down to Costa Rica with Spears and Mel Gibson for a getaway at the actor's tropical mansion. Photographers snapped pictures of Trawick and Spears frolicking in the ocean and cruising on ATVs.
Trawick is said to have a warm personality and professional drive -- in addition to repping Spears for the past five years, he also serves as an agent to Hilary Duff, Taylor Swift and Paris Hilton -- and that may have made Spears see him as a potential partner.
"The bottom line is that she's now looking to him for advice on everything -- business and beyond," British celebrity gossip guru Neil Sean told ABCNews.com.
In addition, Trawick's won the approval of at least some of her family.
"He gets on very well with Britney's brother," Sean said.
But Ian Drew, Us Weekly magazine's senior editor, says that things aren't as sunny as they might seem.
"It's never been a solid relationship, it's always been off and on," he said. "When they're both around, they hook up with each other."
Representatives for Trawick told ABCNews.com that they don't comment on his personal relationships. Spears' publicist also declined to comment for this story.
Last week, according to an ABCNews.com source, the two ended up having a verbal altercation after Spears found out he'd been calling an ex-girlfriend.
"Britney was furious," the source said. "It's a very superficial relationship. But that's admittedly exactly what she needs right now. They are not 'in love.' She loves his friendship and the fact that he takes charge. He's just what she likes in a man: one who gives his time and sacrifices his needs for hers."
Spears' associate scoffs at the idea of the pop star and the manager ever heading down the aisle.
Since they work so closely together they have plenty of work issues to fight over.
Federline is reportedly one source of contention between Spears and her manager. "From time to time, they also argue over her responsibilities toward Kevin," the source said. "He thinks she gives him too much money, but Britney feels it is important to give Kevin the amounts she does to ensure the boys are taken care of in a manner she feels they should be."
So, at least for now, Spears and Trawick remain great friends, albeit, apparently, friends with "benefits."
"Britney is treating her relationship with Jason as a friendship and nothing more," the source said. "She likes him a lot, but not to the point of anything more than a deep friendship, not now anyway. Even their fights are just like arguments between good friends."
And perhaps Trawick should get credit for managing and mentoring one of the music industry's most unpredictable talents.
"They've left things open because they don't know how it's going to go or where it's going to go," Us Weekly's Drew said. "It's so volatile with her."
Reporting contributed by Sheila Marikar.