Listen up, guys: the women of Victoria's Secret have some advice to offer this Valentine's Day.
"First of all, a guy shouldn't be shy to come into the store and choose something really sexy for his girlfriend," Victoria's Secret bombshell Candice Swanepoel -- aka Victoria's Secret angel-in-training -- told ABCNews.com at the lingerie line's pre-VDay event in New York. "He should definitely do a little snooping around to find out sizes, maybe find out what she likes, if she likes to be comfortable or a little racy."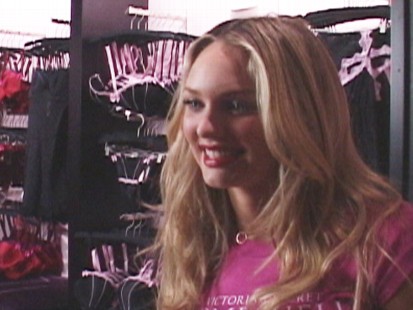 What if you don't know the object of your affection well enough to buy her a bra or something similarly sexy? What if you (dramatic gasp) don't have an object of affection at all?
"Eye contact," said Swanepoel's fellow bombshell, Erin Heatherton. "If you like a woman ... if you make eye contact with her, that's better than any pick up line."
Beyond that? Believe it or not, food is the way to these willowy womens' hearts.
"Usually my boyfriend cooks for me, which I really love," Swanepoel said, adding that pasta always wins points in her book. "It's really sexy."