Wanda Sykes is always up for a challenge.
Bowling? Sykes, 45, won't draw a sweat at a 7/10 split.
Comedy? Her standup routine made President Obama laugh at the White House Correspondents' Association dinner this year.
And snowboarding? Well, that's a battle her French-born 35-year-old wife, Alex, is winning.
"Yeah, my wife learned how to do it on the Swiss Alps and what not, which annoys me. I was so happy when she got pregnant. I was like 'Aw. We're going to miss snowboarding season. Too bad,' " Sykes deadpans. "Of course, a couple of days after she gave birth, she was like, 'We can go snowboarding again!' "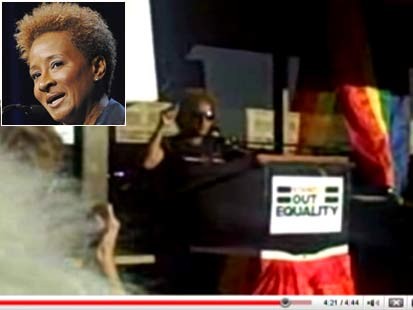 Snowboarding is the least of Sykes' concerns these days; she's got a full plate. Her challenge is juggling two TV shows, being a good mom to twin babies (daughter Olivia Lou and son Lucas Claude, born in May) and staying on the front lines of gay rights issues.
Sykes is still co-starring with Julia Louis-Dreyfus in The New Adventures of The Old Christine (8 p.m. ET/PT Wednesday, CBS), and she's launching her talk show, The Wanda Sykes Show, which premieres Saturday at 11 p.m. ET/PT on Fox.
Her hour-long show will feature panel discussions and her biting perspective on current events. There also will be pre-recorded skits.
The show won't be a platform for her gay rights activism – that began after she publicly came out in Las Vegas last year, shortly after California passed Proposition 8, which says that only marriage between a man and a woman is valid in that state. But she will talk about her family life, as she did in her HBO special that aired last month.
Sykes says she hadn't planned to come out. She and her wife were legally married for about a month when Sykes wrapped up a show at Planet Hollywood and ventured into the city to find a rally protesting Prop 8. "They called me out in the crowd and I went up to the mic and I just said what I wanted to say. And it was so funny, because as soon as I left the podium, my wife was like 'Do you know what you just did?' I was like, 'Yeah.' "
When Skyes Publicly Came Out
Almost immediately, the blogosphere posted videos of Sykes' announcement, and she worried that people would unfairly attack her wife. So far, people haven't bothered the couple too much, she says.
"I was prepared for whatever. But I didn't want a lot of press and nonsense thrown at my wife's direction. I'm the one in show business," Sykes says. "She's her own person."
Coming out has changed her comedy, and it's something that viewers will see on her talk show.
"Being out and just open: It's very liberating. Now I don't have to dance around anything. I don't have to think 'Well, if I say that, they're going to figure this out and that's going to lead to this.' Now, everything is out on the table," she says. "I don't have anything to hide; I can be even bolder."