In a dramatic finale of "The Bachelorette" last night, Ali Fedotowsky chose suitor Roberto Martinez, who got down on a bended knee and proposed to the Bachelorette against a stunning Tahitian backdrop.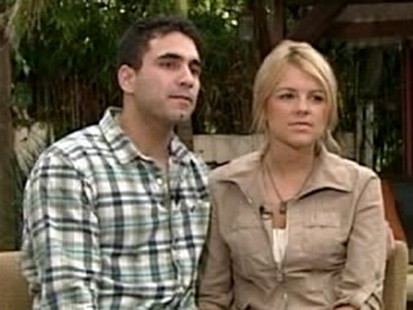 "I want to make you smile. I want to make sure you wake up every morning for the rest of your life knowing that you're so, so loved," he said. "Share your life with me. Be my wife. Will you marry me?"
Fedotowsky gladly accepted. But it's been months since the marriage proposal and the engaged couple has had to hide from the eyes of fans and paparazzi.
"We haven't been in a car. We haven't gone to the movies yet," Martinez said in an interview with Cameron Mathison on "Good Morning America" Tuesday.
"We kind of went to the movies," Fedotowsky said with a laugh. "We both went to the same movie at the same time. I went at like 7 o'clock West coast time, he went at like 10 p.m. in Charleston…And we took pictures with our phones and sent them to each other."
The couple said they loved watching the finale, which was like their own real-life movie. Fedotowsky admitted to Mathison that she watched a tape of Martinez's proposal eight times.
"He said during the proposal, 'I want every time that I'm with you to let you know that you're so, so loved.' And he does do that now, you know, outside the show," Fedotowsky said.
"I'm a lucky man," said Martinez, who had long been the competition's front-runner. Fedotowsky clicked with the 26-year-old ex-baseball player from Tampa from the beginning.
With their relationship now out in the open, the couple plans to live together. Martinez said he will move his insurance business from South Carolina to San Diego, where Fedotowsky lives. The former ad rep said she's happy to be a homemaker until she finds the job of her dreams.
The couple has yet to set a wedding date.
"Maybe next summer. I'm just looking forward to enjoying that normal life and kind of having that normalcy and enjoying each other," Martinez said. "Maybe we'll do it sometime next year."
In light of recent Bachelor couples, Jake Pavelka and Vienna Girardi who went through a very public break up, the couple said communication will be key to avoiding the downfall.
"For me, it's communication, but I know how much we love each other and that's the center of what we have," Martinez said.
"Just the fact that we love each other and the dynamic of our relationship and the way we communicated -- I think that's what's going to make it last despite all the outside, sort of distractions," she said.
Bachelorette Silences Nude Photo Rumors
Fedotowsky admitted that she read the rumors floating around in the blogosphere, including one that she and Roberto knew each other before the series began.
"I wish," Roberto said.
As for rumors that Fedotowsky posed for nude photos that are on the Internet, she said she'd seen them and wished it was her in the photos because the girl has "a really nice butt."
Fedotowsky also set the record straight that she was not seeing another guy from home while the show aired.
"That guy is a good friend of mine. Seriously good friend," she said. "I saw him one time since the end of the show and he had dinner with my roommates, who he's also good friends with. Yeah, that's just, that's silly."
To tone down the drama, Martinez's advice to future "Bachelorette" contestants: "Don't have any girlfriends before you go on the show!" he said on "GMA." "Make sure things are cleared up!"
A Drama-Filled Season Finale, Six
Previews for the final episode, with scenes of a tearful Fedotowsky and the final two suitors saying they may not be ready to propose, hinted that Fedotowsky could walk away without a ring.
Viewers had been told by host Chris Harrison to prepare for a finale "unlike anything we've seen before." And Fedotowsky did not fail to deliver.
Breaking with "Bachelor" tradition, Fedotowsky decided to let runner-up Chris Lambton, 33, go during their final date instead of making him wait until the final rose ceremony.
"I have to let you go here and not wait till tomorrow. This wasn't an easy decision," she told her suitor. "I just didn't want to put you through tomorrow because I knew it was going to be so hard."
A visibly shaken Lambton took the rejection in stride.
"Thank you for being honest," he told her. "Good luck tomorrow. Go find out tomorrow if he loves you."
Moments later, Lambton said he saw a rainbow streaking through the Tahiti sky and took it as a message from his deceased mother.
"That's my mom telling me it's going to be OK," he said.
Mathison said her relationship with Lambton, which took longer to pick up speed, was never much more than a friendship.
'Bachelorette' Season Six Highlights
America first fell in love with Fedotowsky on last season's "The Bachelor," when she left Jake Pavelka and quit the show to give priority to her career. The fan favorite was then chosen to return as "The Bachelorette," where 25 bachelors vied for her love.
"The Bachelorette's" sixth season was filled with its fair share of drama.
Suitor Frank Neuschaefer, who furiously romanced Fedotowsky and won enough of her heart to be one of the final three guys, was flown halfway around the world to Tahiti -- only to break up with the bachelorette in favor of an old flame he took up with on the side during a visit to his home town of Chicago.
Fedotowsky was completely blindsided by his change of heart.
"I think it's so selfish of you to have done this," she said to Neuschaefer. "I've given up everything to be here."
If Neuschaefer had called and asked to come back to the show, as she did on "The Bachelor" with Pavelka, Fedotowsky said on "GMA" she would refuse.
Another dramatic plotline this season involved Justin Rego, better known as "The Wrestler," who was accused of using the show to promote his career. The Canadian entertainment wrestler was ultimately kicked to the curb after Fedotowsky learned that he had two girlfriends.
Bachelor Kasey Kahl, who was eliminated in Iceland, floored Fedotowsky and viewers when he branded himself to prove his undying dedication to Fedotowsky. Kahl got a tattoo on his wrist of a shield, which he said was a symbol of his promise to "guard and protect" Fedotowsky's heart -- a line he repeated ad nauseum on the show.
Surprise Endings in 'Bachelor' History
The drama this season on "The Bachelorette" wasn't a departure from the show's history. Season three Bachelorette Jenn Schefft rejected both finalists. During the 2007 season of "The Bachelor," Brad Womack didn't choose either of his two finalists during his final rose ceremony.
Test your Bachelor IQ! CLICK HERE to put your "Bachelor" and "Bachelorette" knowledge to the test in this trivia quiz..
In all the incarnations of the popular show, only two couples have made it down the aisle -- Season 13 "Bachelor" Jason Mesnick and Molly Malaney, and season 1 "Bachelorette" couple Trista Rehn and Ryan Sutter.