With temperatures dropping, it's time to break out the layers for fall. With so many great fashions in stores now, it's as crucial as ever to know what will look best on you -- and not the mannequin. InStyle senior editor Isabel Gonzalez Whitaker stopped by "Good Morning America" this morning to share some of her advice.
Whatever your size, when shopping this fall seek out "rich hues."
"Those flatter almost everybody," she said. "It's a very sophisticated season, an elegant season."
Here's how to highlight your assets in this season's hottest styles, no matter your shape or size.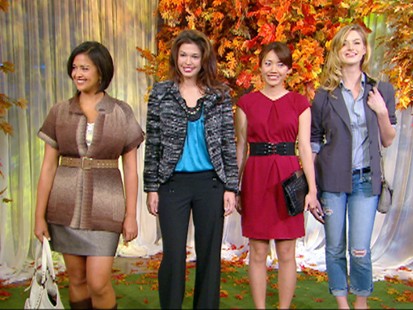 Curvy Hips
If you fit the bill, Gonzalez Whitaker recommends trousers that are cut with a little more room in the thighs. Pair them with a jacket that falls below the hips. Anything shorter accentuates the behind, while anything longer runs the risk of looking matronly.
"When you look at wearing jackets and blazers in the fall… you want the jacket to hit just below the hip," Gonzalez Whitaker said.
Top: Nicole by Nicole Miller, available at JC Penney, $44
Jacket: Zara, $99; www.zara.com
Bag: Zara, $35.90; www.zara.com
Pants: Express, $79.50, www.express.com
Heels: Carlos By Carlos Santana, $91; www.carlosshoes.com

Petite
It's pretty easy for fall layers to overwhelm a petite frame. So if you're on the smaller side, opt for a silhouette in a solid color. This will help elongate the body, says Gonzalez Whitaker.
"You want to create a long, lean vertical line," she explained. "Wear something that will elongate your silhouette."
She also suggests wearing heels to work or to social events to lengthen the body.
Earrings: Forever 21, $4.80; www.forever21.com
Dress: Adrianna Papell , $99; Lord & Taylor; www.lordandtaylor.com
Belt: Calvin Klein, $39.50; at Macy's; www.macys.com
Bangles: Express, $19.50; www.express.com
Bag: Top Shop, $65; www.topshop.com
Heels: Zara, $99; www.zara.com

Get more great fall fashion tips at www.instyle.com.
Top-Heavy
For women with bigger busts, finding a blouse that's neither too clingy nor too sloppy is a lot like discovering the holy grail. Try a tailored button-down shirt and fitted blazer, says Gonzalez Whitaker. Pair with cuffed jeans and heels for some extra polish.
"You want to look for blouses or tops that don't constrict, but not something so roomy that you lose shape," she said.
Blouse: Victoria's Secret, $38; www.victoriassecret.com
Blazer: I Heart Ronson for JCPenney, $72; www.jcpenny.com
Jeans: American Eagle, $39.95; www.ae.com
Bangles: Forever 21, $4.80
Bag: Nine West , $30; www.ninewest.com
Heels: Nine West , $89; www.ninewest.com

Full-Figured
For fuller-figured women who want a slimming look -- but are sick of wearing black -- don't rule out brown. Try a short-sleeved sweater to show off your arms.
"You can pretty much wear any color, key is to keep it in a single hue," she said. Add a belt, "because ultimately you want to show of your beautiful shape."
Top: Old Navy, $4; www.oldnavy.com
Cardigan: Kohl's, $48; www.kohls.com
Skirt: Urban Outfitters, $68; www.urbanoutfitters.com
Bag: Nine West, $40; www.ninewest.com
Boots: Nine West, $99; www.ninewest.com