Emeril Lagasse's Rosemary Buttermilk Scones
Scones for the Ultimate Brunch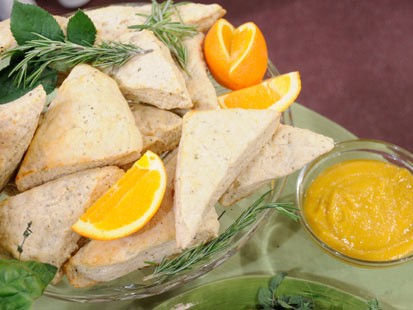 From the kitchen of Emeril Lagasse
|
"These are not the old-tasting, dried-out scones you may have had. They are flaky and wonderful. The aroma of orange and rosemary from your oven ...ahhh. Enjoy them with fresh creamery butter, clotted cream, or orange curd." - Emeril Lagasse
Ingredients
3 cups all-purpose flour
1 tablespoon sugar
1 tablespoon baking powder
½ teaspoon baking soda
1 teaspoon salt
¼ teaspoon freshly ground black pepper
½ teaspoon finely grated orange zest
1 tablespoon chopped fresh rosemary
1½ sticks cold unsalted butter, cut into pieces
1 cup plus 2 tablespoons well-shaken buttermilk
Cooking Directions
Preheat the oven to 425 degrees F. Line a baking sheet with parchment paper.
In a medium bowl sift together the flour, the sugar, the baking powder, the baking soda, the salt and the black pepper.
Add the zest and the rosemary to the sifted mixture and combine with a fork.
Add the butter and work it into the flour with your fingers, a pastry blender or a fork until mixture resembles coarse crumbs. A few large flat pieces of butter coated with flour in the mixture are okay, it contributes to flakiness.
Add 1 cup of the buttermilk and stir with a fork until the ingredients are just moistened.
Gather the dough together and press gently into a rough ball. Turn the dough out onto a lightly floured surface and pat together (with lightly floured hands, if necessary). The dough may still be a crumbly mass. Knead the dough gently 6 to 7 times then shape it into a rectangle about 7-by-4 inches with your hands.
With a lightly floured rolling pin, roll the dough into a 10 1/2-by-7 inch rectangle, 3/4-inch thickness. With a knife, divide the dough into three sections by cutting it at roughly 3 1/4-inch intervals along the length. Cut each rectangle in half. You will have 6 squares.
Cut each square into a triangle.
Set each of the scones on the prepared baking sheet and brush with the remaining 2 tablespoons buttermilk.
Bake in the oven for 12 to 14 minutes until golden brown and puffed. Serve warm.
Yield: 12 scones
Recipe courtesy Emeril Lagasse, from Emeril's Farm to Fork, HarperStudio Publishers, New York, 2010, copyright MSLO, Inc.
Food Styled by Karen Pickus
Other Recipes That You Might Like