In the cruise industry these days, many believe that bigger is better. The world's largest and newest cruise ship, Oasis of the Seas, is proof of that.
Royal Caribbean's latest vessel has been a true game-changer, according to industry experts. And with the cruise liner's sister ship, Allure of the Seas, scheduled to make its debut in November 2010, the industry has acknowledged that size does matter -- when it comes to luring new business.
"These really big, huge ships, the market they're going after is not your Aunt Elma," said Carolyn Spencer-Brown, editor in chief of CruiseCritic.com. "What they're going after is an untapped market, and these are people who haven't cruised."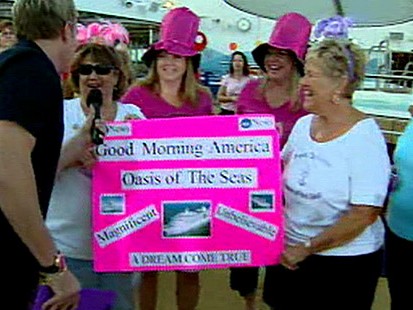 The Oasis of the Seas has plenty of room for them, with 2,700 staterooms and more guest rooms than the average Las Vegas hotel. The 16-passenger-deck ship consists of seven themed neighborhoods, including Central Park, Entertainment Place, the Royal Promenade, Boardwalk, the Pool and Sports Zone, Youth Zone and Vitality at Sea Spa and Fitness Center. The small city at sea accommodates 6,360 passengers.
Feeding this floating community on a seven-day cruise requires 50 tons of food, including 8,000 pounds of lettuce, 12,000 pounds of potatoes and more than 3,000 pounds of onions.
Aside from food, this behemoth boat is chock full of novel entertainment. Its Central Park is the first-ever park at sea, it boasts the longest-running track on an ocean liner, and its AquaTheater houses the largest and deepest pool on the high seas, at nearly 18 feet deep.
The vessel is also an engineering marvel in terms of height, length, width and weight.
From bow to stern, it measures 1,187 feet, or about three football fields long.
The ship's size required that the captain undergo simulation training to learn how to navigate it before he even set one foot on board.
Cruise Lines Keep Building Bigger Ships
Every port where the Oasis docks needed to be enlarged to fit its 208-foot width.
"We've had to build the largest cruise terminal in the world to support the biggest cruise ship in the world," said Phil Allen, director of Port Everglades.
It took Royal Caribbean International more than three years to build the Oasis at a cost of $1.4 billion.
While its fleet won't be matched anytime soon, competitors are trying to keep up. This year, Carnival Cruise introduced The Dream, its biggest ship ever, and Celebrity Cruises joined the pack, launching its largest.
Not to be outdone, next year Norwegian Cruise Lines plans to unveil its megaship, The Epic. In 2011, Disney, "Good Morning America's" parent company, plans to launch the biggest in its Disney cruise fleet.
Cruise Ships Survive Troubled Economy
All these cruise lines have found a way to survive so far in these tight economic times. After a sharp downturn late last year, cruise bookings are picking up, partly because of deep fare discounts. Some of these are as low as $50 a day.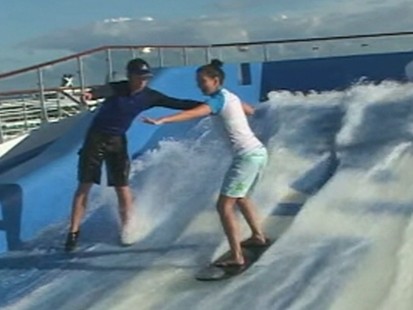 "The ship makes the most money when the ship sails full, because people do spend money when they are on board," said Robin Farley, a senior leisure analyst. "And so the ships are priced in a way that they're always going to sail full."
The cruise lines are betting that on-board spending will help turn a profit, and that these new supersized ships can benefit, too.