Buttery Holiday Cookies
From ABC News Now's 'Chef's Table'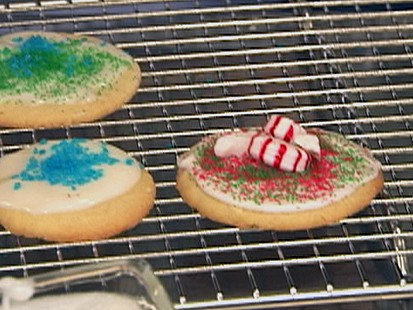 Jamie and Bobby Deen sprinkle old favorites on sugar cookies.
From the kitchen of Jaime and Bobby Deen
|
Ingredients
1 cup (2 sticks) I Can't Believe It's Not Butter!® Cooking & Baking sticks
1/2 cup granulated sugar
1 large egg
1 1/2 tsp. vanilla extract, divided
2 cups all-purpose flour
3/4 cup confectioners sugar
2 to 3 tbsp. heavy or whipping cream or milk
Cooking Directions
Preheat oven to 350°. Beat I Can't Believe It's Not Butter!® Cooking & Baking sticks with granulated sugar in large bowl with electric mixer until light and fluffy, about 3 minutes. Beat in egg and 1 teaspoon vanilla. Beat in flour on low speed just until blended.
Roll dough into 1-inch balls with lightly floured hands and arrange on ungreased cookie sheets, 2 inches apart. Gently flatten each ball with bottom of lightly floured flat glass. Bake 12 minutes or until cookie bottoms are lightly golden. Cool completely on wire rack.
Mix confectioners sugar, heavy cream and remaining 1/2 teaspoon vanilla in small bowl until smooth; spread on cookies and decorate with colored sugars, sprinkles or tinted icing.
Cost per recipe*: $2.95.
Cost per cookie*: $0.08.
*Based on average retail prices at national supermarkets.
Makes 3 dozen cookies
Other Recipes That You Might Like