The schemes come in all shapes and sizes -- from high tech to low tech. Some have slick Web sites or overseas telemarketing operations. Others appear in old fashioned classified ads or even on telephone poles.
But there is one thing all false job opportunities have in common: they will take your money instead of helping you make money.
The 'Crafty' Problem
The word "crafty" can mean skillful or dexterous, but there's another definition. "Crafty" can also mean tricky and deceitful. Authorities say the two definitions collided at a company called Angel Pin Creations.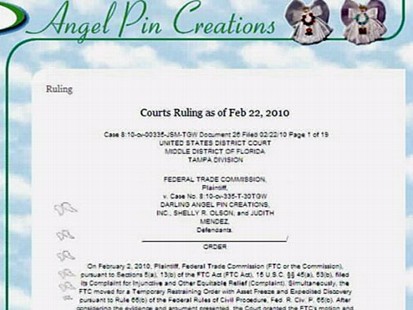 Crafter Teresa Yeast of Pennsylvania answered an ad for Angel Pin Creations, or APC, after her husband got laid off. The company's Web site claimed it would pay people as much as $500 a week to assemble small angel pins at home. Teresa thought that was something she could manage while caring for her two children with disabilities. So she sent APC $580 for a supply kit.
"I enjoy all different types of crafts," Yeast told "Good Morning America." "It was not money that I had to spare. It was money that I sent in that was in faith."
When the kit arrived, Teresa said a key supply needed to make the angels was missing. She said the instructions had huge gaps too.
"I think that was their objective, to wear you out, frustrate you to the point you give up and they have your money and you are just done," she said.
But Yeast pressed on, determined to do a good job, desperate to make some money for her family. She managed to send in her first sample. It was rejected. Then her second. Rejected. And a third and fourth. Also turned down.
"What happens inevitably is that the craft is rejected for some reason or another. It's not perfect in one way. It's not perfect in another way," said Monica Vaca of the Federal Trade Commission.
The FTC said alleges it's a classic scheme that's returned because of the recession. Investigators estimate APC made $832,000 in a single year by making "false and baseless claims that consumers could earn substantial income from angel pin assembly, when in fact they could not."
"What these fraudsters are doing is they look at the headlines and right now what's in the headlines is a very high unemployment rate ... so they know how to exploit vulnerabilities," Vaca said.
Yeast said she feels she transformed her own vulnerability into a victory for others, by feeding the FTC information about APC. Now the FTC is suing to shut the company down.
"I have been scammed and it hurts, it hurts a lot," Yeast said.
"Good Morning America" left several messages at Angel Pin Creations seeking comment, but never heard back. The company's Web site states that its offices are currently shut down because of the Federal Trade Commission action and links to the FTC page.
Job Schemes to Look Out For
One company sold people test preparation materials for government jobs, but the jobs in question do not even require a test.
Another claimed people could make a living by applying for vague government grants that don't exist.
Others sold people work-at-home opportunities involving bogus mystery shopper and rebate processing jobs.
Click here to go to the FTC's Web site and read more about the companies the agency is investigating for alleged employment scams.
Look for the Signs, Avoid the Schemes
There are several things you should look out for when considering supposed work-at-home opportunities or assistance getting jobs or grants:
You're asked to pay money up front. Even if the amount is tiny, beware. Scammers may be trying to get your bank account or credit card information to drain your account.
The ad says you are "guaranteed" a job. This wording is frequent, but impossible and untrue.
If the company claims "no experience necessary," proceed with caution. Most jobs require at least some level of experience, so that is suspicious.
Beware "unadvertised," "hidden," or "exclusive" government jobs. All federal government positions are listed on the official Web site, www.usajobs.gov.
Many companies that claim they can help you land a government job use official-sounding names like "U.S. Career Agency" or "Federal Job Clearinghouse" and even display fancy-looking seals or flags in their offices and on their Web sites. Don't fall for these surface trappings.
If you do see a work- from-home job advertised that you want to follow up on, double check the company's reputation with the Better Business Bureau and your county and state consumer protection offices.
To avoid scams, stay away from someone who guarantees you a high test score or says there is a job available with no experience necessary. Also avoid classified ads that list a toll free number, because the operator may try to sell you job listings or practice tests.
If you want to complain about a private company that you believe is misleading, contact the Federal Trade Commission at www.ftc.gov. Also run the name through a search engine and see if other consumers are complaining about it.
Where to Complain
Should you come across a possible deception and want to lodge a complaint, contact the United States Postal Inspector. The inspector investigates work from home schemes when the information is sent through the mail.
However, if you received materials in a different way then contact your county and state consumer protection offices and your state attorney general for help. You can also file a complaint with the Better Business Bureau to alert other consumers.
The Federal Trade Commission takes in consumer complaints about employment opportunities, but does not resolve them for individual consumers. However, if there is a pattern of complaints, the FTC may sue the company to force it to change its ways or stop doing business.
Legitimate Work-From-Home Options
"Good Morning America" workplace contributor Tory Johnson suggests looking into the following companies for work-from-home job opportunities.
Alpine Access

LiveOps

West

Working Solutions

Accolade Support

Customer Loyalty Concepts

Virtual Office Temps

TeamDoubleclick.com

International Virtual Assistants Association

National Telecommuting Institute, Inc.

Zazzle

Cafe Press

Etsy

E-Jurors

Tutor.com