Spring is in the air, and for savvy shoppers, that can mean big savings. From refrigerators to videogames, now is the time to find good deals.
Appliances
One of the biggest ways to save this spring is through the new federal "Cash for Appliances" program. This program provides rebates and incentives for the purchase of energy-efficient dishwashers, refrigerators, washer dryers and air conditioners. It is either in progress or being rolled out in the next month (or so) in 47 of the 50 states (Minnesota, Iowa, and Kansas have already exhausted their programs).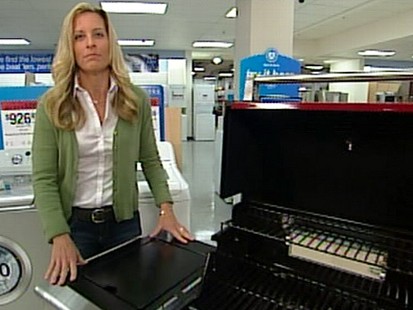 The benefits and the timelines are state specific, but as an example of the savings you might receive, if you purchase any one of five home appliances from select retailers in Illinois you will receive 15 percent off. If you recycle your appliance you will receive an additional rebate of $50 for washers, dryers and dishwashers and $100 for refrigerators and freezers. Appliance stores are capitalizing on the momentum of the program and offering their own sales. Look now for the models you want, and be ready to jump when your state's program kicks in.
Video Games
This month is a good one for getting marked down video games. According to Lifehacker.com, video games debut for maximum sales during the holidays. After Christmas they start a steady decline to the sales bin that seems to peak in March.
Think Summer
At the end of winter and the start of spring, the winter items of 2010 go on sale (coats and boots) but also any items that didn't sell last summer are carted out. Gas grills are a good example. I tracked a few budget and midrange brand-name grills and found them to cost 30 to 40 percent less than they were last summer. Also, chains like Home Depot are quick to use grills as door-buster type sale items slashing prices dramatically.
Services for Home
The shoulder season doesn't just apply to items. Consider how off-season affects contractors and service people in your area. If your furnace on its last legs, spring is a good time to get a deal from the HVAC installers since summer and winter are traditionally their busiest time of year. Same is true for pool maintenance, air conditioner installation and weatherizing.
Spring Cleaning Means Big Deals Secondhand
When the spring-cleaning bug hits, closets get gutted and it's out with the old. Those clothes end up at the Goodwill, secondhand stores and upscale consignment shops. As more inventory comes in to these venues, items already on the racks are marked down even more to make way for the new.
Have you found a particular item that is always on sale in the spring, let us know in the comments section below.
Click here to return to the "Good Morning America" Web site.