Gayle King shared some of her favorite holiday gifts this season with "Good Morning America." These thoughtful presents, which were featured in the December issue of O magazine, won't break the bank -- each one costs $30 -- or less.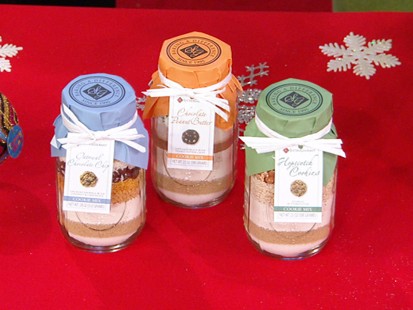 Faded Glory Coat, Walmart.com
Price: $15
This practical and stylish gift is really two coats in one. One side is shiny for dressier occasions, and the other is matte. The coat comes in six different color combinations and you can't beat the price.
Echo gloves, Echodesign.com
Price: $30

These stylish gloves are a great gift for the man or woman who is always using an iPhone or BlackBerry. Each finger has an electromagnetic fabric tip that works with touch-sensitive accessories. The gloves come in seven different colors.
Footzyrolls, Footzyrolls.com

Price: $22 with the code "OPRAH"
For the woman on the go: These ballet flats roll up to the size of a fist so they can fit in your purse. They come in three different colors and have skid-resistant soles.
Cookie Mixes, Sistersgourmet.com

Price: $10 with code "OPRAH"
These cookie mixes come in adorable packages and are easy to prepare. Just add eggs and butter and voila! The cookies are ready. These make great gifts for hostesses, neighbors, even your child's teacher. Choose from four flavors, including Hopscotch, which is a combination of oatmeal and butterscotch.
Children's Books With Plush Toys, Kohls.com

Price: $10
These books by Laura Numeroff each come with a stuffed animal. All the net profits from these books go toward children's health and education initiatives across the country.
Gayle King's Favorite Holiday Gifts for $30 or Less
Thomas Glenn Ornaments, Celebrate365.com

Price: $26
These colorful decorations are perfect hostess gifts or will bring a little holiday cheer to your neighbor. Choose from a wide array of ornaments such as a jeweled bulb, an emperor or a Buddha.
Lip Gloss, Clinique.com

Price: $30
Clinique's High-Shine-to-go palette allows women to choose from 12 different shades in a travel-size case. Each gloss has SPF 15. The colors range from nudes to pinks or violets.
'Dream Big!' Book, Bookstores nationwide

Price: $29.95
From the best of O magazine comes this collection of inspiring stories and advice. Contributors include Suze Orman and Dr. Phil, among others. The book also has some of Oprah Winfrey's interviews and the individuals she credits with expanding her horizons, such as Denzel Washington and Maria Shriver.
CLICK HERE to return to the "Good Morning America" Web site.