Mother's Day is May 9. Do you know what you're going to get your mom to show how much you love her? Four experts appeared on "Good Morning America" today to discuss gifts that you can buy -- or make -- for mom.
Kate Dimmock, fashion editor for People StyleWatch magazine, lifestyle expert Nancy Soriano, Becky Worley, technology contributor for "Good Morning America," and restaurateur and style expert B. Smith, shared their recommendations.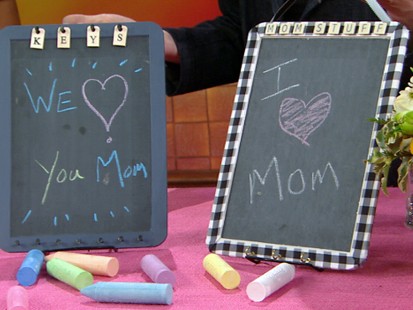 Here are their Mother's Day gift ideas:
Make It for Mom: Nancy Soriano's Gift Recommendations
Soriano recommended several home-made gifts. They're affordable, perfect for conveying that extra special personal touch, and children can make them fairly easily under adult supervision.
Slippers: Personalize ready-made slippers with fabric glue and ribbons, pom poms or other decorations. You can embellish classic white terry or woven slippers this way. Try sewing or stitching on your favorite patterns -- such as a flower or other fun shape, or sew a vintage charm or button on the slipper.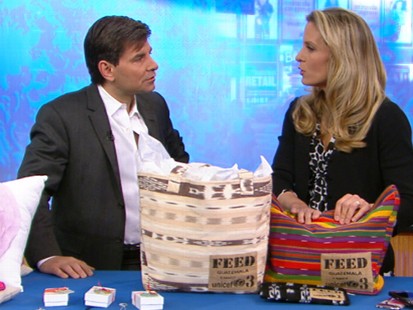 Organizers:
Pain, stamp or otherwise transform clothespins into organizers. The embellished pins can be used to clip snack bags, group letters, or help organize an office. Display them in a glass jar for maximum decorative effect.
Bookmarks: If your mom likes to read, make her a personalized bookmark. Use ribbon, rawhide and twine, then layer ribbon or beads, charms, grommets or other decorative items -- or stencil on her favorite sayings.
Message center: This is a great project for Dad to supervise the kids. Take a ready-made black chalk board (available at craft stores), and have the children paint or stain the frame. Then add cup hooks to the bottom or side edge of the board's frame. Embellish the board with, say, vintage scrabble pieces or mosaic tiles. Tie a ribbon so mom can hang it and have your children write mom a Mother's Day message in colorful chalk. She can use it in the home office, in the laundry room or other parts of the house.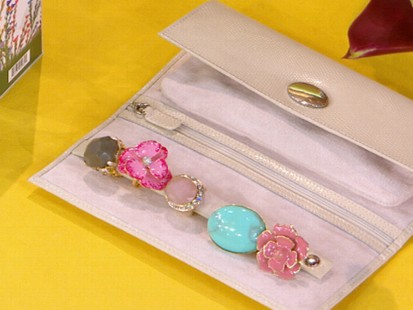 Becky Worley's Gift Recommendations
Worley, a technology expert, has some ideas to brighten mom's life or make things just a little easier. There are even some coupon codes for money-saving discounts.
Card Cubby: This stylish case was invented by a mother who needed to organize business cards, coupons, bonus and reward cards.
Cost: $19.99, plus shipping and handling. Use the code 'MOM' to take advantage of a 10 percent discount. The discount offer expires on Friday.
Say it with flowers: From Etsy Shop, this assortment of flowered pillows will brighten the home for a long time.
Cost: $17 to $34, plus shipping and handling.
Personalized jewelry: Also from Etsy Shop, Lovestamped's necklaces can come personalized with children's names.
Cost: $20 to $28 for three personalized necklaces, plus shipping and handling.
Mom Will Love, Charity Will Benefit
UNICEF tote bags for charity: The "Feed Guatemala" bags are handmade by Nest, a nonprofit organization that empowers female artists and artisans around the world. Various types of "Feed Guatemala" bags will be available at select Lord & Taylor department stores starting April 30. They'll then be available at all stores and online starting the first week of May.
Cost: Feed 1 pouches are $19 ($3.50 of which goes to charity); Feed 3 totes are $39 ($10.50 of which goes to charity).
GelaSkins: They're removable vinyl covers for protecting and customizing mobile devices.
Cost: $14.95 standard, but $11.95 with the "GMA" discount. Use the exclusive discount code MOM. Shipping will be 50 percent off. Discount lasts for one week.
Kate Dimmock's Mother's Day Picks
Dimmock's list includes great buys for under $35 -- perfect for the fashionista mom.
Canvas Tote from Old Navy: It works for the beach and for family vacations, and environmentally conscious moms can use it for carrying groceries.
Cost: $16.50
Assorted pearls from Carolee: Pearls are a classic jewelry item that every woman can pull off. Fax pearls look lustrous and rich, but they're very affordable.
Cost: $20.
Color Play palette: From Sephora, the 5 in 1 palette has blush, eyeshadow and lip colors. Each sub-palette fits conveniently into a portable compact.
Cost: $29.50
Perfume: Nice perfume always makes a good gift. The Fresh Citron de Vigne gift set from Sephora will give Mom the chance to pamper herself.
Cost: $35.
Kate Dimmock's Web extra gift suggestion:
Jewelry holder: The Mckenna Jewelry Roll from Pottery Barn is a lockable jewelry holder with lined compartments to keep jewelry organized.
Cost: $34.
B. Smith's Mother's Day Gift Ideas
B. Smith suggested cooking for mom. Her recipe ideas included turkey hash, French toast and Italian sausage quiche. Click HERE to find the recipes.
Click here to return to the "Good Morning America" Web site.