The "most wonderful time of the year" can also be the most expensive. So "Good Morning America" has some easy tips on how to make your home festive without breaking the bank.
Decorating Your Dining Room

Don't wait until Christmas to set the dining room table, designer Lisa Quinn said. Instead, do it now.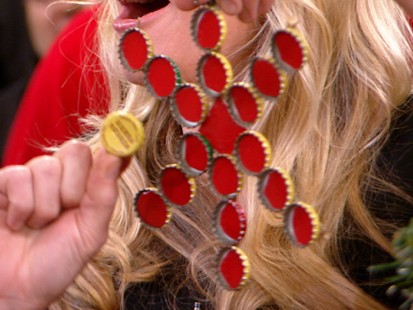 Quinn, author of the upcoming book "Life Is Too Short to Fold Fitted Sheets," suggested using inexpensive burlap or any fabric you have in your home to create layers on the table.
If you need to use mismatched chairs from other rooms to accommodate more guests, Quinn suggested adding some color to the back of the chairs to make them fit seamlessly.
"What I've done to add color is to add dish towels over the backs and they've got some fun colors and it adds a little punch to the table," Quinn said.
She also suggested putting candles in anything that sparkles, such as a silverware drainer. Quinn added texture to the table by placing her children's colorful plastic plates on top of the plain white china.
To create a beautiful ornament terrarium centerpiece, fill a vase with sand, pebbles or any other easy-to-find item and simply add ornaments.
"I put green peas out of the pantry in this middle one and then you set the ornament in them," Quinn said. "They're pretty. Nobody wants a big centerpiece on the table because you can't see the people across from you, so keep it low and keep it interesting."
Wreaths and Garlands
My holiday tradition is to gather greens and make wreaths and garlands. If you have access to greens of almost any variety, that's an easy way to spruce up your house for free for the holidays.
Holly grows in many neighborhoods. Pine and cedar are obviously fantastic, but almost any greens will work. I made a wreath out of magnolia leaves. The key with wreaths is to take two or three wire hangers and make a ring that will serve as the base of the wreath. One smaller ring inside a slightly larger ring bound loosely together with floral wire brings stability to the wreath.
Use the floral wire to fix greens to the ring. Lay the stem down, wind the wire, lay another stem in the same direction staggered a inch or two down and wind the wire again. It doesn't have to be perfect; the idea of bringing nature into your house is to bring in a little wild color, not to make it look perfect.
To create a focal point in your living room, designer Quinn suggested layering items you already own.
"Go around your house and look for things that look metallic, look sparkly and pull them out," Quinn said.
Have the Children Help Decorate
Quinn used everything from trophies to lemons and even asked the children to paint something for Santa.
"I think it's important to bring in the kids," she said. "I mean it's Christmas, it's Santa and the kids so I bought in some of the artwork and the toys."
She even brought out old toys such as a sock monkey and put them on her mantelpiece.
Using a hot-glue gun, old burlap bags and clothes her children have outgrown, Quinn made stockings for the family. She also took an old pair of jeans to make a stocking.
You don't have to have a Christmas tree, Quinn said. You can collect sticks and put them in a tall vase or bucket and then hang ornaments on them. For ornaments, you can use costume jewelry to add sparkle, you can hang whimsical things such as pine tree air fresheners.
She even made a beer-cap snowflake. It's a cereal box base, sticks glued on for stability, beer caps with colored paper glued inside, then you glue the beer caps to the cereal base.
Quinn dehydrates orange slices by baking them on parchment paper for four to six hours at 170 degrees. Poke a ribbon or raffia tie through it to affix it to the tree.
"[Our home] may not look like a Norman Rockwell painting," Quinn said, "but it's ours and it's great just the way it is."
ABC News' Kate McCarthy contributed to this report.
CLICK HERE to return to the "Good Morning America" Web site.