A slow real estate market for sellers means real opportunity for buyers.
"Good Morning America" teamed up with real estate Web site Zillow.com to identify the best places to bargain for a house.
Here's how we determined the best places to bargain list.
"GMA" asked Zillow.com to identify the cities and towns where buyers are able to negotiate the biggest discount off the asking price. The resulting list is a really interesting mix. Keep in mind, buyers have succeeded in bargaining at every price range.
One such buyer is Helena Sturnick. When she moved from Massachusetts to Florida, she was prepared to pay as much as $375,000 for a house. So she was surprised when she found one that she liked -- listed for $365,000 – and elated when she bargained it down to $290,000.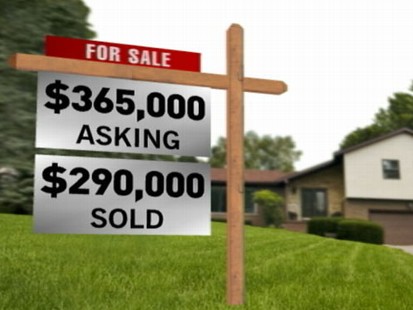 "We said to our Realtors that this is the bottom line for us on this house, and if we can't get it there we will move on to the next house. So he called us with jubilation and said we got it," Sturnick said.
Her new hometown of Naples, Fla., is Zillow's No. 1 place to bargain, with most buyers wrangling about a 7 percent discount. Home values in Naples have already fallen far, but Zillow's statistics show there's still additional room to haggle.
"The fact that this was a buyer's market made a tremendous difference," Sturnick said.
The No. 2 best bargaining spot is Cape Cod, Mass. Buyers in this charming vacation area are routinely knocking 5 percent off the asking price. One house on a beautiful lot was listed for $340,000 and sold for $295,000.
Charleston, S.C., comes in at No. 3. Right now, buyers are negotiating an average 5 percent discount off list prices in Charleston. One four-bedroom split level home was listed for $370,000 and sold for $293,000 -- a $77,000 reduction. Plus, the sellers kicked in $5,000 toward the buyers' closing costs.
The No. 4 best place to bargain for a home is Merced, Calif. Merced has been hit hard by the foreclosure crisis. One house sold for $337,000 five years ago, yet the current buyers got it for $80,000, and that was $6,000 less than the asking price. Zillow says discounts in the lower price ranges are particularly aggressive because of the all the foreclosures nationwide.
"You really want to think about staying in that home five, seven, even 10 years, because when home values hit the bottom it doesn't mean they're going to shoot back up," said Amy Bohutinsky of Zillow.com. "They will likely languish for a couple of years."
Finally, Chicago -- the only big city near the top of the list. Windy City homes are languishing on the market for four months on average, so buyers can whittle away at asking prices an average of 5 percent.
Check out this solid brick bungalow. List price: $300,000. Selling price: $170,000, close to half-price. Discounts like that are what make Chicago the No. 5 fifth-best place to bargain for a house.
While these are the top five places to bargain for a home, the entire country is a buyer's market.
That may sound depressing for sellers, but there's a silver lining: When buyers start to perceive that homes are great deals, more people jump in, the competition revs up and prices start to rise.
How can buyers gauge when they have a golden opportunity to bargain for a lower price?
Comparables -- what similar houses in like neighborhoods have sold for -- are the key, but don't just look at selling prices. Also look at the average gap between the asking price and the final price, and the number of days the property was on the market. The longer a home has been for sale, the better your opportunity to bargain.
Click HERE to see numbers 6 through 10 on the best places to bargain list.
Click here to return to the "Good Morning America" Web site.