The 2018 Emmys were a night filled with emotional wins, a proposal live on stage and a huge night for Amazon's "The Marvelous Mrs. Maisel."
Interested in
Emmy Awards?
Add Emmy Awards as an interest to stay up to date on the latest Emmy Awards news, video, and analysis from ABC News.
Hosts Colin Jost and Michael Che of "Saturday Night Live" didn't hold back when it came to their jokes, which dealt with everything from diversity to harassment in Hollywood and Roseanne Barr.
Here are the top moments of the night:
1. Stars opened the show with a song.
In a unique way to open the show, "Saturday Night Live" stars Kate McKinnon and Kenan Thompson announced the room was celebrating the most diverse group of Emmy nominations in history.
"So, diversity is not a problem in Hollywood anymore?" they asked, before breaking out into song.
Sandra Oh, Kristen Bell and others joined in for the opener.
But then RuPaul came out with a phone and the voice on the other end told Thompson, "Still a long way to go!"
John Legend closed the song.
2. The hosts tackled tough topics.
Hosts Che and Jost kicked off the show in biting fashion.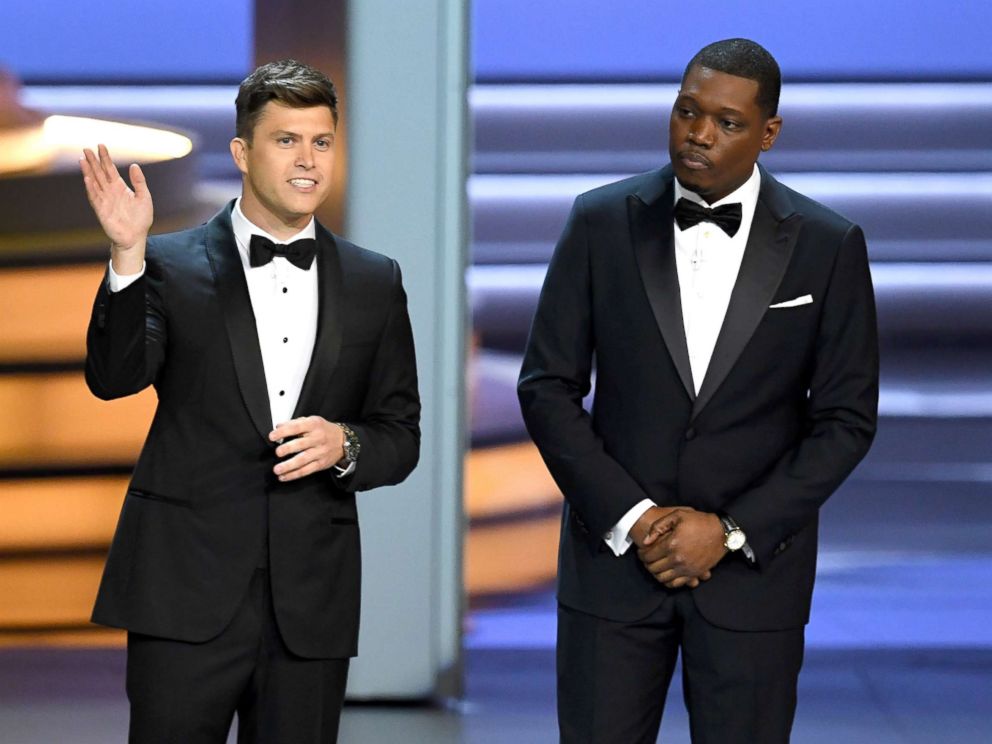 The two delved into current hot topics, including #MeToo, the cancellation of "Roseanne," and even President Donald Trump.
"It is an honor to be here, sharing this night with the talented, creative people in Hollywood who haven't been caught yet," Che joked about all the people who have lost their jobs throughout the past year over sexual misconduct allegations.
Later, the duo commented on Barr, and how a racist tweet about former Barack Obama adviser Valerie Jarrett got her show cancelled.
"'Roseanne' was canceled by herself, but picked up by white nationalists," Jost said.
"Congrats to Laurie Metcalf," Che added. "Do you know how great of an actress you have to be to get nominated for 'Roseanne' now?"
3. Betty White took a bow.
The 96-year-old icon came out to a standing ovation that lasted almost a minute.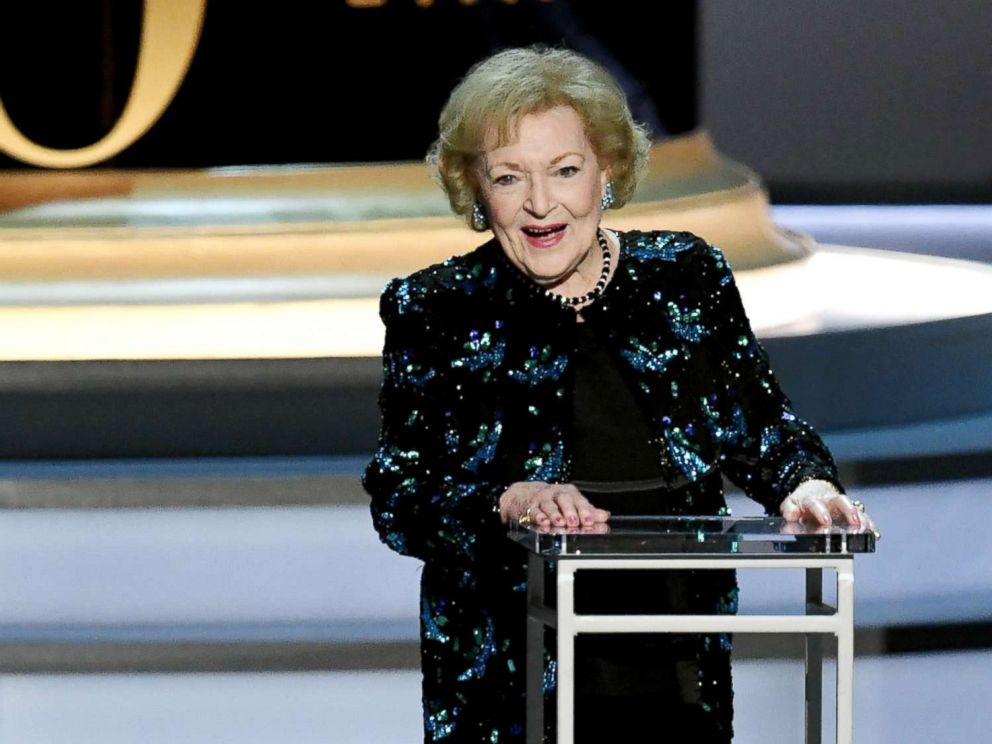 "Oh my goodness," she said. "Thank you, I'm just gonna quit while I'm ahead."
Once things settled down, the actress flirted with Alec Baldwin, poked fun at herself and inspired viewers.
"It's incredible I'm still in this business," she said. "I'm thanking you."
4. A surprise proposal left everyone teary-eyed.
Glenn Weiss won an Emmy for best directing for a variety special and then gave a touching speech about losing his mother just two weeks ago.
But then he addressed his girlfriend in the audience and said, "You wonder why I don't wanna call you my girlfriend? Because I want to call you my wife."
Jan Svendsen then walked to the stage and Weiss offered her his mother's wedding ring.
Svendsen said "yes" and the audience -- both in the Microsoft Theater and at home -- went wild.
5. There were several gains with regard to diversity.
It's been noted many times that Hollywood still suffers from a diversity issue, though there were some gains during the Emmys. Several African-American stars heard their names called for major awards: Regina King took home best lead actress in a limited series for "Seven Seconds," Thandie Newton won best supporting actress in a drama for her role in "Westworld" and RuPaul, host of "RuPaul's Drag Race," took home awards for best reality-competition series and reality-competition host.
"Things are always looked at as black and white. I am guilty of that a lot of times as well," King said backstage after her win. "That was one of the moments that was really sitting with me on stage. ... My peers don't just have the same skin color as me, and they're not only just interested in things that represent what they look like -- they're interested in art and storytelling and seeing things from different perspectives."
Meanwhile, "The Assassination of Gianni Versace" creator Ryan Murphy accepted the award for best limited series and dedicated the honor to the LGBTQ community.
"'The Assassination of Gianni Versace' is about a lot of things. It's about homophobia, internalized and externalized," Murphy said. "One of out of every four LGBTQ people in this country will be the victim of a hate crime. We dedicate this award to them, to awareness, to stricter hate crime laws, and mostly, this is for the memory of Jeff and David and Gianni and for all of those taken too soon. Thank you very much."
6. Speeches had viewers in stitches.
Jeff Daniels gave one of the funniest speeches of the night when he won the award for outstanding supporting actor in a limited series or movie for his work in the Netflix western "Godless."
The veteran actor thanked his horse wrangler and the person who taught him to ride.
"Little tip for you young actors: When they call and ask if you can ride a horse, don't lie," he quipped. He also thanked his horse, Apollo, noting that Apollo was also Jeff Bridges' horse in the 2010 film "True Grit."
"I felt he was making unfair comparisons," Daniels joked.
He said he was thrown off the horse three times and broke his left wrist after one fall.
"It's officially healed now," the actor said, said holding his trophy high in his left hand.
Also giving a memorable speech was "Barry"'s Henry Winkler, who picked up the award for best supporting actor in a comedy series four decades after his first Emmy nomination. "I wrote this 43 years ago," he said in his acceptance speech. "[Attorney] Skip Brittenham said to me a long time ago: 'If you stay at the table long enough, the chips come to you.' And tonight, I got to clear the table."
Winkler closed his speech the way many actors do: by telling his (adult!) children to go to sleep.
"I can't stop yet," he gushed. "My wife Stacey, oh, my God. My cast and crew, and the kids! Kids! Jed, Zoe and Max, you can go to bed now! Daddy won!"
7. "The Marvelous Mrs. Maisel" had a truly marvelous night.
The Amazon show was one of the big winners of the night, earning eight Emmys this year, second only to "Game of Thrones," which took home nine. ("Saturday Night Live" also earned eight awards.)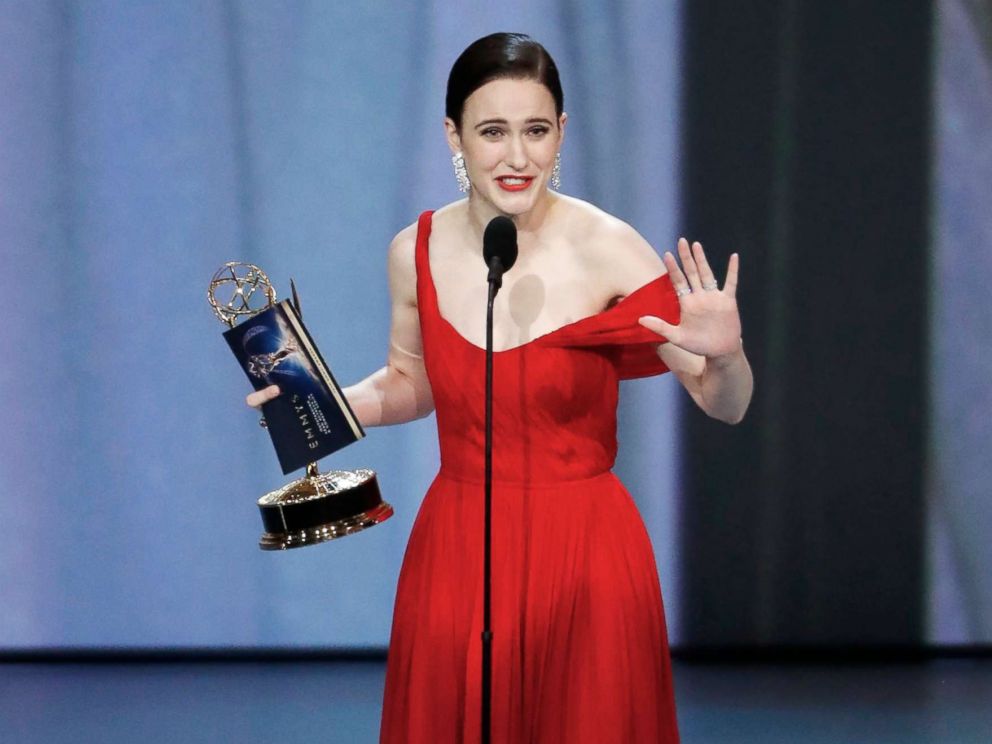 Star Rachel Brosnahan came to the stage more than once, first as an outstanding actress winner and later in the night when the show won for best comedy series. When asked backstage why the show has seen such success, she said it's partially because it's "equal parts fantasy and reality."
"I think in some ways it's aspirational too. It's about a woman who's reinventing herself after completing the dream that she had laid out for herself. Everything falls apart. She finds herself anew. It's never too late to do that," she said. "And it's funny and I think filled with joy at its core and that's something we need a lot more of in the world right now."