Paul Schrader is on a roll. And "The Card Counter," only in theaters, is a spellbinder with a deep core of personal insight. Following 2018's classic "First Reformed," the film finds Schrader, 75, at the top of his artistic game as he explores the dizzying space between sin and redemption.
"The Card Counter" is about cards in the way that Schrader's script for "Taxi Driver" was about taxis, only as a means to an end. Oscar Isaac, the heroic pilot Poe Dameron in the "Star Wars" franchise, gives an implosive, indelible performance as a gambler who calls himself William Tell, after the 14th-century crossbow ace who shot apples off heads and tyrants off thrones.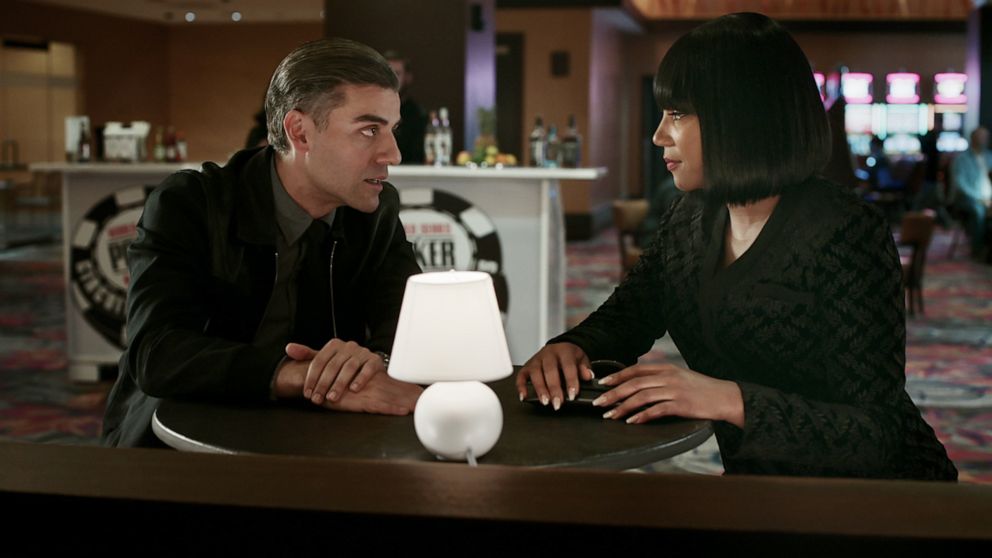 William's enemy is basically himself. He learned card counting during a long prison stint at Leavenworth, after being court-martialed for his role as a U.S. military interrogator found guilty of human rights violations at Abu Ghraib. Horrific visions of torture keep William up nights.
Cards are a method for William to order his life, often pathologically as he enters various casinos in pressed shirt and knotted tie and checks into hotel rooms whose furniture he wraps in sheets that he carries in his luggage with an obsessive-compulsive attention to detail.
As a gambling agent who calls herself La Linda, Tiffany Haddish brings a sexy, romantic chaos into William's structured half-life. It's a kick to watch this sparking firecracker subdue her comic rhythms to nail a dramatic role that wakes up William to emotions he's long kept under cover.
Download the all new "Popcorn With Peter Travers" podcasts on Apple Podcasts, Spotify, Tunein, Google Play Music and Stitcher.
Mistaking his OCD for a gambler's cool, La Linda tries to recruit William for a poker tournament. But a big win holds no interest. What does is Cirk (pronounced Kirk), a kid played by Tye Sheridan that Tell mentors. For a while, Schrader gives his movie the propulsive energy of Paul Newman teaching Tom Cruise the ropes of pool in "The Color of Money."
Cirk has another agenda. At a hotel conference for correctional officers, Cirk recognizes Maj. John Gordo (a scary, sensational Willem Dafoe) from the unit in which his father and William served. Cirk blames Gordo for his dad's suicide and wants William to join him in taking revenge.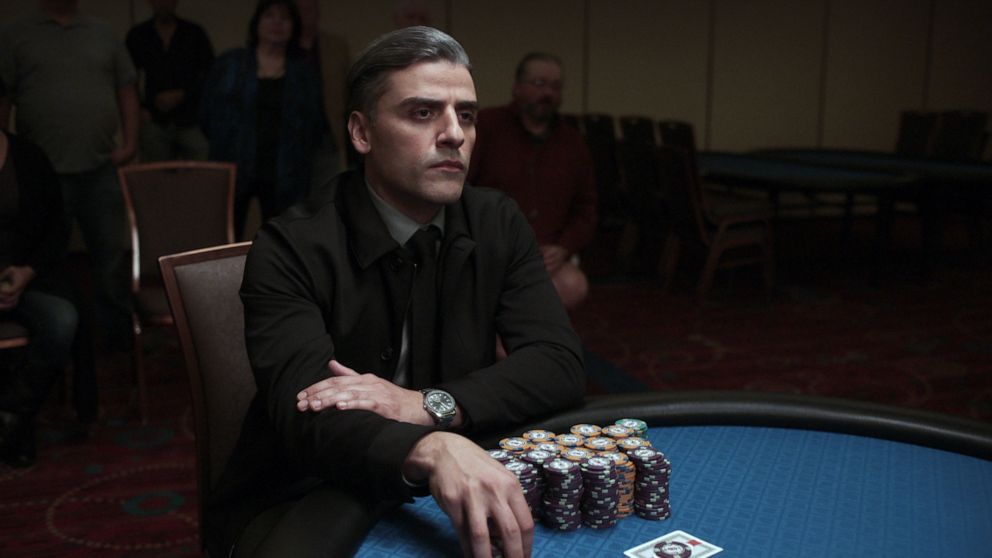 In a lesser movie, reprisal would be the easy end-all. But Schrader doesn't make lesser movies. Though William's surreal Iraq dreams evoke the noise, smell and violence described in his journals, it's his attempt to ease Cirk's tormented soul that may be his path to salvation.
We film critics like to go on about Schrader's upbringing as a strict Calvinist, about the Old Testament God you can feel looming large in his films, not to mention the transcendental style of Robert Bresson's "Diary of a Country Priest" that influences his own spare style.
But what if "The Card Counter" is your first exposure to Schrader? Don't be intimidated, just let the film's moral challenges into your head and heart. You won't need a degree in cinema to figure out that Schrader is a world-class filmmaker whose work is as playful as it is profound.
It's all there in "The Card Counter," a hypnotic and haunting provocation about a man of conscience struggling with his guilt about surviving in a godless, modern world. Hope floats at the edges of Schrader's dangerous, possibly redemptive game of chance. Place your bets.