Fans at the D23 Expo in Anaheim, California, were put under a spell when the official trailer for "Hocus Pocus 2" dropped for the first time.
The one minute and 53 second trailer features the three witches from the iconic first film: Winifred, Sarah and Mary, which are played by Bette Middler, Sarah Jessica Parker and Kathy Najimy.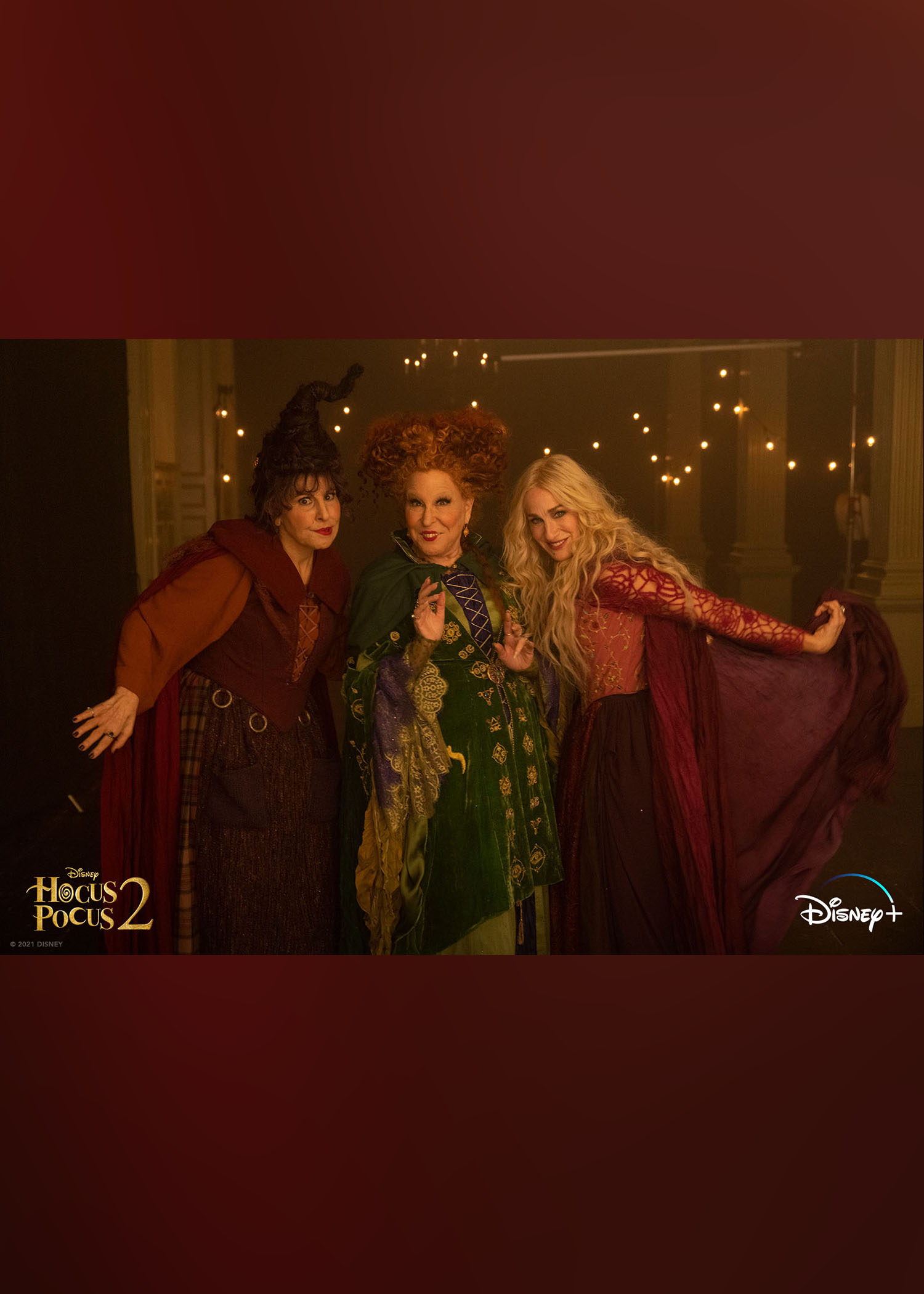 The trailer starts with what appears to be a flashback scene of the Sanderson sisters as young girls who were banished from Salem. We learn that it's Winifred's 16th birthday in the scene and she is gifted her iconic one-eyed spellbook.
The trailer jumps forward 370 years to present day in the Sanderson sisters' home in Salem which has turned into a museum and shop of sorts. The owner tells a young girl, played by Whitney Peak ("Gossip Girl"), that a witch gets her powers on her 16th birthday and gifts her a candle. The young girl and her friend light the candle in a cemetery and the flame turns black. It turns out to be that the candle is the same one that brought the Sanderson sisters back to life in the first film.
Winifred, Sarah and Mary then appear on screen with Winifred exclaiming, "Lock up your children! Yes Salem, we're back!" The trailer then shows the two girls going on a quest to stop the witches from wreaking havoc on the town.
Fans of the first film will see the witches running "amok, amok, amok" in the sequel, with snippets of the sisters bringing back familiar moments from the first film such as Mary finding an alternative way to fly without a broom, Winifred's powers backfiring when the two young girls pour salt around them and another possible iconic performance as we see the witches on stage facing a crowd of people.
Along with the official trailer, Disney+, which will stream the new movie, shared a poster on Twitter and said, "A Wickedly Glorious Return."
"Hocus Pocus 2" is directed by Anne Fletcher, the director of "Step Up," "27 Dresses," "The Proposal" and "Hot Pursuit." The script was written by Jen D'Angelo.
Production on the film began last year with filming taking place in Rhode Island.
Fans got a sneak peek of what to expect from the upcoming film in June when Disney dropped a one minute and 21 second teaser trailer. The clip has over 4.6 million views.
"Hocus Pocus 2" will be available to stream on Disney+ staring September 30.
A subscription to Disney+ costs $7.99 per month or $79.99 per year, and a bundle consisting of Disney+, Hulu and ESPN+ costs $13.99 per month.
Disney is the parent company of ABC News and "Good Morning America."