Liam Hemsworth said that filming "The Last Song" with co-star and real-life love Miley Cyrus was "the best thing I worked on. No one wanted it to end.
"It's my first big film in the States," the Australian actor said on "Good Morning America" today. "It's huge."
In "The Last Song," Cyrus plays 17-year-old Veronica "Ronnie" Miller, who is still struggling with her parents' divorce and has been shipped out to her father's house for the summer. The movie, which is scheduled to be released March 31, is based on a novel by Nicholas Sparks.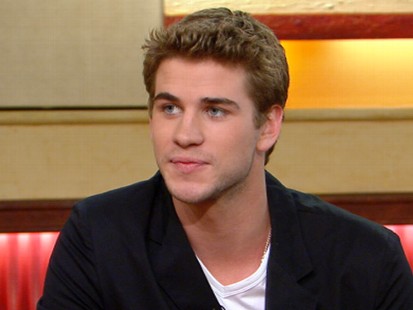 Hemsworth plays her love interest and learned to scuba dive for the film.
"It was incredible," he said. "I got to shoot with sharks all day."
Playing volleyball, on the other hand, proved to be a challenge.
"They asked me before we started shooting ... and I lied and said I'd played a lot before," he said. "I honestly thought we'd have to get stunt doubles coming in."
Shooting on Tybee Island in Georgia reminded Hemsworth of his hometown "Down Under."
"I grew up on a little island in Australia and Tybee Island was like that," he said. "You get to know the locals."
Hemsworth and Cyrus, 17, became close during filming and eventually began to date. He recently brought Cyrus home to meet his family over New Year's.
"It's cool to show her where I'm from and how I grew up," said Hemsworth, who's a couple years older than Cyrus.
Cyrus, who is best known for her role as "Hannah Montana," said on "GMA" this week that she wants to continue to branch out as an actress. Learning to play the piano was difficult, but, she said, "I was glad that it wasn't something that was so easy. I got the basics down which just made me feel more comfortable.
"It makes you want to come to work and make each other look good," she said of working with Hemsworth.
She added that it was great to work with someone who "really loves you and wants you to do well."
Miley Cyrus on 'Hannah Montana' Coming to an End
Cyrus said Bobby Coleman, who plays her younger brother in the film, helped Cyrus and Hemsworth get together.
"I paid him 10 bucks to go ask Liam if he likes me," she said.
Cyrus called Coleman "one of the most hysterical kids I've ever met in my life" and said that Greg Kinnear, who plays her father in the film, is "very laid back but he's very funny" just like her real father, Billy Ray Cyrus.
"He is so hilarious," she said. "There were so many times that I felt like I was back on the set of 'Hannah Montana' with my dad."
Cyrus began playing "Hannah Montana" when she was 12, and this year marks the last season of the show.
While she is excited for new opportunities, Cyrus said she will miss the show and taping the final season has been "kind of hard."
"It's bittersweet," she said. "I'm not going to have this to fall back on. It makes me a little bit nervous. This was our life, this has been our main growing experience and to leave is hard."
But she said she knows that the show has "given me such a great start."
"The Last Song" was produced by the Walt Disney Co., the parent company of ABC News.
Click here to return to the "Good Morning America" Web site.