The Smothers Brothers are considered the longest-performing comedy team in show business, and are still on the road after 50 years.
But their signature act is likely to come to an end next year, Tommy Smothers told "Good Morning America" correspondent Tom Bergeron. "We've done everything we can do," he said.
Tommy and Dick Smothers, who are now in their 70s, will be inducted in the TV Academy Hall of Fame in January.
The '60s TV legends launched their prime time variety show in 1967, when America was fighting the Vietnam War. At the time, the brothers used their comedy hour as a soap box, protesting the war with songs and sarcasm.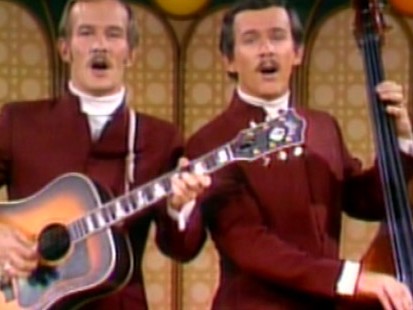 "It was a variety show with a point of view!" said Tommy Smothers in the interview. "And no one had points of view."
Outspoken performers were invited on the show, including antiwar folk singers Joan Baez and Pete Seeger. Campaigning for freedom of speech was 25-year-old Beatle George Harrison.
The show was a ratings hit. But, after a couple of years, and too many battles with network censors, CBS canceled "The Smothers Brothers Comedy Hour" in 1969.
"The real reason [they were fired] is that they were just saying things that a lot of people didn't want said in prime time," said David Bianculli, a TV critic for National Public Radio's "Fresh Air" and author of the new book "Dangerously Funny: The Uncensored Story of the Smothers Brothers Comedy Hour."
Political humor has changed a lot since then. Today, political comedians are known for much sharper monologues, and Tommy Smothers is envious. "Every day I think, 'Gosh, I wish I could be like George Carlin, Bill Maher, I want that edge. But every time I start to get that edgy thing, I get kind of mean."
But that pointed comedy isn't his comfort zone, Smothers said. "My gentle humor, which I have, kind of goes to the side. So it's kind of hard for me to do it. I'm not smart enough. I can't write that well, but that's what I want to do."
Among their many talents, the Smothers Brothers are famous for their use of yo-yos on stage and on TV. Tommy Smothers is known as the Yo-Yo Man, while brother Dick is the voice of Yo.
Trials Along the Road of Fame
The road hasn't been completely smooth for Tommy Smothers, who discovered he was dyslexic at age 30.
While heading the show, he had the learning disability without realizing it. "Yeah! Had no idea. I wasn't even fighting it. I guess I accepted it, and just don't make me sign any forms," he said.
The Smothers Brothers started their careers 50 years ago in San Francisco at the Purple Onion nightclub, where a picture of them still hangs. Back then, Smothers hung out at his neighborhood restaurant in Sausalito, Calif., and the pair sailed out to nearby Angel Island every afternoon, he told Bergeron as he showed him around town.
During their long careers in show business, the Smothers Brothers were frequently at odds, and Smothers is doubtful that they would have continued performing together if they were not brothers, he said. "I don't think so. The one thing we never did is carry baggage. Once we had an argument, a big fight, the next day or two days later it's gone. I wish I could have done that with all my wives and friends and stuff."
At one point, they were in couple's therapy, Smothers said.
Despite the bickering, Smothers said his brother never faulted him after their broadcast was discontinued. "Never once, when we were fired, did he ever come and say, you lost, you lost our career. ..."
Smothers has since warmed to his brother's personality. "But, now, at this point in our lives, I find him very charming; and I actually like him. …. I mean I always love him as my brother, but …"
According to Smothers, Dick has his own take on their relationship. "He said: 'Well, it's kind of like an old marriage. [A] lot of fighting; no sex."
"My brother's funny," Smothers said.