Whether you're welcoming your little ones to the counter for a first lesson or helping them advance from step stool side kick to solo kid chef, it helps to have the right equipment in any kitchen with kids.
What better way to get back to basics than to give children a head start on their culinary adventures with must-have tools, plus tips from parents who regularly coach their kids while cooking.
Materials Matter
While a glass mixing bowl may seem like an obvious choice for anything from pancake batter to cookie dough, vessels that are made with more forgiving materials will also help keep things calm in the kitchen.
Preppy Kitchen founder and father of twins Lachlan and George, John Kanell, shared a few of his favorite father-approved tools for young ones.
"Get a rubber spatula that has a wooden handle so that if they bang it you're not worried about your pan or the countertop," Kanell told "Good Morning America."
He also suggested, "Use containers and bowls that are not going to shatter, so if you want to use the plastic ones or metal ones, I would recommend that over glass."
But, if you do plan on using glass bowls, Yasi Micek -- a mom and blogger who started Charlotte the Little Chef on Instagram -- shared a simple and effective hack. Place the mixing bowl on a silpat silicone baking liner to keep it nice and stable.
Kid-tested, parent-approved
Micek, who snaps adorable photos and videos of her 3-year-old chopping, peeling, mixing and more on Instagram has some genius ways to get younger kids involved in the kitchen without worry.
Scooping avocados
Slicing strawberries
Just in time for summer and strawberry season, Charlotte's mom said a strawberry slicer is a great tool for kids to practice their fruit prep and fine motor skills.
Snap peas, asparagus and other vegetables that only require clean hands
For Charlotte the Little Chef, snapping fresh asparagus is a great way to help get the green vegetables ready for roasting or blanching for any recipe.
The no-tool-required techniques are a great introductory way to get kids familiar with food and simple tasks that go into cooking prep work.
Must-have kitchen tools for kids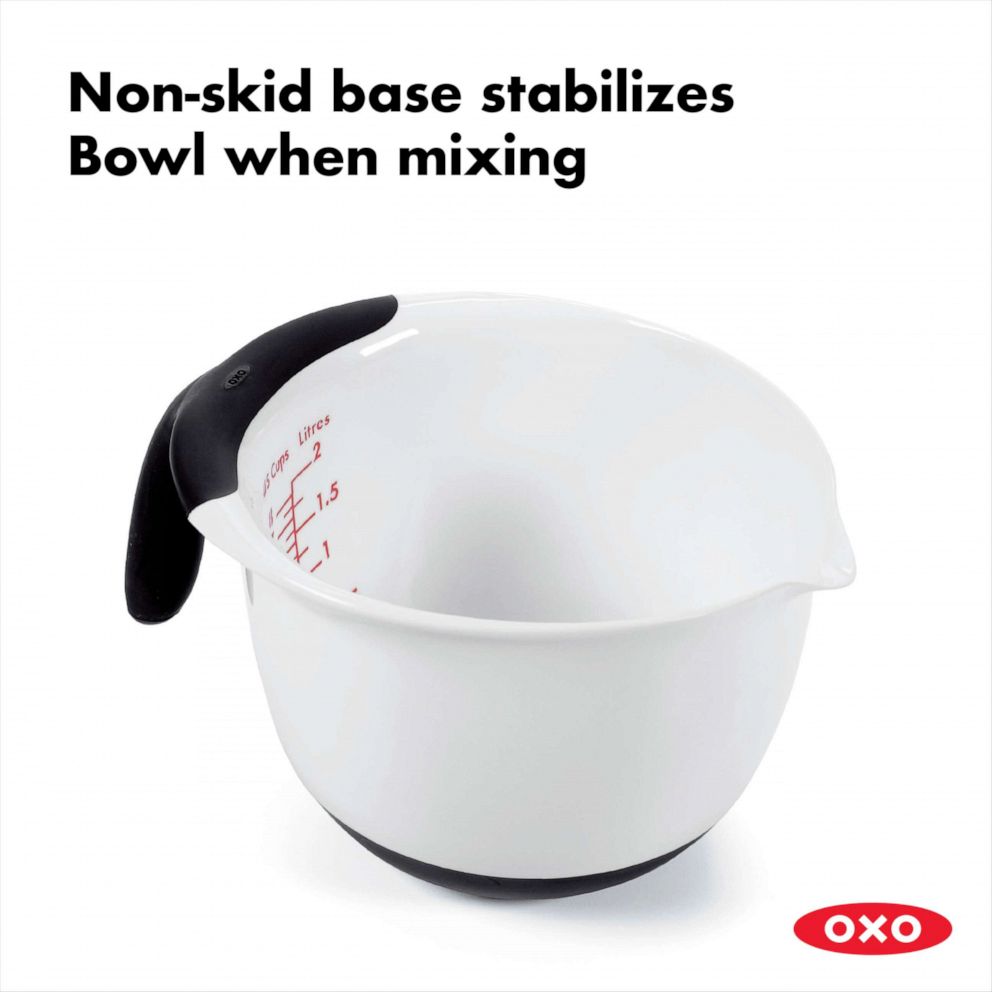 Micek shared five of Charlotte's go-to gadgets that help her have a hands-on experience in the kitchen.
Toddler Kitchen Knife: "We use this daily! Charlotte helps cut so many fruits and veggies during snack time or while we are preparing dinner," her mom said, :Some of her favorite items to cut are asparagus, mushrooms, peppers, apples, cucumbers and so much more."
She suggested a monkey-see, monkey-do technique to ensure the child knows how to work with any new or unfamiliar ingredient. "I always demonstrate to Charlotte how to cut first and where to place her hand. After she sees me do it the first time, she quickly picks up and is ready for her turn," she said.
Small Pitcher with lid and handle: "We use this a lot when baking and need to add any amount of liquids to the recipe," Micek said, adding that it can be used to pour milk into cereal. "I always make sure to pre-measure the liquid prior to giving it to Charlotte."
Kitchen Tower: "There are so many versions of a kitchen tower that helps little ones get to counter level," she said of the multi-height step-stools. "This gives Charlotte such independence while working in the kitchen and also gives me peace of mind knowing she is safe in an enclosed area."
Small Prep Bowls: "If Charlotte is cutting a veggie, she will put all the cut pieces in the bowls and the trash in another bowl. Whenever we bake, I pre-measure all the ingradients into bowls and that makes baking together go smoothly and lets us enjoy the time together," her mom said. Also, by pre-measuring ingredients, it gives Charlotte so much independence and she gains a sense of accomplishment knowing she is baking all by herself."
Masher: "What child doesn't love to mash? We love a masher for when we bake anything with bananas or when we make mashed potatoes or guacamole," she explained. "Charlotte loves mashing and it's such an easy activity to get your little one started in the kitchen."
For more easy to use items, the product development team for Oxo kitchen utensils has an array of options when it comes to child-safe tools and their brand ambassador Joey Lozada recommended a few of their best-selling pieces to get started.
Egg Beater: This fishing-rod inspired egg beater is fun, easy to use and simple to clean. The handle doesn't get slippery, even when little hands are wet or slimy.
Stainless Steel Measuring Cup Set: For tots, measuring ingredients (and then dumping them into a mixing bowl) is the ultimate "I can do it myself" experience. The magnetic handles keep your cups together, so you always have the right size.
Cookie Press: Think Play-Doh, but edible. This cookie press makes baking lots of cookies extra fun and super easy, plus with 12 different disks kids can choose their favorite shape. The easy to use tool gets loaded with dough, then a push on the lever dispenses a perfectly cut cookie every time.
7-Piece Liquid Measuring Beaker Set: Let little ones feel like mad scientists in the kitchen while they help you mise en place with these whimsical measuring beakers.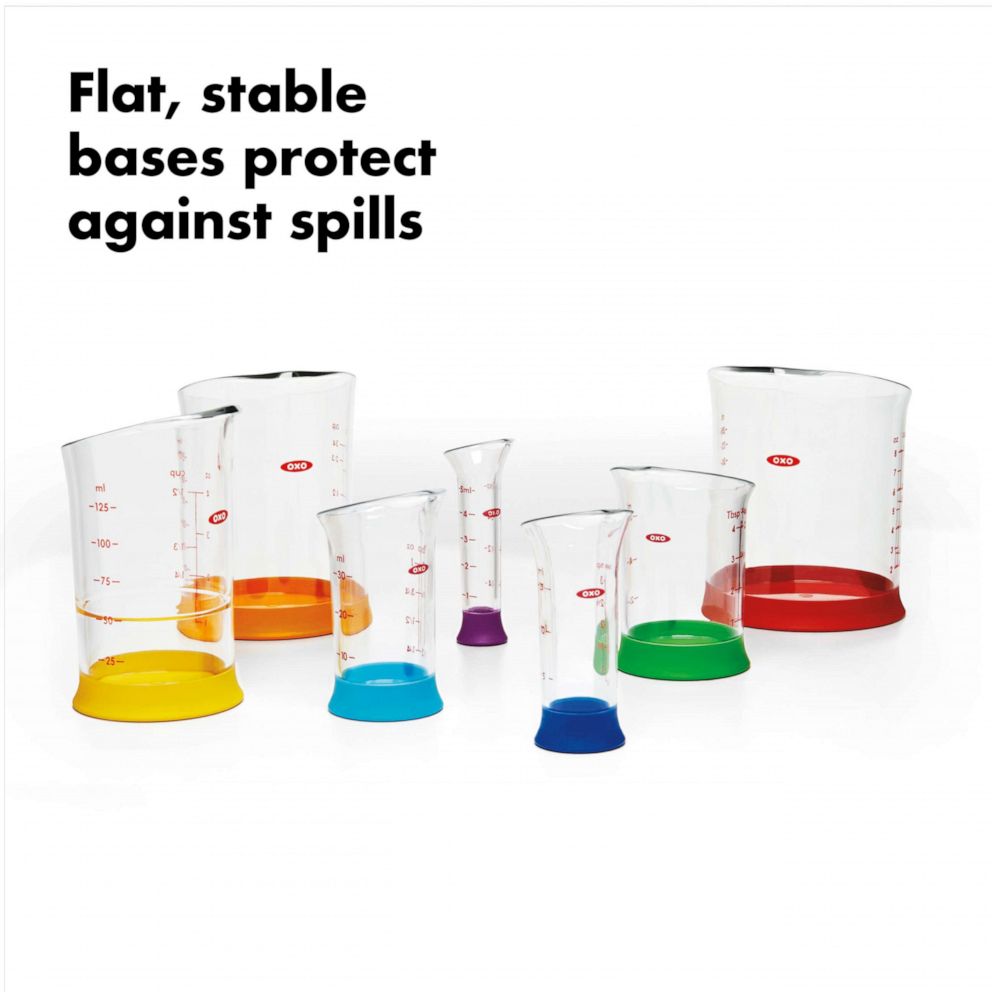 Batter Bowl and 9-inch Silicone Balloon Whisk: The Batter Bowl has easy-to-read measurements inside and a comfortable handle for little ones to hold onto while they whisk together cookie dough, pancakes and other treats. The convenient drip-free spout makes filling muffin tins and pouring pancakes easy.