Tis the season for spring holidays which means full tables of food with family and friends.
To help celebrate both Passover and Easter, Jeffrey Eisner and Ashton Keefe lent their culinary and entertaining expertise to "Good Morning America" with recipes that will make everyone happy this weekend.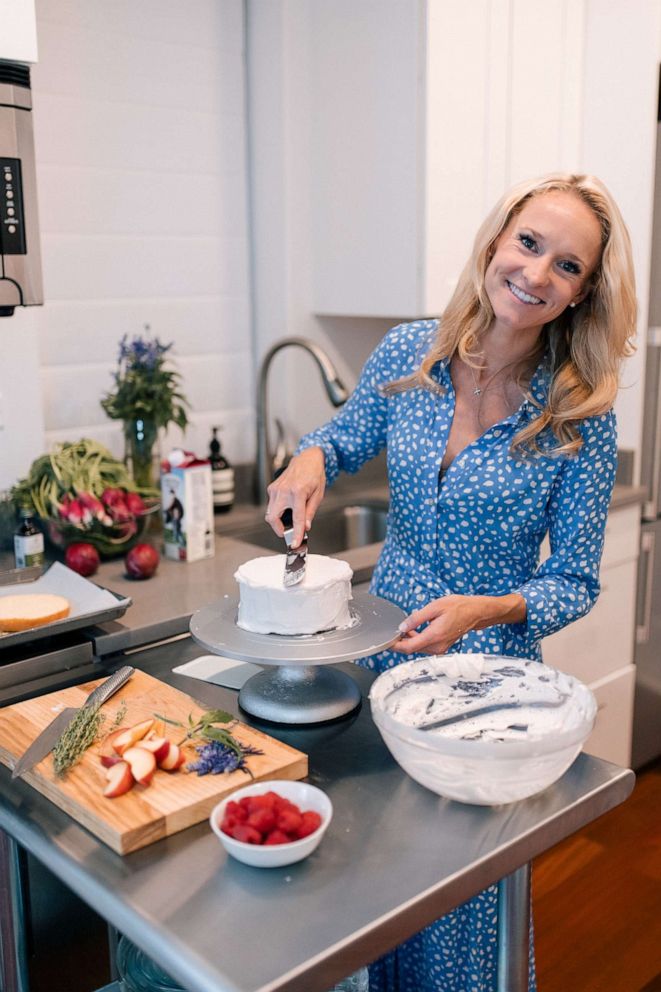 Jewish Brisket
Ingredients
(4- or 5-pound) beef brisket (don't trim the fat prior to cooking)
Kosher salt
1 1/2 cups water
1 1/2 cups ketchup
3/4 cup dark-brown sugar
3/4 cup white vinegar
1 clove garlic, minced or pressed
4 yellow onions, coarsely chopped
3 tablespoons cornstarch
Directions
Take the brisket and cut it in half against the grain so it fits into your Instant Pot. Rub the brisket all over with kosher salt.
On the Instant Pot, hit sauté and adjust so it's on the more or high setting. Once it says hot, working with one piece at a time, sear the brisket for 2 minutes on each side, or until browned. When done, hit keep warm/cancel, move the brisket to a plate, and clean and dry the liner pot.
Make the sauce by whisking together the water, ketchup, brown sugar, vinegar and garlic in a mixing bowl.
With the liner pot and the trivet in the Instant Pot, place one half of the brisket on top of the trivet, fat-side up, and cover with about half of the onions and sauce. Then, in crisscross fashion, layer the other half of the brisket (also fat-side up) on top of the onions. Cover the brisket with the remaining onions and sauce.
Secure the lid, move the valve to the sealing position, and hit manual or pressure cook on high pressure for 75 minutes if you want it super tender (shredding apart) or 65 minutes if you want it a little firmer. When done, allow a 20-minute natural release followed by a quick release.
Very carefully transfer the brisket halves to a carving board (placing them fat side up) and let cool for 15 minutes. If you decide to carve it up into strips right away before it's done cooling, it will shred apart. While you wait, you may carefully shave off any undesired fat and discard (or keep it on if you wish).
Meanwhile, as the brisket's cooling, mix the cornstarch with 3 tablespoons cold water to form a slurry and set aside.
Hit keep warm/cancel and then sauté and adjust to the high or more setting to bring the sauce to a simmer. Add the slurry, stir immediately, and allow it to simmer for 30 seconds before turning the pot to the keep warm setting. The sauce will thicken as the brisket cools.
Once the brisket has cooled, use a carving knife to cut it into strips or chunks, slicing against the grain (meaning the opposite direction that the strings of meat are going in).
Carefully return the slices of meat to the Instant Pot and allow to marinate in the sauce (on the keep warm setting) for 5–10 minutes, so it stays tender until ready to serve.
Tips
If using a 2–3-pound brisket, reduce the pressure cooking time to 55–60 minutes.
Brisket tastes even better the next day. The day or night before you wish to serve it, make the recipe and then, once sliced, transfer the brisket and the sauce to an aluminum pan and refrigerate, covered with aluminum foil, overnight. When you're ready to serve, reheat the whole pan with the foil on top in the oven for about 30 minutes at 350 degrees.
Excerpted from THE STEP-BY-STEP INSTANT POT COOKBOOK by Jeffrey Eisner. Copyright © 2020 by Jeffrey Eisner. Photographs by Aleksey Zozulya. Used with permission of Voracious, an imprint of Little, Brown and Company. New York, NY. All rights reserved.
Chef and culinary stylist Ashton Keefe shared a delicious spin on a classic olive oil cake that's perfect for Easter or any spring get together.
Grapefruit Olive Oil Cake
Makes: 2, 9" Cakes
Ingredients
2 cups all-purpose flour
1 3/4 cups sugar
1 teaspoon salt
1/2 teaspoon baking soda
1/2 teaspoon baking powder
1 1/3 cups extra-virgin olive oil
1 1/4 cups whole milk
3 large eggs
1 1/2 tablespoons grated grapefruit zest
1/4 cup fresh grapefruit juice
1/4 cup Grand Marnier
Blackberry jam, filling
Powdered sugar, garnish
Berries and edible flowers, garnish
Directions
Preheat oven to 350 degrees. Grease 2, 9-inch cake pans and line the bottom of each with a 9" circle of parchment paper.
In a large bowl, whisk together flour, sugar, salt, baking soda and baking powder. In another large bowl, whisk olive oil, milk, eggs, grapefruit zest, grapefruit juice and Grand Marnier. Add wet ingredients to dry ingredients and stir until fully incorporated.
Evenly distribute batter in pans and bake for 30 minutes or until the cake is golden brown and a cake tester comes out clean when inserted into the center of the cake.
Cool cakes slightly and remove from pans by flipping and gently tapping onto a cooling rack. To assemble layer desired amount of jam between layers and dress generously with powdered sugar and garnish with flowers and berries.
Sausage and Asparagus Quiche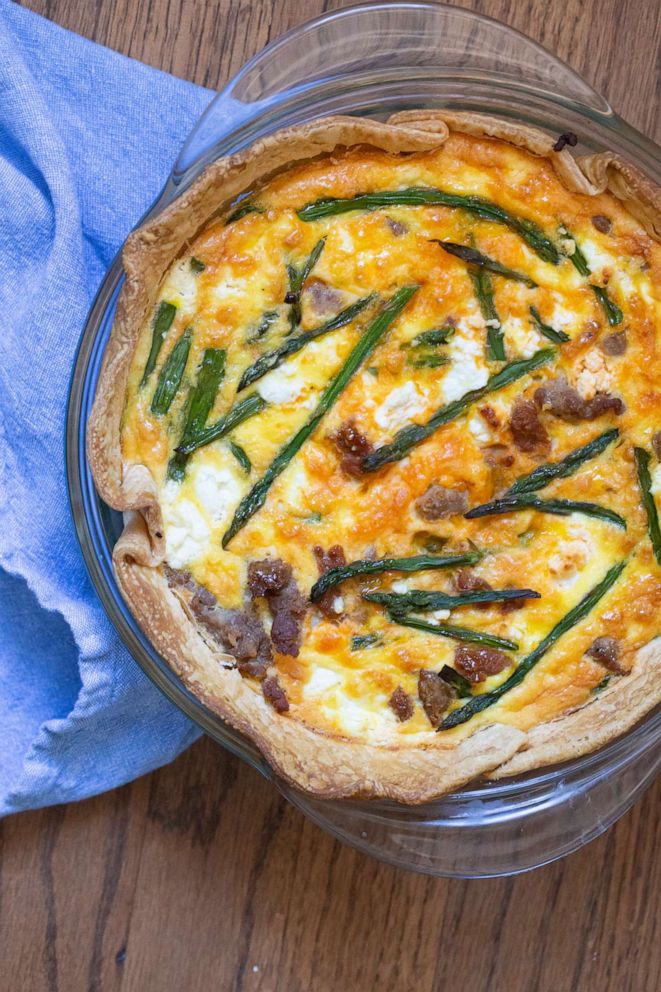 Serves: 6-8
"I like to make my quiche (and lasagna for that matter) in a high sided cake pan. Which is cool that both your main and dessert can be made in the same pan. This lip gives that French bistro feel and creates a high and dense quiche that feels satisfying as a full meal. You can also skip the meat for a vegetarian version," Keefe said.
Ingredients1 pie crust, below or store bought1 lb. spicy sausage, browned and cooked through1 dozen eggs1 cup heavy cream1 tablespoon salt1 bunch blanched and chopped asparagus, reserve a few for decoration 8 ounces goat cheese
Directions
Preheat oven to 375° F. Press pie into the bottom of the cake pan and fold up slightly to resemble a rustic crust.
Sprinkle cooked sausage and asparagus on the bottom of the dish lined with the dough. In a large bowl whisk together egg, dairy of choice and salt until full combined. This might take some arm work, but eggs should be lightened in color and texture. Pour over sausage. Dot quiche with goat cheese.
Bake quiche for 25-30 minutes or until eggs begin to set and lay in remaining 2-3 long spears of asparagus. Poof, you're a food stylist! Continue to cook for an additional 25-30 minutes until top is set, lightly browned and there's no jiggle to your eggs.
Pate Brisee (Savory Pie Crust)makes 1 double crust 9"/10" pie crust2 1/2 cup All Purpose Flour1 t. Salt1 t. Sugar1 cup (2 sticks) butter, cubed in 1/2" squares and chilled 1/4 - 1/2 cup ice cold water
Directions
In the bowl of a food processor, combine flour, salt, and sugar. Add butter, and process until the mixture resembles coarse meal, 8 to 10 seconds.
With machine running, add ice water in a slow, steady stream through feed tube. Pulse until dough holds together without being wet or sticky; be careful not to process more than 30 seconds. To test, squeeze a small amount together: If it is crumbly, add more ice water, 1 tablespoon at a time.
Divide dough into two equal balls. Flatten each ball into a disc and wrap in plastic. Transfer to the refrigerator and chill at least 1 hour. Dough may be stored, frozen, up to 1 month.
Easter Cake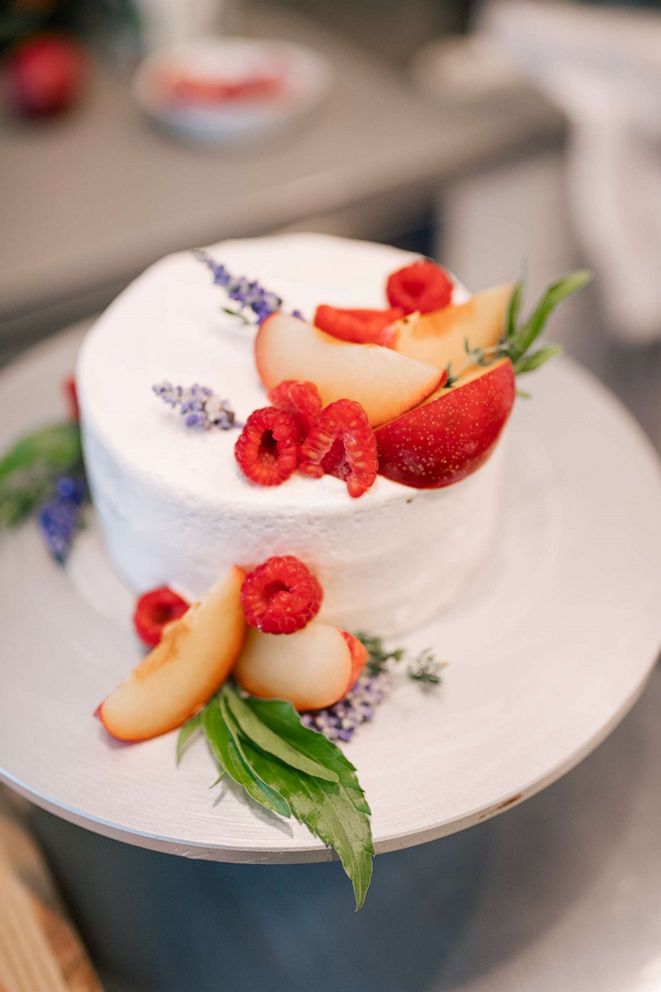 Serves: 6-8
Ingredients1 box cake, baked in 3 6" cake rounds, cooled completely 1 stick of softened butter2 cup powdered sugar1 teaspoon vanilla extract2 tablespoons milk1 pint strawberries1 pint raspberries or blackberries Edible flowersHerbs such as mint or thyme
To make the icing place butter in a large bowl. Using a hand mixer slowly beat, adding powdered sugar until light and fluffy. Add vanilla and milk and beat again until smooth.
Place first cake on a turn-style cake stand by using a little icing to allow it to stick.
Add a bit of frosting between each layer and stack. Using an offset spatula apply a crumb coat, which is a thin coat of icing where you're not worried if you still see some cake. Place in refrigerator to set just slightly. Apply a second layer of icing.
Cut fruit and edible flowers so they fit on the cake and fill in little gaps or splotches of icing on your cake. Be playful and layer, don't worry about making it perfect, it'll come together naturally if you create a few moments around the cake.
Make it even easier? Buy store bought white icing and thin just a hair with a touch of milk or water.