Kristin Cavallari's egg nests
Try this unique egg muffins recipe!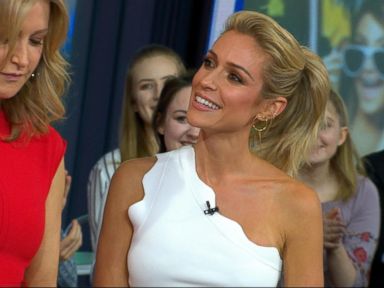 The television personality demos some recipes from "True Roots," which features some of her family-favorite gluten-, dairy- and refined sugar-free recipes.
From the kitchen of Kristin Cavallari
Television personality Kristin Cavallari shared this healthy recipe from her new cookbook with "GMA."
Cavallari said she put her own twist on the popular egg muffin recipes by adding sweet potato, which she says "balances perfectly with the egg and pancetta."
Ingredients
1 medium sweet potato, peeled
1 tablespoon coconut oil, melted
1/8 teaspoon garlic powder
1/8 teaspoon smoked paprika
Pink Himalayan salt
12 eggs
1/2 cup cooked and chopped pancetta
1 serrano chile pepper, chopped (optional), be careful when handing
Cooking Directions
1. Preheat the oven to 375°F. Line a muffin pan with liners.
2. Using a cheese grater, grate the sweet potato into a paper towel or cloth. Squeeze out the moisture over a sink or garbage can. In a medium bowl, combine the sweet potato, oil, garlic powder, paprika, and a pinch of salt and mix thoroughly.
3. Evenly distribute the mixture in the muffin pan, until the bottoms are completely covered. Bake for 5 minutes.
4. Meanwhile, in a large bowl, beat the eggs and a pinch of salt. Pour on top of the cooked sweet potatoes, filling the pan about halfway up. Place a few pieces each of the pancetta and serrano peppers on top. Bake for 20 to 25 minutes, or until the eggs fluff up and center is set.
Recipe courtesy TRUE ROOTS. Copyright © 2018 by Kristin Cavallari. Published by Rodale Books, an imprint of the Crown Publishing Group, a division of Penguin Random House LLC. Reprinted with permission.
Recipe Summary
Main Ingredients: sweet potato, coconut oil, garlic powder, paprika, eggs
Course: Breakfast, Brunch