Wolfgang Puck's mini Kobe cheeseburgers with remoulade
Try this crowd-pleasing recipe at your watch party!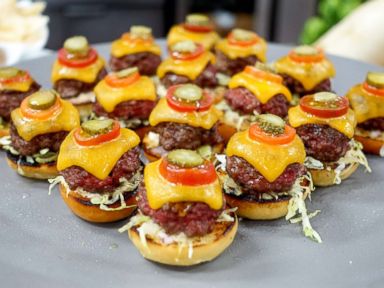 From the kitchen of Wolfgang Puck
Celebrity chef Wolfgang Puck shared this mouthwatering recipe for Kobe beef cheeseburgers with homemade remoulade on "GMA" today.
Puck, who is in charge of the food that will be served at the Governors Ball, an Oscars after party for the stars, shows how to give your classic slider a gourmet twist with this recipe that is sure to be a hit at any watch party!
Ingredients
Makes 12 mini burgers
3/4 pound Kobe ground beef
Pinch of kosher salt and freshly ground black pepper
4 tablespoons extra-virgin olive oil
3 slices organic cheddar cheese
6 slices Brioche bread, punched out with a 2-inch ring cutter
Remoulade (recipe below)
Organic iceberg lettuce
6 cherry tomatoes, sliced
3 cornichons, sliced
For the remoulade:
Makes 1 cup
1 cup store-bought mayonnaise
1/8 cup ketchup
2 tablespoons sherry vinegar
1/8 cup red onion, finely chopped
1 teaspoon capers, chopped
1 teaspoon chives, chopped
1 teaspoon fresh parsley, chopped
1/2 teaspoon fresh thyme, chopped
Pinch kosher salt
Pinch sugar
Cooking Directions
Preheat a grill or grill pan.
Put the ground beef in a bowl and season with a generous pinch of salt and pepper. Mix together with your hands to combine. Take a small amount (about 2 tablespoons worth) of the ground beef and roll it in the palm of your hand like you are making meatballs. Flatten the top slightly and put the mini burger patties on a side plate. Drizzle the burgers with oil and season the tops with salt and pepper. Turn the burgers over and season the other side.
Place the burgers on the hot grill. Cook for 3 minutes, and then turn them over with tongs. Put 1/4 slice of cheese on top of burger. While that's cooking, put the brioche circles on the grill. Let them toast slightly on both sides, about 2 minutes total time.
To put the burgers together: Put the toasted brioche circles on a platter. Top each with a small spoonful of the Remoulade (recipe below). Put the burger on top (cheese side up), followed by sprinkling of finely chiffonade of iceberg, a slice of tomato and a slice of cornichon.
For the remoulade:
Place all ingredients in a bowl and stir to combine.
Tip: To make this recipe even simpler, instead of making the Remoulade, make your own special sauce by combining 3/4 cup of store-bought or home made Thousand Island dressing with 2 tablespoons of bottled barbecue sauce and a little bit of diced red onion. Stir to combine.
Recipe courtesy Wolfgang Puck.
Recipe Summary
Main Ingredients: kobe beef, salt, olive oil, cheddar, brioche bread
Course: Party Platter, Main Course