Kristin Cavallari's zucchini bread French toast
Try this unique twist on classic french toast!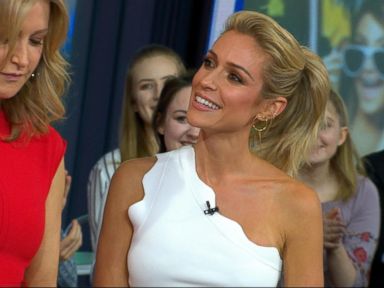 The television personality demos some recipes from "True Roots," which features some of her family-favorite gluten-, dairy- and refined sugar-free recipes.
From the kitchen of Kristin Cavallari
Television personality Kristin Cavallari shared this original recipe from her new cookbook with "GMA." Cavallari said the original plan was just to include her zucchini bread recipe in the book, but while recipe testing, she accidentally overcooked one of her loafs.
Cavallari said that "luckily" she "remembered that overcooked, or slightly stale, bread is perfect for French toast." She said her family specifically requests this now for breakfast on the weekends.
Ingredients
For the zucchini bread
Coconut oil, for the pan
2 cups grated zucchini (about 1 and 1/2 of a medium-sized zucchini)
3 cups oat flour
1 teaspoon pink Himalayan salt
1 teaspoon baking soda
3 teaspoons ground cinnamon
2 cups pure maple syrup
3 eggs
3 teaspoons pure vanilla extract
For the French toast
1 loaf zucchini bread (preferably 2 to 3 days old)
1 can (13.5 ounces) full-fat coconut milk, discarding the cream on top
4 eggs
1 teaspoon ground cinnamon
1/8 teaspoon ground nutmeg
Coconut oil, for the pan
Cooking Directions
For the zucchini bread
1. Preheat the oven to 350°F. Grease a loaf pan and muffin pan with the coconut oil.
2. Place the grated zucchini in a paper towel or dishrag. Over the sink or a garbage can, squeeze out the extra moisture.
3. In a large bowl, mix the flour, salt, baking soda, and cinnamon until well combined. In a separate large bowl, whisk together the maple syrup, eggs, and vanilla. Add the zucchini to the egg mixture and stir to combine. Add the wet ingredients to the dry ingredients and mix well.
4. Pour just over half the batter into the loaf pan, so the pan is a little more than two-thirds full.
Using the remaining batter, fill each muffin tin three-quarters full. Bake the loaf for 45 to 50 minutes, or until a toothpick comes out clean. Let cool 30 minutes. Bake the muffins for 20 to 25 minutes, or until a toothpick comes out clean. Let cool 15 minutes.
For the French toast
1. Cut the loaf of zucchini bread into 1/2" slices, making 8 pieces of bread. In a large bowl, whisk together the coconut milk, eggs, cinnamon, and nutmeg until smooth.
2. Lightly grease a medium skillet with the coconut oil and warm over medium heat. Dip a slice of bread in the batter, making sure to coat both sides completely. Place the bread in the skillet and cook for 1 to 2 minutes on each side, until the egg is cooked and the bread is golden brown. Repeat with the remaining slices of bread.
3. Serve right away with chopped nuts, Caramelized Bananas (page 12 of her cookbook), or whatever your favorite toppings are.
Recipe courtesy TRUE ROOTS. Copyright © 2018 by Kristin Cavallari. Published by Rodale Books, an imprint of the Crown Publishing Group, a division of Penguin Random House LLC. Reprinted with permission.
Recipe Summary
Main Ingredients: zucchini, coconut oil, oat flour, pink himalayan salt, baking soda, cinnamon
Course: Brunch, Breakfast