Watching the horror of the earthquake on television, Alta Grace Lovesey recognized the plot of ground in her native Haiti where her grandfather built a house and where she sent her hard-earned money for nearly 30 years. The place was reduced to rubble.
"When it happened I said, 'God, I lost everything,'" Lovesey told ABC News.
The pancaked building she saw used to be a three-story house where 15 members of her family lived.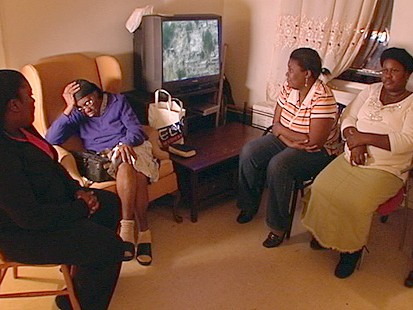 "Oh, God, all of them are dead? You cannot do this to me," she said when she saw the rubble.
Haitian immigrants, like our own families, came to this country and toiled and sacrificed for the American dream.
There are at least 800,000 Haitians living in the United States, and perhaps a million, according to the World Bank, many striving to make a better life for their loved ones back home.
Since she left a middle-class home in Port-au-Prince to move to New York at the age of 21, Lovesey has worked on Park Avenue in New York as a family's housekeeper.
She has an angelic smile and a sweet soul. She has become a beloved member of the family for whom she works.
But when the earthquake struck her hometown of Port-au-Prince Tuesday, Lovesey was overcome with emotion.
She didn't lose everything, but the news she received was still devastating. Her brothers and cousins survived, but her two nieces and her sister Mona died in the earthquake. She used to call Mona nearly every day.
Some of her family members are still unaccounted for. Three nieces and nephews she supported and sent to school for years are still missing.
Lovesey, who worked 20-hour days seven days a week as a housekeeper and overnight nurse's aide, sent most of her earnings back to her family in Haiti.
She estimates that she's sent 70 cents of every dollar she's earned back to Haiti to help renovate the family home or to school the children.
Long before the quake, Lovesey routinely sent barrels full of food, clothing and school supplies to her family and neighbors.
Sending Help to Haiti
Her friends often teased her that since she worked so hard at two jobs she should live in a better apartment. But she's been content in her modest home in upper Manhattan, knowing so many back home depend on her.
About 15 percent of Haiti's gross domestic product, about $1 billion a year, comes from Haitians, like Lovesey, living in the United States and other countries, according to a paper commissioned by the World Bank.
Most of those who send money home make less than $30,000 a year. That aid was vital to Haiti's economy before the quake.
Families who receive money from abroad are twice as likely to be able to afford to eat meat, chicken or fish at least three times a week.
"When you come here with a dream, not only for yourself, but you want to share that dream," said Noramie Jasmin, the mayor of Spring Valley, N.Y.
Jasmin is the first Haitian American mayor in New York state. Her husband was in Haiti at the time of the quake, and two days passed before she finally received word that he survived.
The mayor said she has not yet spoken to her husband and does not know if he is injured, a sign that despite the good news, communicating information from Haiti is still a great challenge.
Jasmin has busied herself trying to contact pharmaceutical companies in an effort to get medicine to the disaster zone. There have been reports from Haiti of open-air amputations being done without anesthetic.
During our visit with Jasmin a businessman arrived offering free transport by shipping container for whatever supplies the mayor could gather up.
Lovesey's evening ended with a terrible call from Haiti -- her brother phoning to say he could not give her sister and two nieces a proper burial.
He told her what everyone watching the news this week already knows: There's no water. No gas. No way to get the bodies to the family cemetery. Instead they are being taken to a mass grave.
Lovesey sobbed openly.
But there is too much work to allow much time for grief. Lovesey's daughter Emmanuela and her niece Barbara are already trying to get on a relief mission trip to Haiti today.
Family, including the family for whom Lovesey has worked for nearly 30 years, is busy gathering supplies.
They are frantically working to do what Haitian Americans always do, send help home.
ABC News' Kate McCarthy contributed to this report.
Click here to return to the "Good Morning America" Web site.