As the health care bill enters its final stretch, both supporters and critics of the legislation have turned up the heat.
Congressional staffers have been put on notice to expect protests in the corridors of the Capitol today as groups from both sides descend on Washington for this week's raucous final battle over health care overhaul. A memo to staffers sent Monday told offices to "review their policies regarding demonstrators, as well as applicable office emergency action plans" but said the protestors are expected to be "non-iolent, and none have indicated a desire to practice civil disobedience."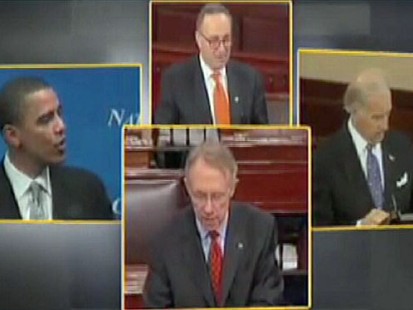 Interest groups on both sides have ramped up the pressure and have hit the airwaves. More than $10 million is expected to be spent on ads this week alone.
President Obama expressed confidence Monday that there will be enough votes to pass health care legislation. The White House has set a deadline of this weekend for the House to pass the bill, before the president departs for his international trip Sunday. But it remains unclear whether Speaker Nancy Pelosi, D-Calif., has the votes she needs.
To get the needed 216 votes in the House, Democratic leaders are focusing their efforts on the 37 lawmakers who voted against the health care bill the first time around. So far, 21 of those members of Congress haven't changed their mind, 16 are either undecided or won't say how they are going to vote, and none have said they would vote "Yes."
Pelosi insists they will have the votes by the end of the week.
"When we bring the bill to the floor, then we will have the votes," she told reporters Monday.
Obama amped up the pressure on his fellow Democrats Monday, telling them to vote for the bill regardless of what the polls say.
"I want some courage! I want us to do the right thing, Ohio!" a fired-up Obama said at an event in the state.
Rep. Dennis Kucinich, D-Ohio, a liberal who voted against the House bill last year and argues that the legislation doesn't go far enough, was invited on Air Force One to travel to Ohio and back with the president. Kucinich declined to comment on how he will vote. Another wavering Democrat, Chet Edwards of Texas, also dodged questions.
As Democratic leaders charge ahead, Republicans are accusing them of using procedural tricks to ram the bill through Congress.
"The main bill is a big wet, smelly, infested dog," charged Rep. Mario Diaz-Balart, R-Fla. "This huge dog of a bill."
Democrats expect to have a final cost estimate for Obama's bill by the end of today, setting the stage for a final vote in the House by the end of the week.
Obama: We Will Get the Votes for Health Care Reform Bill
On Monday, Obama told ABC News' Jake Tapper he is confident that health care legislation will pass.
"I believe we are going to get the votes, we're going to make this happen," Obama said in the exclusive interview. Obama said Democrats continue to work to get a bill ready for a vote by the end of the week.
To members of Congress and Americans who may be afraid of this large bill, the president said there was a lot of "misinformation" about "death panels" and that this was going to be a government takeover of health care, which turned out to be false.
"What it true is that this is a philosophical disagreement because some who are opposed to this bill think that if we de-regulate the insurance companies, that that will reduce rates," Obama told ABC's Tapper. "There's no evidence that that would, in fact, happen.
"For most people who already have health insurance, they're not going to see much of a change except they'll have more protection in the insurance they already have. But for millions of Americans, they'll be in a more secure position and the federal government and state governments are going to be in a position where they are not running these huge, outside multi-billion-dollar deficits over and over again each year that add up to an unsustainable debt we'll be imposing on future generations," he said.
Obama said the bill is being planned in stages precisely to guard against unintended consequences.
"The infrastructure couldn't take it right away, which is why this is all being phased in. The question is, if we don't start now, then it won't be in place three, four, five years from now and then we'll be waiting another decade or another 15 years or another 20 years to actually take on this problem," the president told Tapper.
"This is not a problem I chose. This is a problem that is there and is affecting every aspect of American life, and if we don't tackle it now in a serious way, not only are you going to see folks like Natoma get in a tougher and tougher spot, but what you're also going to find is a federal government that can't pay its bills on Medicare and Medicaid," he said.
"You're going to see companies who are dropping health care -- and we've already seen more and more companies getting rid of their health care -- and we're going to be burdened in terms of competitiveness in a way that's going to affect our ability to grow the number of jobs that we need to give everybody a change for the American dream."
ABC News' Huma Khan and Z. Byron Wolf contributed to this report.