Spring means warmer days and blooming flowers. Many will delight in the change of season, but for millions of seasonal allergy sufferers across the United States, spring spells trouble.
Congestion. Itchy eyes. Scratchy throat. Hives.
According to the American Academy of Allergy, Asthma and Immunology, allergic rhinitis -- better known as hay fever -- affects an estimated 60 million people in the United States.
Over-the-counter and prescription drugs to treat allergies cost Americans more than $11.5 billion, according to the organization's figures from 2005.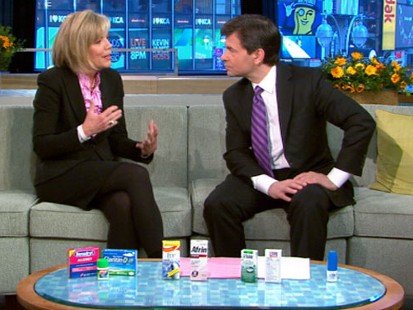 This morning, Dr. Marie Savard appeared on "Good Morning America" to talk about common allergies and how to treat them.
Not all people suffer from the same allergies: ragweed, pollen and mold may strike at different times in the changing seasons.
Suffers have tried various ways to combat their affliction, including medicine and home remedies. Some find relief and others don't.
Several myths about allergies have endured. Click HERE to see fact separated from fiction:
Click here to return to the "Good Morning America" Web site.