Anyone can buy holiday gifts in a store. So why not make your holiday presents special this year by making them at home, straight from the heart?
"GMA" kicks off its"Holiday Handbook" series with tips on how to make easy, inexpensive homemade personalized gifts for loved ones, neighbors, party hosts and pet lovers.
Lifestyle expert Nancy Soriano said homemade gifts always mean so much more because you thought about them and took the time to create something. Your gift doesn't have to be perfect -- it's really showing that you thought about that person. Taking a little bit of time and actually making something for somebody will really mean something to them.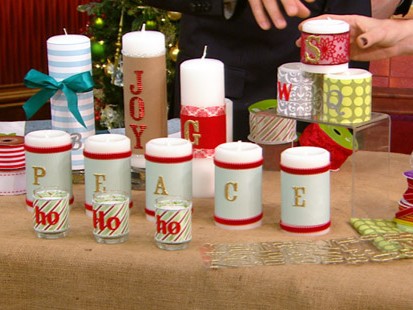 Gifts for Loved Ones
Holiday Gift Card Holder
Gift cards are expected to be a very popular gift item this year. Soriano suggests taking the gift card, whether it's for an adult or a child, and making your own special gift card holder.
"You can cover an existing card and personalize it," she said. "Gift cards are practical ... this is how you make it personal."
You can make your gift card holder using readymade stationery or readymade hang tags that you embellish yourself. Soriano also suggests making fabric pouches that you can sew by hand or on a machine. Many people have embellishment products at home like stamps, scrapbooking kits, and hole punchers -- those are all fun and great tools you can use to decorate your gift card holder.
Instructions:
Several ideas work for gift cards: embellish oversize gift tags with ribbon pockets or turn wide ribbons into pouches. And take apart a small envelope, trace fabric, then glue together.
Paper Pockets

Purchase precut hang tags with holes to hang a ribbon or tag from (you can buy from craft or paper store).


Cut a 3-inch length of wide fabric ribbon.


Fold each cut end under by ¼ inch; glue.


Sew bottom and side edges to tag to form pocket.


Tuck gift inside.


You can sew by hand or machine.


Embellish with buttons (optional).
Fabric Pouches

Fold a 14-inch-long piece of 3-inch-wide fabric ribbon, or fabric, in half with the wrong sides facing.


Iron along fold, and sew up the sides.


Trim edges of open end with scalloping scissors.


Slip gift inside.


Knot a bit of ribbon or twine to secure or use a large pin to close.

Homemade Holiday Gift Tips
Journals, Memory Books, Recipe Books
Personalized journals are one of Soriano's favorite gift ideas. Even though we live in an electronic world, people still love paper. She makes the majority of them with clip art downloaded online. You then use an adhesive, whether it's spray adhesive or glue, measure the paper, adhere it to the journal and then make a collage using personalized items. You could use buttons or more holiday-oriented decorations or old Scrabble game pieces on which you put a person's name.
"Seventy percent of all this product is in your home," Soriano said.
Instructions:

Start with an unembellished journal or composition notebook.


Clip art is a great resource for art images. Soriano suggests www.thevintageworkshop.com/store .
However, you can use many paper options to embellish or cover your journal with: vintage photos, scrap book/paper supplies, lettering, buttons that are hot glued or even sewn onto the journal.


Always work on a clean surface and have your materials with you: scissors, papers, (any other embellishments), adhesive, etc.


Think about the theme and look you want to create. Soriano suggests mapping out the design before you actually start gluing. This helps with changes you might want to make.


Measure and cut the larger pieces and apply those first. For example, if you plan to cover the entire front surface of the journal with one or two pieces, start with that and work from there. Make sure you get your pieces fully dry. If working with fabric or felt, think about using a fabric or craft glue.


With paper you can use an adhesive spray (if using larger pieces, make sure you have proper ventilation due to the additional adhesive spray). For smaller pieces, you can use craft glue or double-sided tape. Remember, be creative -- it's from the heart (and hand).
Monogrammed Hand Towels or Candles
Everybody needs hand towels and everybody loves candles. Soriano suggests purchasing regular linen hand towels and then stenciling them with a water soluble paint with a dry brush. You can initial the towel, which makes a great personalized gift. With the candles, you can get them in a set, or individually, and wrap them with paper and then monogram a person's name on them, or a word such as "joy" or "peace" or "holidays."
"This is so much easier than it might appear," Soriano said. "It's all about using it in your everyday life, and that's what makes the gift so great."
Instructions for Hand Towels:

Use a set of new, nicely pressed hand towels. You will need either a letter stencil or a letter stamp.


Work on a clean surface.


If using a letter stencil, lay the stencil over the towel.


Center the stencil on the towel, hold firm.


Apply washable fabric paint on a dry brush (not too much paint — you do not want the paint to "bleed" through) twice. Also, make sure not to use a brush that is too large.


Let dry for several hours.
Instructions for Candles:

Use pillar candles. You don't want to use tapers, as they are too thin.


Apply stick on initials to center area of the pillar.


You can spell out a name, holiday, birthday, etc.
Homemade Holiday Gift Tips
Gifts for Neighbors and Hosts
Scented Sugars
Scented sugars are really wonderful and easy and economical to make, Soriano said. You take vanilla bean or orange or lemon slices, cinnamon and you steep those items individually in an airtight canister for about three to five days before, and then you present the gift in the canister. Soriano suggests also including a sugar spoon in the canister. Scented sugars are wonderful over hot cereal, fruit, or in coffee or tea, for baking (on a coffee cake) or sugar cookie toppings, etc.
"It is very easy," Soriano said.
Instructions:
You will need clean jars with good lids and good seals (this is a great way to use vintage jars; you can also use recycled jars, or buy new ones). You can label, make gift tags, etc. Use granulated sugar. Start to flavor your sugars three days before you present them so the sugar absorbs the flavor and scent.
Vanilla Sugar:


Split a whole vanilla bean and put in a clean jar.


Bury the bean with granulated sugar.


Close the lid tightly.


Let sit for a minimum of three days.
Orange or Lemon Sugar:


Use the outer peel of an orange or lemon.


Cut strips/sections of the peel and let dry out for a day.


Place the peels in a clean jar.


Cover with granulated sugar. You can layer the sugar with peels as well: sugar; peels, sugar; peels etc.


Cover tightly.
Spiced Nuts With Recipe and Homemade Tag
Spiced nuts are fabulous because they're very easy to make and a great gift for men and women. During the holidays, everyone is always looking for a little snack or a little extra spice, and there are really fun ways to make that a gift and personalize it.
"They're a perfect nosh during the holidays," Soriano said.
Instructions:
Spiced Nuts (recipe courtesy MarthaStewart.com)
Ingredients:


Makes 2½ cups


1 large egg white


¼ cup sugar


1 teaspoon salt


½ teaspoon chili powder


¼ teaspoon ground allspice


½ teaspoon ground cumin


1¾ teaspoons cayenne pepper


2½cups pecan halves, or assorted nuts, such as cashews, walnuts or almonds

Directions:
Preheat oven to 300 degrees. Beat egg white until soft and foamy. Combine all remaining ingredients except pecans; whisk into egg white. Stir in pecans until well coated; spread mixture in single layer onto an ungreased baking pan.
Bake pecans for 15 minutes, then remove from oven. Using a metal spatula, toss, stir and separate nuts.
Reduce oven to 250 degrees and return nuts to bake until medium brown, about 10 minutes. Remove from oven; toss and stir again. Place baking pan on wire rack to cool (they will crisp as they cool).
Break up any that stick together; store in an airtight container, at room temperature, for up to two weeks.
**Recipe from Martha Stewart Living, November 1997
Homemade Holiday Gift Tips
Pre-Potted Bulbs
Prepotted bulbs are a great gift because you can give them now and they'll be ready in the spring. You can get the bulbs at your nursery now and it's really the gift that keeps on giving.
Instructions:
Items Needed:


Bulbs suitable for the season (e.g., daffodils, hyacinths, tulips)


Terra cotta pot


Potting soil (preferably pre-made bulb mix)


Fertilizer


Stones


Place several stones over the drain hole in the bottom of your pot.


Fill container half full with potting soil


Plant bulbs with pointed ends up


Finish filling container with potting soil


If preparing the gift a couple of days ahead of time, water the pot thoroughly from the top until plenty of water runs from the drain holes to help settle the soil.


Once your bulbs are potted, make a decorative gift tag with the type of bulb in the pot as well as instructions on how to make the plant grow.

Gifts for Pet Lovers
Homemade Dog Biscuits
Soriano said homemade dog biscuits are actually quite easy to make. Everybody wants to keep their dog healthy and keep their teeth clean, and it's a very easy recipe. You can cut them with a cookie cutter, you can cut them with the top of a glass and make little discs and they're really fun to wrap and people will love them.
Instructions:
Homemade Doggie Biscuits Recipe (Recipe courtesy AllRecipes.com)
Ingredients:
2½ cups sifted whole wheat flour
½ cup dry milk powder
1 cube beef bouillon, crumbled
½ teaspoon salt
1 cup cooked ground pork
1 cup grated carrot
6 tablespoons shortening
1 egg
½ cup cold water

Directions:
Preheat the oven to 350 degrees F (175 degrees C). Lightly oil two cookie sheets.
In a medium bowl, stir together the whole wheat flour, milk powder, beef bouillon and salt. Add the ground pork, carrot, shortening and egg; mix into the flour mixture while gradually adding water to form a stiff ball of dough.
On a lightly floured surface, roll the dough out to ¼ inch thickness. Cut into desired shapes using cookie cutters, and reroll scraps until no dough is left. Place cookies 2 inches apart onto the prepared cookie sheets.
Bake for 25 to 30 minutes in the preheated oven, or until the bottoms of the cookies are browned. Allow cookies to set for a few minutes on the cookie sheet before removing to wire racks to cool completely.
Once Dog Biscuits are baked, wrap decoratively.
Personalized Doggie or Kitty Bowl
You can also take standard, readymade dog bowls or cat bowls and personalize them as well
Instructions: Stencil or use decals, stickers to monogram your pet's food bowl.