Chocolate Peppermint Bar Cookies
Chris Cuomo's Favorite Cookie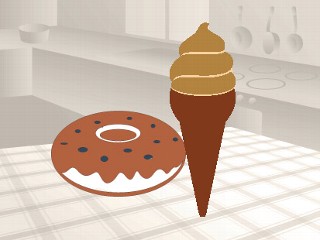 From the kitchen of Gourmet Magazine
|
This holiday, make 'GMA' anchor, Chris Cuomo's favorite holiday cookie.
Ingredients
1/2 cup all-purpose flour
1/2 cup unsweetened cocoa powder (not Dutch-process cocoa powder)
1 tsp. baking soda
1/2 tsp. salt
1 stick unsalted butter (1/2 cup), softened
3/4 cup dark brown sugar, packed
1 large egg
1 cup semisweet chocolate chips (6 oz.)
1 cup peppermint hard candies (about 1/4 lb.), coarsely crushed
Cooking Directions
Put oven rack in middle position and preheat oven to 350 degrees. Line a 13 by 9 inch metal baking pan with one sheet of foil, allowing two inches of foil to hang over each end of pan. Butter the foil (except overhang).
Whisk together flour, cocoa powder, baking soda and salt in a small bowl. Beat together butter and brown sugar in a large bowl with an electric mixer at high speed, until pale and fluffy -- about three minutes. Beat in egg until combined. Reduce speed to low, then mix in flour mixture until combined. Stir in chocolate chips and candy pieces.
Spread dough evenly in pan and bake until puffed and beginning to pull away from sides of pan, about 15 to 20 minutes. Cool completely in pan on rack, then, lifting with foil, transfer to a cutting board. Cut into bars and lift off with a spatula.
Recipe makes 32 bars. Bars keep in an airtight container at room temperature for three days.
Recipe courtesy of Gourmet magazine, Dec. 2006
Other Recipes That You Might Like